Unwell Anna begins fast in Mumbai
Venue packed to capacity, crowds threaten to spill out z Handful of protesters come out against Hazare
Shiv Kumar/TNS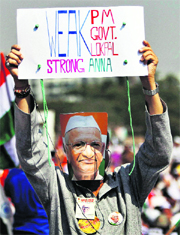 A man in a Hazare mask holds up a placard on the first day of his fast at MMRDA grounds in Mumbai. Tribune photo: Manas Ranjan Bhui & PTI
Mumbai, December 27
Battling viral fever, cold and a sore throat, Anna Hazare began his three-day fast in pursuit of a strong Lokpal at the MMRDA grounds here.
Hazare, who arrived here late last evening from his village Ralegan Siddhi, camped at the government guesthouse for the night. He began his day today by paying homage to Mahatma Gandhi at Juhu beach. From there he went in a procession to the Bandra-Kurla Complex (BKC), the venue of his fast.
As the anti-graft crusader left for the MMRDA grounds, around 20 youths blocked the path of his cavalcade, displayed black flags and shouted 'Anna Hazare murdabad'. There were a few anxious moments for security personnel but the police soon dispersed the protesters.
The procession wound its way through the thickly populated areas of Santa Cruz, Tulip Star Hotel, Mithibai College, Swami Vivekananda Road, Vile Parle, Khar and Bandra Highway before turning into the BKC area.
Hazare rode atop a flower-bedecked truck waving to supporters who had line the road throughout the two-and-half hour journey. Accompanying him were prominent Team Anna members Kiran Bedi and Arvind Kejriwal.
The crowds were thin to begin with at the MMRDA grounds, but by afternoon people left their offices in the commercial complex and young people from the scores of advertising, financial institutions and brokerages that dot the area entered the grounds sporting 'I am Anna' caps. By early evening, the grounds were packed to capacity and crowds threatened to spill out on to the streets.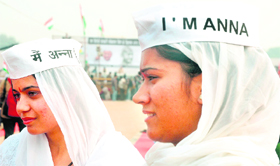 A rally in progress in support of Anna's crusade, in New Delhi on Tuesday. Tribune photo: Manas Ranjan Bhui & PTI
There was a minor drama at the grounds as Bedi and Kejriwal pleaded with a visibly tired Hazare to call off his hunger strike. "We request him to continue with the dharna instead," Bedi exhorted.
However, the veteran activist refused to relent and began his fast after a speech and slogans like 'Vande Mataram' and 'Inquilab Zindabad'. "I am not ill at all. I get strength from the support of the people," Hazare said. The 74-year admitted he had fever.
He went on to say that he did not fear death. "I am not afraid to die. I have decided that I will die for the country and I will work for the good of the country as long as I live," Hazare said.
"I've been fighting against corruption for the last 35 years and I own nothing. I only have a plate, a bed and some space inside a temple to sleep. I've not visited my family in 35 years, but now the whole country is my family," Hazare said.
Criticising the government for stalling a strong Lokpal law, Hazare accused it of trying to hoodwink the people. "Soon the people will teach the government a lesson," Hazare said. "They have not seen what people power is. It is more powerful than Parliament," he added.
Anna's supporters were upbeat and cheered him on. "I have come from Delhi to join in the fast. I was at the Ramlila grounds in Delhi in August and now I am here to support Anna. I will join the protest anywhere in the country," said Avdesh Amrit, a small businessman from Noida.
Avdesh was joined by several others from North India, who have booked rooms in small lodges in Mumbai for the next few days. "We will also participate in the jail bharo agitation," he said.
On stage, India Against Corruption invited people to share their experiences about corruption. A wheelchair-bound teenager related how she struggled to get her school certificates and finally ended up paying a bribe.
A number of yuppies participating in the protests said they were fed up of corruption and didn't want their children to grow up in a corrupt country.
Among celebrities, the earliest to join in was actor Anupam Kher who took the stage to hit out at the Congress-led government at the Centre.


HC: Citizens have right to fast
The Karnataka High Court on Tuesday dismissed a PIL seeking directions to restrain Anna Hazare's three-day fast and 'jail bharo' stir, observing that the citizens had the right to protest. A similar PIL challenging Hazare's fast filed by social worker Mangleshwar Tripathi will come up before the Bombay High Court on Wednesday.
Soon the people will teach the government a lesson. They have not seen what people power is. It is more powerful than Parliament.
— Anna Hazare