The 13th five-Year test
As Punjab heads into fresh Assembly elections,
Naveen S. Garewal flips through archives to see what transpired in the present House that started with bonhomie between the ruling alliance and the Oppn, but ended on a rather hostile note
Rise of Sukhbir

This Vidhan Sabha saw the rise of Sukhbir Singh Badal's political fortune. The three-time MP was elected president of SAD on February 1, 2008. At age 45, he replaced his father Parkash Singh Badal, who was elevated as patron of the party. However, talk of his replacing his father as CM did not materialise. Anyhow, he was sworn in as deputy chief minister. As he could not get elected as legislator within six months, he had to resign, and contested the Jalalabad byelection to be sworn in again on August 10, 2009. His priorities were governance reforms and the Right to Services Act.
Badal bouncers

Chief Minister Parkash Singh Badal, even if not known for memorable speeches, had a way of using earthy humour and delivering just the right anecdotes to hit Opposition MLAs where it hurt. He was never perturbed, no matter what the challenge may have been in the House, and was known to prepare for days in advance for every session. After facing much harassment over disproportionate assets cases against him, he was happy to announce in 2010 that he had been found innocent in court.
Manpreet muddle

In October 2010, Manpreet Singh Badal made strong statements on the state's finances. He said there was a debt of over Rs 71,000 crore. He claimed the Centre was willing to bail out Punjab, provided it agreed to a road map that involved cutting back certain subsidies. The government didn't agree, stands hardened, and Manpreet was removed as Finance Minister and from SAD. He, however, claimed he had resigned from the party. He resigned from the House six months later and launched his People's Party of Punjab.
Speech and fire
The 13th Vidhan Sabha saw several pieces of fine oratory, including the first speech of Sukhbir Singh Badal, wherein he outlined his political vision for the state, demonstrating he had transformed into a seasoned politician. Equally important was that of Capt Amarinder Singh on his return to the Assembly after his expulsion. The historic speech, however, would be one by then Finance Minister Manpreet Singh Badal, who during the 2010 Budget Session told the House what a mess the state's finances were in.
Speaker kahlon

During the initial days, Speaker Nirmal Singh Kahlon was much perturbed over news reports related to proceedings of the House. He even curtailed the entry of journalists into the Press Gallery. It was only after journalists staged a dharna outside the Vidhan Sabha, and were joined by Congress legislators, did the Speaker relent and allowed free access. Kahlon also made a move through a letter suggesting the House used its authority to withdraw ongoing cases against sitting MLAs, including him. This was scuttled by the Congress. Party MLA Sukhpal Singh Khaira even invited a privilege notice in the process.
Controversial laws
The government drew flak on several counts, especially certain controversial legislations, including the Prevention of Damage to Public and Private Property Act, 2010, which barred holding of protests without permission. Also, the Punjab Special Security Group Act, 2010, was criticised for giving draconian powers to the security forces that could be used to even muzzle the Press. The Congress promised to repeal these legislations if voted to power. The Rationalisation of Certain Conditions of Services Act, 2011, which imposed unfair conditions on new employees, was amended under pressure from government staff.
Bitterness bites


Relations between the ruling alliance and the Opposition started getting fouled in about a year. Things got bad within the Congress too. Capt Amarinder Singh and his supporters, who alleged vendetta against Congress workers by the government, objected to what they saw as Rajinder Kaur Bhattal's "proximity" to the government. Bhattal, who was Leader of the Opposition, resigned as state party president. To checkmate Amarinder's rise, the government moved a proposal in the House to probe his role in the "Amritsar Improvement Trust scam". On the report of a House panel, Amarinder was expelled on September 10, 2008. He, however, was returned as a member on Supreme Court orders on April 26, 2010.
Bowled over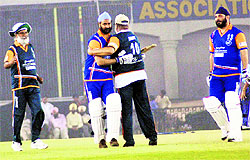 With the Congress the only Opposition party, the SAD-BJP alliance had a happy start in the House. In fact, the goings were so smooth, it was difficult to tell between Treasury and Opposition benches. The two sides even decided to take the bonhomie outside the confines of the Le Corbusier-designed House. For the first time in history, the two sides played a friendly cricket match at PCA Stadium, Mohali, on March 13, 2008. The ruling alliance beat the Congress by eight wickets!
Youth power

During the period Capt Amarinder Singh was suspended from the House and senior Congress leaders laid low, the vacuum gave opportunity to younger party leaders to have their voice heard. Congress MLAs such as Sukhpal Singh Khaira (pic, above left), Jassi Khangura (pic, middle), Ajit Inder Mofar, Raninder Singh Nabha, Sunil Jakhar and Ripjit Singh Brar, never let an opportunity pass in taking on the SAD-BJP alliance. Among the issues they raised were sale of government land to private parties, favours granted to PIMS, seed scam, kerosene scam, NRI problems, shortage of school teachers, doctors and police highhandedness. But largely, the Opposition did not do its homework, and relied mostly on newspaper reports. Young Akali leader Bikramjit Singh Majithia (pic, right), brother-in-law of Sukhbir Singh Badal, came to prominence for stepping down as minister to make way for Sukhbir to be sworn in as deputy chief minister, as the seats in the Cabinet are limited.