Capt meets Sonia over election list


Chandigarh, December 23
Punjab Congress leaders, including PCC president Capt Amarinder Singh and CLP Leader Rajinder Kaur Bhattal, today met the party president Sonia Gandhi in New Delhi. The party incharge for Punjab, Gulchain Singh Charak, was also present at the meeting. The trio apparently met Gandhi to formally handover a copy of the resolution authorising her to nominate the candidates for the coming assembly elections. Only last evening, the party's state election committee, which met under the chairmanship of the PCC president in New Delhi, passed a one-line resolution authorising Gandhi to nominate the candidates.

Centre extends pension list of freedom fighters
Kuka movement, Jallianwala massacre participants included
Chandigarh, December 23
Freedom fighters involved in the Kuka Namdhari Movement and the Jallianwala Bagh massacre are eligible for Swatantrata Sainik Samman Pension Scheme. The Centre has made it clear that the Kuka Namdhari Movement, 1871, and the Jallianwala Bagh massacre, 1919, have been formally included in the list of freedom movements recognised for pension.

SGPC: HC to hear case on January 3
Chandigarh: Just about two days after the Full Bench of the Punjab and Haryana High Court quashed the notification debarring the Sehajdhari Sikhs from voting in the SGPC poll, the Punjab and Haryana High Court today fixed January 3 as the next date of hearing on a petition for appointing an administrator for managing the SGPC affairs. The petition says the recently held SGPC elections have become null and void following the Full Bench judgment. As such, an administrator was required to be appointed to look after the day to day affairs of the SGPC. The petition has been filed by the Sehajdhari Sikh Party against the Union of India. — TNS


Constituency Watch: Ludhiana north
BJP MLA has mixed report card
The Ludhiana (North) constituency had been a stronghold of the Congress since 1980 till the bastion was captured by the BJP in 2007. Harish Bedi is the sitting BJP MLA. However, political observers say Bedi this time has a tough contest at hand. In the 2007 poll, he managed through as Madan Lal Bagga, Congress leader who contested as an Independent, dented his party's poll prospects. The Congress had fielded Rakesh Kumar Pandey. Though Bedi is a strong contender, BJP District Party president Rajiv Katna is also staking claim for party ticket.

Poll Snippets
EGS teachers' demands met
Muktsar: The state government on Friday agreed to give government jobs to the agitating Education Guarantee Scheme (EGS) teachers, who were holding protest demonstrations at Gidderbaha for the past couple of days.

Kuldip Wadala manages to get ticket for son
Jalandhar, December 23
Octogenarian SGPC member Kuldip Singh Wadala has managed to seek SAD ticket for his son Gurpartap Singh Wadala from Nakodar constituency. Former MLA Kuldip Singh Wadala had unsuccessfully fought the seat against the sitting Congress MLA Amarjit Singh Samra in the last Assembly elections.

Technical snag hits power plants


Several areas in Punjab plunge into darkness
Patiala, December 23
With several units of the thermal plants in Bathinda and Ropar being shut down on account of tripping in transmission lines, some parts of the state plunged into darkness yesterday.

Preparations in full swing for Shaheedi Jor Mela
Patiala, December 23
With assembly elections round the corner, the SAD activists have started hectic preparations for the annual Shaheedi Jor Mela, to be held at Fatehgarh Sahib on December 26, 27 and 28. With political conferences at the mela scheduled for December 27, the SAD leaders are leaving no stone unturned to make the conference a show of strength.

State gets four more info commissioners
Chandigarh, December 23
The state government today issued a notification regarding appointment of four Information Commissioners. They are Surinder Awasthi, a journalist, Narinderjit Singh, a former IAS officer, Ravinder Nagi, a mechanical engineer, and Harinder Singh Mann, a politician from Patiala district. Apprehending that the election code of conduct can be enforced in the state anytime by the Election Commission, the state government authorities acted swifty to complete the process for the appointment of Information Commissioners.

Nabha institute building unsafe: Students to DC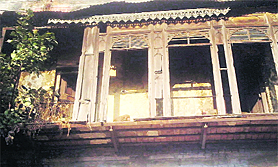 Patiala, December 23
The students of District Institute of Engineering and Technology, Nabha, have been attending their classes in a cramped and unsafe building. Students have made repeated complaints to the district administration, but to no avail.



The pathetic condition of the District Institute of Engineering and Technology in Nabha. A Tribune photo

Doctors' strike continues, patients suffer
Ludhiana, December 23
The PCMS doctors continued their agitation for the second consecutive day today in support of their demands. Meanwhile, the patients who had come to the civil hospitals, dispensaries and primary health centres were at the receiving end. They had to go back without getting examined.
Don't always depend on govt, says Gadkari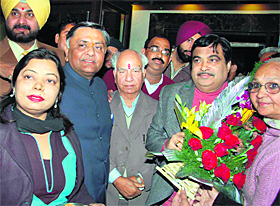 Jalandhar, December 23
Instead of a political leader, BJP national president Nitin Gadkari today appeared more of a socio-economic expert discussing ways and means to tide over the current fiscal situation in the country. Gadkari was addressing a gathering at a city hotel on the occasion of the launch of his book "Vikas De Rah", a translation in Punjabi of his original book "Vikas Ke Path".


BJP president Nitin Gadkari is greeted in Jalandhar. Tribune photo: Malkiat Singh

Mann claims he ordered pro-Khalistan T-shirts
Ludhiana, December 23
Shiromani Akali Dal (Amritsar) president Simranjit Singh Mann today said he had placed the order for T-shirts that carried the name and image of Khalistan ideologue Jarnail Singh Bhindranwale.
Varsity to confer honorary degree on Seechewal


Patiala, December 23
For his commitment to creating a pollution-free and green environment, Punjabi University has decided to confer honorary degree on renowned environmentalist Sant Balbir Singh Seechewal during its next convocation to be held in January 2012. University Vice Chancellor Dr Jaspal Singh said Punjab Governor and Chancellor of Punjabi University Shivraj Patil had approved the decision of the University Syndicate.



Father-in-law of SAD leader found murdered
Ludhiana, December 23
Sohan Singh Lambardar, father-in-law of controversial SAD leader Simrjit Bains, was found murdered at his house in Noorpur Bet area today. The incident came to light when a milkman knocked at the door of the deceased's house. "When he did not get any response, the milkman came to my house and asked me to enter Sohan's Singh's house. We found the house ransacked," said Gurmail Singh, brother of Sohan Singh.

Eight highway robbers nabbed with weapons


Fatehgarh Sahib, December 3
The district police has arrested eight members of a gang involved in highway robberies last night. SSP RS Khatra said they got information that few youths were planning to rob a businessman near Ladpur village. A police team headed by SHO, Gobindgarh, cordoned off the area and arrested them.