T H E T r i b u n e i n t e r v i e w
'It was a bad idea to rush through the Lokpal Bill under pressure. We have learnt a lot'
— Salman Khurshid, Union Minister for Law and Justice
In an exclusive interview, Salman Khurshid, Union Minister for Law and Justice, spoke candidly to Raj Chengappa, Editor-in-Chief, The Tribune Group of Newspapers, on a range of key issues facing the UPA government. Excerpts: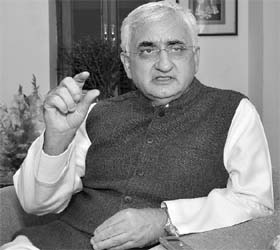 How is your government planning to break the impasse over the Lokpal in Parliament?
If you ask me, how we will get the numbers in the Rajya Sabha, I do not have a ready answer because nothing is going to change between now and the next session. We will try and improve the chemistry between different parties. We agreed to reach out and explain to the various groups, including our own partners that their concerns which are important have been addressed too. Hopefully, we will be in a position to make a credible return to the Rajya Sabha with a bill that is more widely acceptable and will possibly get passed.
A key issue has been the UPA's ability to manage its own allies, especially the TMC in Rajya Sabha. How will you resolve it?
We will talk to them, they had concerns and their concerns are very important. We would factor those concerns in. In Rajya Sabha, it was not really possible to sit down and work out to their satisfaction a formulation. We had several formulations but it would have involved long distance negotiations with Mamata Banerjee in West Bengal and I think it would be unreasonable to expect that she could have simply said fine this is okay without looking at all the implications. There were some local political issues as well; I think we have to factor those concerns in and we will.


On lifting AFSPA it is clear that the Jammu and Kashmir Governor is the final authority on this matter. After collating and harmonising different views, we have come to the conclusion that the Governor must be left to decide.
But TMC MPs had voted with the bill in Lok Sabha and within two days changed their mind. Isn't that unreasonable?
I do not think there is any problem. I think as you reflect on a bill and look at the implications then you may want to re-examine it. There is nothing wrong. Yes, it is inconvenient but I do not think that should be seen as being unreasonable after all once you press the button in the Rajya Sabha then you made an institution that you won't be able to change in a hurry. It may have been inconvenient to the Parliamentary Affairs Minister but that is not the end of the world.
The fiasco in the Rajya Sabha did hurt both your party and the credibility of parliamentarians too.
This is something on which I believe political consensus was necessary, more so, because there was a public demonstration and a public expectation that had reached a sort of tilting point. Therefore, we responded both by the way of a House resolution and also by giving a fairly tight timeline. If you asked me now that was a mistake. The timeline was important in order to prove our bona fides that people were questioning. Therefore, we went through with the tight timeline and I think it was a bad idea. We should not have tried to cut our losses but taken a more flexible timeline. It would have allowed us to do a much better job on all fronts. Now that we have more time, we will use it well. We are also preoccupied with elections in five states so it is not an ideal situation. But I think we have learnt a lot from the last six months and we will be ready during the next session to bring a Bill that does not give an impression of ambiguity that can be exploited against us.


On Lokpal Bill, it was a bad idea to go through with a tight timeline. We should not have tried to cut our losses. It would have allowed us to do a much better job on all fronts.
But by bringing in the clause for representation of minorities in the Lokpal there was a feeling that it would not make it constitutionally viable.
You cannot now establish any institution in the country where a demand for diversity can be overlooked. Diversity is an idea whose time has come, you like it or not. It is a part of a maturing Indian democracy in which demands for diversity are growing. I have being trying to convince people that an equal opportunity commission that is essentially based in the very idea of diversity must now be brought into existence. Up to now we were shy of talking of minorities, we only talked about marginalised, weaker and backward sections but I think our vocabulary has become more explicit and our demands have become more obvious and now a vast number of people are expecting this diversity. And please understand in the all party consultation even the BJP was unable to say that it did not go along with what was broadly described as a spectrum of diversity. They may not have said yes to minorities but they did not say no either. Because there was virtual consensus that the diversity issue had to be taken on board.


Nobody in the government thinks of Gen VK Singh as anything but the most outstanding Chief of Staff. I believe that hard cases make bad law. In this case, there are rules by which we have to go by.
In terms of the so-called Rahul Gandhi amendment to make the Lokpal a constitutional authority you knew the UPA did not have a two-thirds majority. Why did the Government move it then?
Please read the BJP's recent note in the standing committee in which they said that they are on board for the constitutional amendment. Everybody said that we want the constitutional amendment but when the constitutional amendment comes they do not vote for it. What are we supposed to do? Let the country know who stands for constitutional amendment. Now they are sighting an excuse that we would have done it but for the clauses on federalism. As far as the federalism argument is concerned I believe it is a phony argument that they have. Our model on federalism is far superior to this, our model is based on article 253 of the Constitution. Theirs' is 252 which requires two state legislatures to ask the Centre to legislate. But once you legislate no word can be changed either by those state governments or any other state legislatures that accept that resolution. Whereas 253 is consistent with the agreement which itself said that whatever you do to make the law must be consistent with the fundamental principles of your legal system which is federalism. So in 253 we were giving an option and at the end of the day in Rajya Sabha we were actually telling the states we will give you a model Lokayukta structure please take it or leave it.
The other question is who will Lokpal the Lokpal?
That is the most important question. You cannot give all powers to the Lokpal. Ultimately, the Lokpal must be answerable to the Supreme Court and the Supreme Court cannot be answerable to the Lokpal.
Because of the brouhaha over the Lokpal Bill, the Judicial Standards and Accountability Bill could not be passed too. Do you expect the bill to reduce corruption in the judiciary?
The Judicial Accountability Bill is not about corruption; it is about standards and you do not have to wait for a corruption question to be raised before you intervene. You can intervene if a judge is just suffering from incapacity and if a judge does not conform to the universally acceptable judicial standards. This Bill is for practising better standards of judicial behaviour.
But how can corruption in judiciary be curbed?
Long before a judge gets corrupt, he will be thrown out. Once you throw out a judge, he is like an ordinary citizen and accountable to the law. In fact, the Union Government does not want a Chief Justice of the Supreme Court to appear before a constable. We are seriously concerned about the financial integrity of a judge. If there is any indication of slipping from universally accepted standards of judicial behaviour, he will be put through a drill and procedure which will lead to his removal.
Will the Judicial Accountability Bill help in speeding up the impeachment process of judges – the process now is prolonged?
The solution to the problem of speeding up the process of impeachment is not to bypass the Parliament. We do need to sort out the time-consuming process. But at the same time there will not be a cash and carry approach to finding solutions to judicial misdemeanour. We will have to be very careful and steady in this approach.
Another controversial issue has been the demand for lifting the Armed Forces Special Powers Act from certain parts of Jammu and Kashmir. The Law Ministry has been asked to look into whether the Governor has to act under the aid and advice of the state government or is he the final authority?
It is clear that the Governor is the final authority in this matter. After collating and harmonising different views, we have come to the conclusion that the Governor must be left to decide. But this is not the major issue. The real problem is to balance the concerns of the armed forces vis-à-vis the civil society. I don't think there will be any hitch from either side —armed forces or the civil society— in sorting out the problems by making a balance between them. Our Home Minister and Defence Minister are very sensitive to the issue and know their responsibilities towards the army and the people. I hope if this issue is taken forward carefully and sensibly and with utmost understanding rather than in a politically-charged atmosphere, it will be better for all.
So you are saying that unlike in other states, the Jammu and Kashmir Governor need not act on the advice and consent of the Council of Ministers.
This is there in the constitutional structure. Therefore, as far as Jammu & Kashmir is concerned, it is a very special circumstance; and as far as the state Governor is concerned, many decisions of the Governor now have to be distinguished between where he has to take the aid and advice of the government or the Council of Ministers and where he can act on his own discretion. These issues have risen in many high courts. For instance it has arisen in the Gujarat High Court over the Lokayukta issue. Different opinions have come from courts from time to time.
But what is your own ministry's opinion in the case of the Jammu and Kashmir Governor's role on the AFSPA issue?
We are very clear that it is the Governor's discretion and that he need not go by the aid and advice of the Chief Minister on this issue.
Coming to the row over the age of the Army Chief, the Law Ministry was again called to give an opinion on this…
This matter could be sub-judice and is a sensitive matter. I will say just two things. One that nobody in the government thinks of Gen V.K. Singh as anything but the most outstanding chief of staff. I think he is held in very high esteem and we are absolutely clear on this one. And number two is that I don't think anyone believed that he has misrepresented the facts and he is not telling the truth as far as the facts are concerned. Three, there are some facts, that are established and again these can be argued. Not all these facts relate to the actual rules that apply. Hard cases make bad law. There are rules by which we have to go by. Not all rules are malleable or flexible to the extent of accommodating facts that are unanticipated. The thing about the rules is that you cannot keep changing them simply because in a particular case those rules give you an outcome that is not entirely to your satisfaction or entirely to the comfort of the people involved. It is rules that have been interpreted in a manner which does not allow us to take a decision other that the decision that has been taken. I don't want to comment any further.
As regards the demand to have a separate act for Sikhs to register their marriages, you seemed to have made some concessions on this.
As far as the Punjab legislation on registration of marriages, we have already cleared it. In the normal course it will be applied only in Punjab. What we want to do is to provide an alternative method by which the Anand Marriage taking place anywhere in India and the world would also be registered independent of the Hindu Marriage Act. For that provision, they are two different ways of doing it. May be both ways can be applied but that provision will be made. The Law Ministry has cleared it. It is now with the Union Home Ministry.
Since you come from Uttar Pradesh, what do you think is the Congress' chances in the coming state elections?
I think we have very good chances. Our key issue is Mr Rahul Gandhi. He has made himself an issue for UP. So either you are with Rahul Gandhi or not and that is a very critical paradigm shift that has happened in the politics of UP. He, of course, comes packaged with dreams, ideas and determination for UP. He is driving us hard and he wants results. He is very exacting and demanding. He is a hard taskmaster. We needed one and we got one and he will bring the best out in us. He has a clear cut strategy to fight to win. He is willing to look long term but I do believe that we have covered a lot of ground and I think the next state government will have the Tricolour of the Congress.