Success tastes sweet

Who hasn't heard of Yo Yo Honey Singh, the king of rappers, especially if you belong to Punjab where a geri is incomplete without playing his hits like Chaska, Panga and more recent ones like Dop Shop and Brown Rang from the album International Villager? We catch up with the artiste to know more about this happening rapper. Honey, who started his career as a music producer in 2006, never planned anything. Music just happened to him.
Rapper Honey Singh who is topping the popularity charts with his latest Dop Shop and Brown Rang, talks about his love for music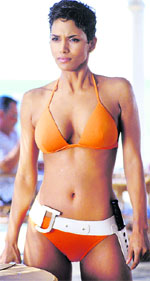 Wedding bells for Berry?
Halle Berry has sparked rumours that she's all set to marry Olivier Martinez, after she was spotted wearing an emerald ring on her wedding finger. The Oscar winner has been dating the French hunk after meeting him on the set of her upcoming film 'Dark Tide' last year and now the pair has prompted speculation of their marriage.
Write choice
Blogging relieves teens of social anxiety
Blogging could relieve teenagers from social anxiety, improve their self-esteem and help them relate better to their friends, says a study.
Priyanka plays Kaali
Kaali is the soul of the film. She provides the beauty, naughtiness, and happiness in the film...
Priyanka Chopra plays Kaali in Agneepath and she is the female lead in the Karan Malhotra's film. While the film is male-centric, PC promises that Kaali is the soul of the film.
100 days to Rs 100 crore
Superstar Shah Rukh Khan, whose mega-budget production RA.One has earned more than Rs100 crore, recalls the time when 100 days in the theatre was victory enough for film producers.
Fashion forward
Sonam Kapoor is stylish, classy, and pretty. And the girl can talk! So one of the leading ladies of Players talks about the film, her co-stars, her look, and her desire to start a fashion line.
Ishqiya 2 will be cult
Arshad Warsi, whose performance in Ishqiya won him critical acclaim, says the movie's sequel is going to be a cult film. "Spent New Year's (eve) chatting with Vishal Bhardwaj and Abhishek Chaubey, looks like Ishquia 2 is gonna be a cult movie... different in every sense," Arshad posted on his Twitter page.
Sandra goes simple
Speed star Sandra Bullock says she was forced to shoot scenes in new movie Gravity without make-up.

Sober is sexy
Singer Demi Lovato thinks that being above the influence of alcohol rather than under the influence is a better way to deal with problems. The 19-year-old, who was previously using alcohol and drugs to "numb the pain" of her emotional issues, says that she has now found more positive ways to cope with her problems. "I think sober is sexy.
Harsh notes
"Ill be honest I don't think I'm gonna live much longer (sic)," the 36-year-old posted on micro-blogging site Twitter.
Players premiere
The premiere of Players was held in Dubai on January 4. Both Bipasha and Sonam wore white designer gowns and looked fabulous!
Young, restless & successful

A few learn to ride the tide on their own. These young entrepreneurs are learning to stand up on their own two feet and how!
Which is the most lucrative option—staring one's own venture or climbing the fast-paced corporate ladder? For many the choice is the corporate ladder. But here are a few brave young entrepreneurs who are busy building their own empire.

Sahil Juneja, 24, Uppercrust
Delhi Belly lights up the Screen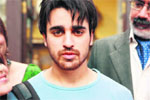 Bollywood's small fry Delhi Belly has bagged the maximum nominations for the 18th Annual Colors Screen Awards. The Imran Khan-starrer has picked 19 nominations, while small-budget film Shaitan follows with 15 nods.
Imran Khan in Delhi Belly
Overcoming stereotypes
Kill Bill star Uma Thurman feels that she has proved the Hollywood wrong by still having a successful career.
Marriage can wait


Actress Vidya Balan says that she believes in the institution of marriage and cannot avoid it for long, but she is not thinking about it right now.
"My career is going good. I am very happy. Emotionally and mentally I am in a very happy space, by god's grace. I am not thinking about marriage as of now, but I'm sure a right time will come for it also. I believe in the institution of marriage. I will not ignore it for a longer duration, but yeah, for now, I am keeping it aside. I will definitely get married," said Vidya.
first-day-first show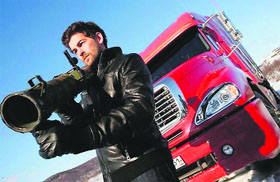 Weak game
Players revolves around a gang of robbers creating one of the largest traffic jams, giving them time to pull off a theft of gold bullion. They get away in their Mini Coopers, which are small enough to drive on sidewalks so they can make a clean get away before the traffic jam clears. The plan is flawless and the job is executed perfectly. The escape is clean. The only threat, that the mastermind thief never saw coming is a member of his own crew.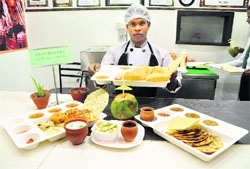 Fresh & green
The word Sandosham in Tamil means Joy and this joy has been recreated in the delicious vegetarian South Indian cuisine being served at the newly opened Sandosham outlet at the foodcourt of DLF City Center Mall, Chandigarh. Other than the authentic tasting dosas, idlis, uttapams, flavored rice the place serves we serve very special combos and platters, which are carefully designed to suit the pocket.

Bold look
The first look of Jism 2 will be out soon. The film stars Sunny Leone and is directed by Pooja Bhatt. The porn star has no problem shedding her clothes or getting naughty under the sheets. The first poster will feature her nude, under a transparent bed-sheet. Bold!
being naughty: Sunny Leone
Anupam's Twitter tribe


Anupam Kher's universe on the Twitter world is expanding and how! The actor's followers went over 500,000, and he is ecstatic. "Crossing a milestone of half a million fans, friends and followers couldn't have been possible without your warmth and support. Thank you," Anupam posted on his Twitter page.

Fight scene
Priyadarshan wanted a bare-chested climax fight between Ajay Devgn and Anil Kapoor but the actors decided to keep their clothes on.

New team
Prakash Jha has signed Abhishek Bachchan for his next film, Chakravyuh. The film will be shot outside Mumbai later this year. Manoj Bajpayee and Arjun Rampal might also be part of it.
On job: Prakash Jha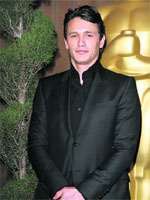 New role for Franco
Actor James Franco is to release his first novel Actors Anonymous, which is loosely inspired by his experiences in Hollywood. The 33-year-old has sold the book to online retailer Amazon. Although it's Franco's debut novel it is not his first book - he previously released a collection of short stories entitled Palo Alto. The actor is well renowned for his love of changing his work constantly, in addition to his acting career, he also hosted the Academy Awards in 2010 with Anne Hathaway and in November announced he was planning to shoot and direct a fashion campaign. — PTI
Martin wants a baby girl
Singer Ricky Martin, who announced last year that he is gay, wants a daughter this year. The 40-year-old became the father of twin boys Matteo and Valentino through a surrogate mother in August 2008 and now he's keen to have a daughter. —IANS
Calendar dreams
Winner of Dance India Dance Season 2 Shakti Mohan, currently seen in Channel V's show Dil Dosti Dance, has launched her own Dance Calendar 2012. This uniquely designed calendar titled Nritya Shakti contains 12 stunning dance expressions by Shakti which has been conceptualised by her and shot by internationally acclaimed fashion photographer Pravin Talan. The calendar is an exclusive, limited edition item and she adds, that the calendar will not be sold commercially. "This calendar is exclusively for the industry and not for the public," she says.
movie meter
Pale imitation
Movie: Players
Director: Abbas Mustan
Cast: Abhishek Bachchan, Bobby Deol, Bipasha Basu, Neil Nitin Mukesh, Sonam Kapoor, Sikander Kher, Omi Vaidya, Vinod Khanna.
Rating: Slightly above average
chatter box
Take your pick
With the Colors' reality show Bigg Boss nearing its end, everybody is on a guessing spree about the winner of this controversial show—who will walk away with a crore of rupees as prize money? With five contenders for the title—Amar Upadhyay, VJ Sidharth, Juhi Parmar, Mahek Chahel, Sky aka Akashdeep Saigal, we asked stars to pick their winners. Read on…
I think Amar, Sid or Juhi will win. Sky won't win at all because he wasn't diplomatic. Amar is the strongest of them as he was diplomatic and played the game well. It is all about being smart in the house and he has stayed clear from most controversies and therefore might win Bigg Boss. The rest, I guess, we will just wait and watch.
The year ahead
If your birthday is January 7...
April and May bring news that lifts your spirits but might cause envy in your peers and competitors. Try not to smirk too much, even if you secretly feel that you're in the best of positions. Humility gets you farther. Follow your goals with determination, however odd they seem to others.
Astro Turf
ARIES: Love life will be exciting. A friend of the same sex may be helpful to you. Financial matters may cause stress. There is likely to be a potential for future growth. Singles could be on the lookout for a partner. Tarot message: Do what is right and watch your best interests. Lucky colour: Yellow