Kalia in crorepati club
Chandigarh , January 6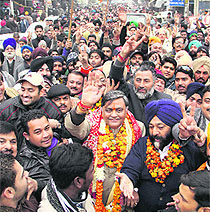 Former Local Bodies Minister and BJP candidate from Jalandhar (Central) constituency is now a member of the 'crorepati club'. While filing his nomination in Jalandhar today, Kalia declared assets worth Rs 2.59 crore. His assets were less than Rs 1 crore while he had filed his papers in the 2007 assembly elections. Compared to last elections, the BJP leader's total worth has grown by Rs 1.7 crore. As declared by Kalia, he now owns movable assets worth Rs 1,25,65,867; 100 gm gold (same as last time), Rs 18.47 lakh in bonds and Rs 1 lakh as investment in LIC. His immovable assets' worth is Rs 1,34,15,500. He, however, also has dues to the tune of Rs 1,08,45,887.
Manoranjan Kalia on his way to file nomination on Friday. Tribune photo: Malkiat Singh


Tikshan Sud is worth Rs 5 crore
Hoshiarpur, January 6
BJP candidate Tikshan Sud filed nomination from Hoshiarpur seat on Friday. As per an affidavit furnished by Sud, he has assets worth Rs 5 crore. Of them, Rs 4.4 crore are immovable assets while the movable ones are valued at Rs 64,81,174 . His spouse owns movable asset worth Rs 24,00,140 and immovable assets worth Rs 1.2 crore.
Tikshan Sud
Manpreet vows to end VIP culture
Chandigarh, January 6
People's Party of Punjab chief Manpreet Singh Badal today released a bold 20-point poll agenda, which he claimed would be implemented in 100 days if the Sanjha Morch led by the PPP came to power.
Portal war turns ugly
Chandigarh, January 6
Election code norms are being violated with impunity on social networking sites such as Facebook and Twitter with various candidates unashamedly indulging in mud-slinging. While the Election Commission is making every effort to check poll code violations in the media, both print and electronic, it has no control over the networking sites.

Poll snippets
BJP's star campaigners
Jalandhar: The top brass of the BJP would be at hand to help their candidates in the assembly elections from January 20 to January 27. Among them will be BJP president Nitin Gadkari, Sushma Swaraj, Rajnath Singh, Arun Jaitley, Narendra Modi, Bihar CM Nitish Kumar and actors Vinod Khanna and Smriti Irani.

SAD drops Maheshinder
Chandigarh, January 6
A day after the Congress announced its party nominees, the Shiromani Akali Dal (SAD) has announced candidates for 13 more seats. Maheshinder Singh Grewal, who was tipped to contest the Ludhiana East seat, has been dropped. Grewal is the only member of the SAD core committee who has been left out. The Ludhiana East seat has been allotted to Ranjit Singh Dhillon.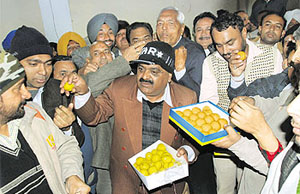 Congress workers distribute sweets to celebrate party ticket to Harminder Singh Jassi in Bathinda on Friday. Tribune photo: Pawan Sharma

In Adampur, BSP connections count
Jalandhar, January 6
Whatever be the outcome of the elections in the reserved Adampur constituency, it will be a win-win situation for the Bahujan Samaj Party (BSP) as even the candidates fielded by the Congress and the SAD are 'originally' from the BSP. The Congress today fielded Satnam Singh Kainth, who had been a BSP MLA in 1992.
Seechewal sets green agenda
Chandigarh, January 6
Eminent environmentalist Baba Balbir Singh Seechewal here today urged political parties and their candidates to include cleaning polluted rivers and other water bodies in their election agenda.
BJP expels 3 Hoshiarpur councillors
Hoshiarpur, January 6
On the report of the state disciplinary committee, the district unit of the Bharatiya Janata Party (BJP) expelled its three councillors of Hoshiarpur Municipal Council from the party for their alleged anti-party activities.

Traders upset with political parties


Except Rana Gurjit, no other businessman given ticket
Chandigarh, January 6
Traders and industrialists in Punjab are upset with the political parties for failing to give them due representation while allotting tickets for the assembly elections. Though, many industrialists were aspiring to contest the elections, but none of the major political parties had allotted ticket to them.

Constituency Watch: Fazilka
BJP going strong in Fazilka
In the past four elections, voters of this Rai Sikh dominated constituency have either voted for the BJP or the Congress. This time, the BJP seems to be in a comparatively stronger position with Fazilka accorded district status by the SAD-BJP government.

Constituency Watch: Ghanaur
Pollution, floods key issues here
A keen contest is on the cards in the Ghanaur constituency. This time, SAD leaderAjaib Singh Mukhmailpur's wife Harpreet Kaur is in the fray. She faces Congress MLA Madan Lal Jalalpur, a Kamboj, in a straight contest. The constituency has a little over 7 per cent Kamboj, 55 per cent Jat Sikh and 18 per cent SC/ST votes. The constituency covers roughly 180 villages. Every monsoon, residents of the flood-hit belt of Ghanaur see their crops being damaged in the receding waters.

Parents urge education dept to declare holidays
Patiala, January 6
Keeping in view the dense fog and chilly weather, a few private schools have declared holidays, but the government school students have to bear the brunt of the biting cold and icy winds to reach schools.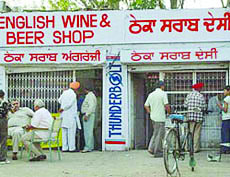 Excise policy 2012-13
HC asks Punjab to consider location of liquor shops
Chandigarh, January 6
The Punjab and Haryana High Court has asked the State of Punjab to consider in its new policy whether liquor shops should be allowed in open spaces. The state has also been asked to determine reasonable distance between liquor shops and educational institutions, religious shrines, and traffic signals.
Ludhiana DC told to decide encroachment issue in 2 months
Chandigarh, January 6
The Punjab and Haryana High Court has set a two-month deadline for the Ludhiana Deputy Commissioner to decide the issue of alleged encroachment and construction of the Mata Gujri Memorial Library on the panchayat land.
Apex court slaps Rs 50,000 cost on Punjab govt
New Delhi, January 6
The Supreme Court today slapped a cost of Rs 50,000 on the Punjab government for fighting a legal battle for 25 years against an officer in the Public Relations Department despite demoting him illegally.