A Tribune series on government performance: INDUSTRY
Yarns were spun, the wheel didn't turn
Ruchika M. Khanna
Tribune News Service
The SAD-BJP government did come out with a new industrial policy, but the flight of industry to other states could not be checked. A few 'mega projects' were launched too, yet there was little fresh investment worth counting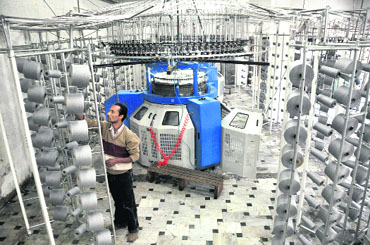 The famed Punjabi entrepreneur seems to be losing his magic touch. The spirit, however, was not lost for any want of will, but the business environment that could not provide sufficient reason for big investment to flow into the state.
While the competition posed by neighbouring hill states owing to tax exemptions there remained a major disadvantage for Punjab, the state government, too, did not make a concerted political effort or provide fiscal incentives to industry.
Even as the government during the past four years did "sanction" 91 mega projects worth Rs 51,049 crore, actual investment of only Rs 9,673 crore was made, according to sources in the state Industries Department.
Besides these mega projects, investment of Rs 14,475 crore also came in the form of other large and small projects.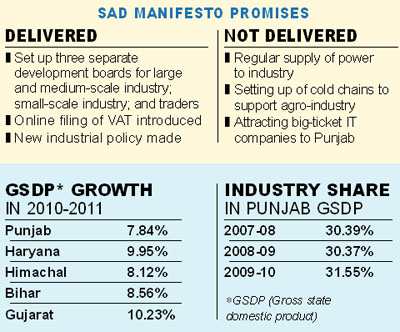 Small and medium-scale industries need fresh impetus from investment in large industry that may anchor growth.
One of the major dissuading factors for industry was unavailability of land, its high cost and inordinate delays in getting clearance for "change in land use (CLU)". And it's not just investors from outside Punjab who chose to set shop in hill states, but even industrialists from Punjab sought to expand their operations in Haryana, Madhya Pradesh, Maharashtra and even Gujarat.
Except the Rs 19,000-crore Guru Gobind Singh Refinery in Bathinda, there has been no large industrial investment in the state. The big industrial houses of Punjab — whether Vardhman Group or Trident Industries — too looked outside the state for expansion. They set up units in the tax havens of Himachal Pradesh and Uttarakhand, besides other industrial states mentioned above, as land is much cheaper there, and power availability is better too.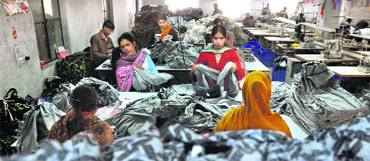 No wonder, the contribution of industry in the state's gross domestic product (GSDP) has been falling. The government claims that the contribution of the manufacturing sector grew 11.99 per cent in 2009-10, but the "growth" was seen largely because of very low contribution in 2008-09 due to the global recession.
Land prices high, supply low
There is hardly any land available to set up big industrial units in the state. The government's New Industrial Policy had promised a land bank would be created to offer the precious commodity at concessional rates to industry, the scheme failed to take off. Wherever land is available, it is very expensive.
A recent Confederation of Indian Industry report noted the estimated cost of industrial land was $35.42 per sqare metre in Mohali, $7.71 in Ludhiana and $11.10 in Amritsar. External development charges and licence fee would take the cost in Mohali to approximately Rs 3.50 crore per acre. Though the government has a policy to allot land off the shelf, industrialists complain of lack of transparency in this scheme. The state's attempts to create land pools in Kapurthala (260 acres), Ropar (300 acres near IIT), Rajpura (1,400 acres) and Bathinda (1,500 acres) too failed to take off.
Power, labour shortage
Unscheduled power cuts and mandatory days off for industry have been the norm in Punjab rather than exception. Combine that with severe shortage of skilled manpower, and there is no way to keep the wheels turning in even the existing industrial units in Punjab. Most industry in Punjab is power and labour intensive. In peak summers, there are long power cuts for industry, as the available power is diverted to the agriculture sector, essentially paddy. This increases the cost of production, as own power generation is very expensive for industrial units.
For labour shortage, the National Rural Employment Guarantee Act is blamed, as a large number of workers that earlier came from Uttar Pradesh, Bihar, Jharkhand and Orissa have stopped coming as they get work back home under the Central scheme.
The Akali-BJP government did realise the power problem, and worked on increasing generation, but failed to make sufficient power banking arrangements to ensure regular supply. The total generation capacity in the state today is 6,600 MW. The five years of this government's tenure did see three new projects being sanctioned — at Talwandi Sabo (1,980MW), Rajpura (1,200 MW) and Goindwal (540 MW) — but it will be a while before these are commissioned.
The state allows units to buy power under the Open-Access Policy, but industrialists say this is not really being encouraged by the government. The per unit cost of power (Rs 5.28) in the state is also among the highest in the country. Add to it the high electricity duty of 13 per cent, and the high VAT on diesel (used for captive power generation), and the industry sentiment becomes quite unfavourable.
As for labour, incentives like higher wages, mobiles, and better living quarters too have failed to attract workers.