Menace of biological weapons
Limited success at Geneva conference
by P. R. Chari
Wholly unsurprisingly, the recently concluded seventh five-yearly conference held in Geneva to review progress on implementing the Biological and Toxin Weapons Convention (1972) ended before the Christmas holidays with hardly any worthwhile results. The convention bans the development, production, stockpiling and use of biological materials for non-peaceful purposes. It has been ratified by 165 nations with another 12 states being its signatories. Review conferences are held every five years to assess the functioning of the convention and threats arising to its provisions.
Why wholly unsurprisingly? Clearly, any attempt to proceed towards eliminating biological and toxin weapons and prohibiting their future manufacture cannot succeed without the United States coming on board since its bio-technological and pharmaceutical industry dominates the scene.
However, the BTWC lacks any verification mechanism; hence trust must be reposed in the nations that are party to the convention to comply with its provisions. But this modality offends the pithy "Trust but Verify" principle enunciated by former President Reagan; it embodies a rule of prudence that all disarmament treaties and conventions must be credibly verifiable to ensure confidence that the State-signatories are in compliance.
Unfortunately, the United States reached a unilateral decision in 2001 that it would not join a Verification Protocol that had been negotiated over six years between 1994 and 2000. The US objections derived from the assumptions that biological weapons were unique because their manufacture was easy to conceal within a legitimate bio-technological or pharmaceutical programme.
Moreover, significant quantities of militarily useful biological agents could be produced in weeks, adding to the problems of detection and averting an attack. Any mechanism for on-site inspections of bio-technological and pharmaceutical plants would compromise commercial secrecy.
Furthermore, on-site inspection of research establishments in the defence sector would be unacceptable on grounds of national security. In the event the draft Verification Protocol was abandoned. Instead, faith was reposed on voluntary efforts to ensure compliance with the convention by a system of declarations to enhance confidence that national compliance was being ensured to implement the BTWC's provisions. Clearly, this was a half-hearted measure to verify the BTWC's prohibitions. But it was the best outcome available due to the US anathema towards any more credible verification means.
And, why were the results of the seventh Review Conference so disappointing? First, the participating states could only agree upon devising a new, revised annual reporting document for submission to promote confidence that their biological R & D activities had no military connotations.
Secondly, it was recognised that there is urgency to ensure that all BTWC state parties submit their annual reports on these confidence-building measures. Evidently, compliance with this decision by the state parties has been tardy. Furthermore, it was agreed to achieve universal membership of the BTWC since significant countries have not yet joined it.
Thirdly, proficient state parties were enjoined to provide technical assistance and training to states requesting such assistance to furnish their annual confidence-building measures reports.
Fourthly, it was agreed that the modality of annual inter-sessional meetings be continued to permit experts and officials from the member-states to confer on issues of relevance to the BTWC relating to developments in science and technology, and further cooperation to implement the convention.
Even the slightest reflection would inform that these decisions are quite banal, and fail to address the real issues confronting the BTWC. Genetic engineering, for instance, permits the development of new viruses that create attendant problems in diagnosing and treating diseases caused by these new variants.
Undoubtedly, developing dangerous new pathogens and converting them into deliverable biological weapons is not a trivial task. But even if the new pathogen was only partially effective, it would generate widespread panic with disastrous economic consequences. These issues were not addressed at the Review Conference nor the potential dangers from non-state actors (read terrorists) gaining access to such disease agents. The al Qaeda, incidentally, has given a call for "brothers with degrees in microbiology or chemistry to develop a weapon of mass destruction."
Another danger arises from the bio-defence work proceeding in several countries, which are concerned with countering biological agents. Hence, they are known to develop new viruses and bacteria for testing countermeasures. The possibility of such new viruses escaping or being removed by motivated employees is always there. For instance, the SARS epidemic in China is suspected to have resulted after this virus was released from an experimental facility.
Moreover, the anthrax spores that contaminated the US Senate building in 1999 had come from a US defence laboratory in Maryland. These growing threats of biological terrorism emanating from non-state actors and bio-defence laboratories were also not discussed in Geneva.
Perhaps the greatest failure of the Review Conference was not to discuss growing tears that publication of legitimate research could enhance the danger from biological weapons. This issue gains traction from the controversy raging around two research establishments succeeding in mutating the H5N1 virus that causes avian influenza or bird flu. So far, it could only infect human beings in close contact with the affected birds. But, the mutated virus can spread from humans to humans, generating great angst of a uncontrollable pandemic being initiated.
The question presently excoriating the scientific community and official agencies is whether this research should be allowed to be published in scientific journals. If no absolute prohibition is possible, should it be allowed to be published with suitable expurgations? Who will administer these expurgations? No simple answers are possible, but the issue is of seminal importance,
Arguably, the most effective way to deter the menace of biological weapons is to lower the impact of an attack by effective isolation, quarantine and treatment of those infected to ensure their recovery, which might persuade terrorists that they would gain nothing but only earn opprobrium by using biological weapons.
But this issue, and none of the questions noted above that are critical to implementing the BTWC seem to have engaged the attention of the participants in the Seventh BTWC Review Conference.

Learning from a little one
Brig A.N. Suryanarayanan
In her calls to me every evening, the first question Maya, my five year-old granddaughter would ask (ever since she was three) is: "What were you doing when I was in school?" Then it will be followed by: "When I was in swimming?" and so on. I have to give out my complete itinerary for the previous 24 hours! On hearing, her crib would be: "All the time you either read or go for a party!" I may be reading a lot but I feel it is she who is learning a lot from a very young age and passing it on to me when my questions begin: "What did you do in school today?"
It is from her that I heard the word "Tessellation" for the first time. In her own way, she would explain: draw a figure of a triangle, polygon etc and build on it a number of figures, for a whole page! After "Googling", I learnt it is a pattern of  plane figures that fills the plane with no overlaps and no gaps. Another day she would say, "Pooja (her teacher.... on first name basis!) gave me a presentation and I did it". Wow, the first time I heard the word 'presentation' was when as a Major, 32 years old, I was on a Staff College course for a presentation of my plans as the 'Enemy Division Commander' for a telephone-battle. 
Another day: "Esme (another teacher) gave me a project; I finished it and then helped Shivam with his!" Well, I heard the term "Project" for the first time as a Capt at age 23 during a training course! Of course I would hear it repeatedly during MBA in Patiala decades later! Yet another day, Maya would say: "In Circle Time, Pooja read out the story of 'James and the Giant Peach' by Roald Dahl"; I had never heard of Circle Time, though in classes 1 and 2, we always sat in a circle for games such as "Grape Bunches and the Jackal".
 Once when she was spending two days alone with me, she said she would make lime juice and named the ingredients. Thinking back, I realised that the earliest I did so was after my wife passed away.
 At least in brass polishing, I thought she couldn't beat me as even in Junior-NCC, I had to 'brasso' my belt for the twice-a-week parades! But the little girl beat me two years ago, when she said: "The next time you want to polish brass cartridges/lamps etc, I will do; and don't give me Brasso!" She explained sweetly the things I should keep ready!
There is indeed a lot to learn from the Little One!

Recent protests by Punjabi farmers against the Gobindpura land acquisition and spirited participation by women in these protests illustrates that 'women's issues' are not limited to practices that only impact them
Women's right to protest
Mallika Kaur
Amandeep Kaur explains, as a marker of her family's honour, how she had never even glanced towards a police station, a place for men, all her life. At least not until the summer of 2011. Her perspective changed when her village of Gobindpura, in southern Punjab, was declared the chosen site for a new thermal power project that required the acquisition of the villagers' ancestral farm lands. Her decision to participate in citizens' protest resulted in five arrests and detentions at the police station, several beatings, sexualised taunts and severe threats.
Women's issues are human issues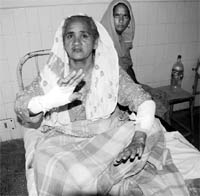 An injured woman of village Gobindpura, at Budhlada civil hospital, undergoing treatment. Tribune photo by Pawan Sharma
Amandeep's story, captured in a November 2011 Youtube video that is gaining popularity, reminds us of the simple truth: women's rights are in fact, simply put, human rights. 'Women's rights' are often conveniently seen as 'special,' thus softer. A preoccupation with women's bodies sadly determines for some, which issues are labeled as 'women's issues' and generally often include rape, domestic violence, and reproductive oppression. Removing this 'special status' around women's rights is necessary since it comes with the patronising presumption that women are weak and need generous protection; the nature and scope of this protection determined by the 'protectors.' Removing the special status acknowledges that women, like all humans, have the right to freedom from vulnerabilities-to their bodies, their livelihoods, their day-to-day living. Those who stand up for this right are simply doing the right thing, and not engaging in some form of 'special,' generous charity. And women themselves are at the forefront of this rights-based work.
Further, Amandeep's story illustrates that when women assert their rights, they also simultaneously impact other human right concerns that threaten our communities. It shows how rather than asking for 'special' treatment, women are standing up and sacrificing for the inclusive development and rights for all. In Amandeep's village, these rights-to work, to liberty and security of person, and indeed to life itself-were threatened by a power company and its nexus with the state forces.
Poor rich gap impacts women
The power company acquiring lands in Gobindpura, Poena Power, is no foreign agency, but rather a reported subsidiary of the Indian conglomerate Indiabulls. And just last month, India was rated as an 'extreme risk' country on the Women's and Girls' Right Index (WGRI), by the UK-based risk analysis company Maplecroft. Maplecroft warns global companies entering such 'extreme risk' emerging economies of the danger of possible complicity in "violations (against women) committed by state security forces or other actors." This might be especially relevant in the light of the late November changes to foreign direct investment and further opening of the Indian retail business sector to multinational companies. However, the struggle in Gobindpura illustrates how women's security is also at immediate risk because of the growing gulf between the poor and the rich within India, because of the insecurity faced by a majority of rural families.
Braving imminent risks in the face of such insecurity, the villagers of Gobindpura protested through Summer 2011, almost at the same time as the growing Occupy Movement on the other side of the globe, but with even lesser media attention. "We are the 99 per cent" is the predominant slogan of the Occupy Movement in the US, as people have taken to occupying public spaces, starting with Wall Street, the symbol of American capitalism. The slogan represents the chasm in the US between the wealthiest one per cent and the rest of the population. The Gobindpura protestors were protesting similar inequality in wealth and power. While the Western protesters are occupying public spaces in protest, the Gobindpura farmers are protesting to reject the occupation of their private property. And Gobindpura's women and girls made the conscious decision of protesting alongside their men. For the lands at-risk were as much markers of their ancestry, identity, and livelihood as of their male counterparts.
Dare of women protesters
Beginning in June 2011, women sat and marched in protest, in the face of the reality that many of the village men had already been arrested, thrown in jail, and tortured. The women were treated no differently. Their clothes were torn, their hair pulled, and they were caught in clouds of red, as cannons sprayed water mixed with red chilli pepper. As they were arrested and detained, police officers reportedly recommended to them that their only way out was to accept the compensation checks from the company.
As the agitations in Gobindpura caught the attention of other farmer and labor unions, the village was cordoned off by police forces, denying any ingress and egress, who then proceeded to fortify their constant presence by several means, including converting the sole village health dispensary into a police camp. Given its pre-election season in Punjab, the Gobindpura issue was also ripe for selective attention from opposition political-parties-in-waiting, but in the face of government and corporate pressure, no real alternative existed for the villagers.
Gobindpura is not a lone example of land acquisition or the agrarian neglect in Punjab; farmer unions and NGOs report over 50,000 debt-induced farmer suicides over the last two decades in what is often dubbed as the 'bread basket' of India. However, unlike other places that remain obscure, Gobindpura has now gained profile, and due to a confluence of political factors, some relief, whether in the form of alternate government jobs or negotiated higher settlement, seems more likely here. Nonetheless, for all the action in and around Gobindpura, the power company has begun construction of the plant, mostly unfazed.
It was in an attempt to oppose this foisted and exclusionary development, that thought nothing of the poor and the vulnerable who were going to be uprooted by it, that the women of Gobindpura entered the larger male-dominated spheres with an intensity and at huge personal cost. Yet this bravery has largely gone unrecognised. Since the protestors lacked profile and were up against powerful forces, their behaviour seems to have been criminalised with little debate.
Re-evaluate women's rights
The reaction to the Gobindpura women protestors has included violence and indifference. On top of the grotesque treatment meted out to them, there has been commentary chiding these women for not 'staying in their place'. This incident should force us to re-examine our assumptions about women's rights and empowerment in Punjab and beyond. Amandeep and her friends remind us once again that women ask for no special treatment, but only, as the Sikhs say, for "sarbat da bhalla," the welfare of all. For this, we must focus economic and social programmes that take everyone into consideration; inclusive development is an imperative and not an option.
the COUNTDOWN
n Oct 2010: Proposal by Poena Power, subsidiary of Indiabulls, to set up a 1,320 MW power plant in Mansa District, southern Punjab.
n Resistance to the proposal by local leaders, farmers, and villagers.
n Government's original notification expressed intention to acquire a total of 1,237 acres for the project.
n Subsequent notifications reduced the total amount to 880 acres.
n As land acquisition plans went forward, there was conflict between the government on the one hand and villagers—farmers and labourers—on the  other.
n June 2011: Agitations grew, and village cordoned off, became a police camp.
n August 2011: Farmers began protesting against land acquisition in Gobindpura.
n September 2011: Other farmers, farm unions, joined in the Gobindpura protests.
n October 2011: In one incident, in addition to men, 14 women were booked by the Baretta police station.
n Leaders of various farmers' bodies condemned the cases against women registered under Sections 307 and 332 of the IPC.
n Farmers and the government continue to project different estimates of the amount of acquired land for in dispute: government claims only 91 acres were disputed, while farmer contend the figure stood at 186 acres.
n November 2011: CM invites farmers for talks to resolve issues; compensation and employment alternatives are suggested.
Fact file
n Inclusive development refers to development that comes with all groups of people contributing to creating opportunities, sharing the benefits of development, and participating in decision-making. (United Nations Development Program).
n Inclusive Development includes the key principles of human rights: participation, non-discrimination and accountability. (UNDP)
n The richest 10 percent of people in the world own 85 per cent of all assets, while the poorest 50 per cent own only 1 per cent . (UNDP)
n In 2011, India reported a record 55 billionaires, half a dozen more than in 2010. (Forbes, 2011)
n India is home to the largest population of the world's poor-greater than 26 of sub-Saharan Africa's poorest countries combined. (Oxford University, 2010)
n Punjab, seen traditionally as a richer state, is continuing to witness rural distress and estimates about 2,000 farmer suicides per year. (Punjab Farmer's Commission, 2005)
The writer is a US-based lawyer who focuses on gender and minority issues in the United States and South Asia.