Paving path to parenthood
With 30 million infertile couples in India, IVF surrogacy has found a good mascot in Aamir Khan-Kiran Rao. The stamp of approval from a Bollywood icon has come just at the right time, when India is fast emerging as a surrogacy hub
Dr Archana Dhawan Bajaj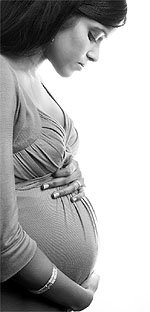 With the news of Aamir Khan-Kiran Rao having a baby via in vitro fertilisation (IVF) surrogacy, infertile couples, potential surrogate mothers and IVF experts — all stakeholders in the artificial birthing technique, IVF — are looking forward to 'expecting' times ahead. 
IVF and its component surrogacy could not have got a better mascot than Aamir and Kiran. A number of infertile couples need the surrogacy route for babies but social acceptability was preventing them from going for it. According to estimates in India, there are more than 30 million infertile couples in the country, out of which, at least 20 per cent need the IVF method to conceive. Out of these IVF hopefuls, in about 2 per cent couples, women face frequent miscarriages and/or have undeveloped and faulty wombs. This infertile population can now come out of the closet and scout for surrogate mothers without the fear of social stigma, as that is the only option available left to them.
Surrogacy is advisable for those couples/women, who face the following problems:
Have either no or a malformed uterus.
Uterus damaged due to infection/ tumour.
Uterus has been removed for some clinical process.
The woman has been having repeated miscarriages.
India as a surrogacy hub
Medical procedures in India are estimated to be 30 to 40 per cent cheaper than in the West.
Surrogates in India are relatively easy to find, and the cost of the procedure, including the total expenditure on travel, accommodation and medical bills for the entire period, are approximately one-third of what it costs in the US, the UK or Canada.
The Indian Council of Medical Research (ICMR) guidelines are followed in India regarding surrogacy.
The surrogacy clinics in India are equipped with specialised doctors, cutting-edge technology and all amenities to make the entire procedure as comfortable as possible.
Most doctors and physicians in India, involved in this process, are a highly skilled group with many of them having global experience.
English as a medium of communication ensures that there is complete understanding between both the parties, and that the entire process is conducted as smoothly as possible.
India, with its reduced cost of surrogate mothers, provides world-class service without compromising on the quality of care administered.
Indian women are particularly known for their strict abhorrence for drugs, smoking, and alcohol, leading to their increased acceptance of people opting for surrogacy in India.
Surrogacy problems
Although a large number of surrogacy success stories are reported every month; there are some problems associated with surrogate motherhood in India:
Ethnic factors: Pregnancy is fraught with risks at all stages and puts a huge mental and physical strain on the surrogate mother. The surrogacy laws of western countries may not be compatible with those in India.
Negligence of the health of the mother and child by fertility clinics can lead to the complete wastage of the entire procedure.
Surrogacy laws: Commercial surrogacy in India was made legal by the Supreme Court in 2002. Following this, surrogate motherhood in India is fast growing into a robust industry.
ICMR guidelines
Legal contract between the surrogate mother and intended parents.
Monetary compensation for the surrogate mother, apart from settlement of all pregnancy-related medical bills.
Forfeit of all parental rights to the child by the surrogate mother.
Surrogate mothers must be between 21 and 35 years of age and physically and mentally fit, with proven fertility.
An agreement as per these guidelines, along with the certificate of the ART (Assisted Reproductive Technology) clinic, must be notarised and registered.
Tips for biological couples
Couples must get in touch with reliable surrogate mother centres in India to make the entire process as smooth as possible.
A suitable surrogate mother in India must be located prior to arrival in the country.
Legal contracts must be properly drawn up and valid in the court of law.
Surrogate mother agencies
There are a number of organisations in India, which handle the logistics right from locating a surrogate mother in India to arrangements for travel, accommodation and medical care for the surrogate mother and child.
A simplified version of the procedure is explained below:
After the infertile couple gets in touch with fertility centres, based on their requirements, a search for the surrogate mother is carried out.
Only those surrogates, who successfully clear the stringent medical checkups, and are in perfect physical and mental health are considered in the programme.
A legal contract between the surrogate and the intended parents is then drawn up and signed by both the parties.
The surrogate mother selected is put on hormones to regulate her menstrual cycle and then impregnated with the embryo.
During the nine months, the surrogate is carrying the child; all steps are taken to ensure that mother and child remain as healthy as possible. Regular checkups, tests and a balanced diet rich in nutrients are provided to the mother.
The couple is kept posted on the growth of the child and ultrasound photographs are sent at different stages of growth.
Case study 1
Reena (name changed) is seven months pregnant with the child of a Chinese couple. Her husband works as a factory worker and earns Rs 300 per day. She already has two children; it's tough for Reena and her husband to meet all the family's needs. When she was offered the surrogacy contract, she was initially reluctant but her husband convinced her to go ahead with it, as the money would secure their children's future.
Case study 2
Garima, 34, a mother of three children, works at a construction site as a labourer. Her husband is a vendor selling books on the pavement. Bringing up three children in today's times is a hard task for the couple. Hence, when she heard about the process of being a surrogate mother from a friend, she immediately accepted the proposal. Garima is now three months pregnant, a surrogate mother for the baby of a Nigerian couple.
(The writer is a consultant, obstetrics and gynaecologist and IVF Expert, The Nurture Clinic, New Delhi)