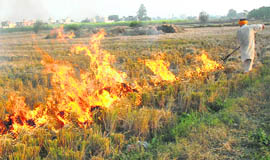 The un-green revolution
Industry is the first to be blamed for pollution. However, in Punjab, which has only a modest industrial base, a major part of the total pollution comes from agriculture.




About 19 million tonne of paddy residue is burnt every year.

SAD expels rebel Simarjit, his brother
Ludhiana, December 29
Sending a clear signal to rebels opposing party candidates in various parts of the state, the SAD today expelled Youth Akali Dal district president Simarjit Singh Bains and his elder brother, SGPC member Balwinder Singh Bains, for anti-party activities.

Zero tolerance to dissidence: Cheema
Chandigarh, December 29
The Shiromani Akali Dal (SAD) has decided to deal with factionalism within the party with an iron hand. "The SAD will have zero tolerance to dissidence and any anti-party activity will be dealt with firmly", says party general secretary Dr Daljit Singh Cheema.
Lambi RO transferred
Chandigarh, December 29
Two days after Harjeet Singh Kandhola was appointed Returning Officer (RO) in Chief Minister Parkash Singh Badal's constituency Lambi, the Election Commission today ordered his transfer. He has been posted SDM, Bathinda. The move assumes significance as the high-profile segment is all set to witness the mother of all political battles between Badal, his brother Gurdas, father of PPP chief Manpreet. Mahesh Inder Singh Badal, a cousin of the duo, is likely to be the Congress candidate.



Gill's roadshow jams traffic in Moga
Moga, November 29
Former Punjab DGP Paramdeep Singh Gill, ruling Shiromani Akali Dal candidate for the Moga assembly constituency, held a roadshow in Moga town today, much to the discomfort of local residents who were stuck in long traffic jams for hours together.

PS Gill, former DGP

Jalalabad MC former chief in SAD fold
Fazilka, December 29
The SAD today got a shot in the arm as Congress leader and former Municipal Council president Ashok Aneja joined the party along with hundreds of his supporters in neighbouring Jalalabad assembly constituency from where SAD president and Deputy Chief Minister Sukhbir Singh Badal is contesting.


Congress ticket aspirants in Delhi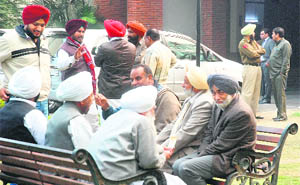 Congress ticket aspirants outside the Punjab Bhawan in New Delhi on Thursday. Tribune photo: Manas Ranjan Bhui
Hectic lobbying for Patiala Rural
Patiala, December 29
Hectic lobbying is on among the senior Congress leaders for securing the ticket for contesting the Punjab Vidhan Sabha elections from the newly carved out Patiala Rural constituency. The Congress heavyweights interested in Patiala Rural includes Randeep Singh (Nabha MLA), Brahm Mohindra (Samana MLA), Malvinder Singh, brother of PPCC president Capt Amarinder Singh, former Patiala Mayor Vishnu Sharma and former Patiala Improvement Trust chairman KK Sharma. It is learnt that all ticket aspirants are presently camping in Delhi, making efforts to impress upon the Congress leadership.



Cuts expose power corp's hollow claims
Patiala, December 29
Unscheduled power cuts in the domestic sector and the imposition of three-day weekly off on the category three (arc/induction furnaces) in Punjab during winter season has exposed the false claims of the Punjab State Power Corporation Limited (PSPCL) of providing uninterrupted power supply in the state. Though PSPCL has started purchasing power from the open market still there is power crisis in the state.
Slowdown keeping NRIs away from elections
Jalandhar, December 29
Economic slowdown all around the world is keeping NRIs away from swarming Punjab in large numbers on the poll eve to extend their support and monetary contributions to their choicest political parties and candidates.
Promotion of four Punjab ADGPs may fall through
Chandigarh, December 29
The promotion of four Additional Director-Generals of Police (ADGPs) to the rank of Director-General may fall through with the state government not moving to seek the approval of the Election Commission to elevate these officers to a higher rank.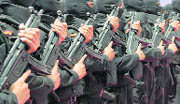 Police to downsize security of VIPs
Chandigarh, December 29
The Punjab Police has decided in principle to recall 50 per cent of its personnel on VIP security. As many as 4,500 gunmen of a total of 9,000 working as security guards with VIPs are now to be put on poll duty to ensure peaceful polling.
Poll officials 'manhandled'
Muktsar, December 29
Supporters of the ruling Akali Dal today allegedly manhandled a team of poll officials at Channu village in the Chief Minister's constituency of Lambi. The team had gone to the village to verify a complaint filed by one Jagsir Singh with the election authorities, accusing village sarpanch Paramjeet Kaur of distributing bricks among the poor sections for votes. As the poll officials began to make a video, they were manhandled by ruling party activists who snatched their cameras and cell phones.
Constituency Watch
KHANNA
All set for tough contest here
Khanna is one of the biggest towns in Ludhiana district. This constituency was reserved for a long time but post-delimitation, it has been placed in the general category. Candidates of the SAD and the Congress have been elected from here alternately.
Constituency Watch
Khem Karan
Drug menace key issue in Khem Karan
For the last four assembly elections since 1992, the Congress and the SAD have been winning from the erstwhile Valtoha assembly seat alternately. Though post-delimitation the name of the constituency has been changed to Khem Karan, the overall constituency profile remains the same. After delimitation, a few villages in the erstwhile Patti constituency have been included in the Khem Karan constituency and some shifted to the nearby Tarn Taran constituency.
Jobless linemen to gherao SAD-BJP candidates
Bathinda, December 29
Annoyed with the SAD-BJP government for not recruiting them in the Punjab State Power Corporation Limited (PSPCL), the protesting unemployed linemen have announced that they along with their families would gherao the SAD and the BJP candidates in all 117 Assembly constituencies of the state whenever they visit their respective villages, cities and towns for campaigning.
Industry threatens to boycott poll
Chandigarh, December 29
The Punjab trade and industry today threatened to boycott the coming elections if the Election Commission did not withdraw its direction on cash confiscation, saying it was affecting business transactions.
4,500 police personnel promoted, 5,000 recruited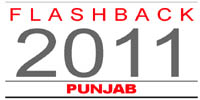 Chandigarh, December 29
The year 2011 saw unprecedented modernisation of the Punjab Police. From the low-rung personnel to the senior-most officers, everyone gained due to widespread promotions. The police personnel were given better uniforms, modern weapons, new vehicles and a large number of police stations were also modernised. Crime figures also came down, indicating that the steps taken to improve the investigation process were finally yielding results.