M A I N N E W S
10th Pravasi Bharatiya Divas

India my grand motherland, says Trinidad & Tobago PM
Kamla Persad Bissessar invites Indians to invest in her country
Prabhjot Singh/TNS
Jaipur, January 8
For 68-year-old Kamla Persad Bissessar, the first woman Prime Minister of Trinidad and Tobago, India is not only a growing world economic power, a land of great opportunities, a great friend of her nation, but also her grand motherland.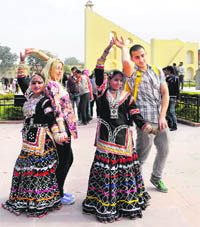 Pravasi Bharatiya Divas delegates dance with Rajasthani folk dancers at Jantar Mantar in Jaipur on Sunday. — PTI
"Trinidad is my motherland," she said while speaking at the inaugural ceremony of the 10th Pravasi Bharatiya Divas here, maintaining that India, the birthplace of her grandparents, was her "grand motherland". "Being a grandmother myself, I know how important are the grandchildren for a 'nani' or a 'dadi'. Trinidad is a country of diversity as people there are of African, Indian, European or Chinese origin. For them, Trinidad and Tobago remains their motherland, but countries of their grandparents from where they came remain their grand motherlands."
She said Trinidad was not only the biggest producer of methanol but also had liquefied gas in abundance and it could share with India many technologies, including oil and gas exploration, while benefiting from Indian expertise in several other areas. "For too long we have been looking upon the former colonial masters for the answers to our problems, we now must look inwards and also east or south for tapping the vast resources that we undoubtedly possess," she added.
Starting her address with traditional Hindu greeting of "Sitaram", she said when her forefathers like those of many of her countrymen left shores of East India, they did not carry with them either mobile phones or tweeters or facebook accounts, but only copies of holy Bhagvad Gita and Koran. The values they carried with them have stood with them through generations and this is why most of the people in her country still remain attached to the rich cultural heritage of their forefathers.
Getting a standing ovation after the stimulating address, Kamla Persad Bissessar not only dwelt on the strong friendship and trade bonds with India, but also shared her thoughts on the role of the diaspora in nation building.
"India has a lot to teach the world in terms of how to attain food security as well as make affordable computers and i-pads that are basic tools in generating creativity and international competitiveness. Even as India grows its economy at home, Trinidad and Tobago provides an excellent opportunity for Indian entrepreneurs and investors to set up manufacturing and service industry in my country where we are committed to a programme of diversification and offering attractive incentives to investors."
"With over hundred years of experience in oil exploration and gas monetisation, Trinidad and Tobago can develop a strong partnership to assist emerging oil and gas nations in the south, thus giving life to the much-touted south-south cooperation and trade," she added.
"More and more countries are becoming aware of the power of the diaspora to contribute not only for the socio-economic development in their homeland but also to shape and sustain positive images of the country of their origin," she said.
Accompanying her is a 160-member trade and business delegation from Trinidad that includes former cricketer Brian Lara.

Punjabi NRIs keen to invest back home
Prabhjot Singh/TNS
Jaipur, January 8
Investment opportunities in Punjab are attractive. However, a number of overseas Punjabis who have risen to be leaders in their respective advanced technological industrial enterprises are unable to muster courage to risk their investments in the land of their forefathers.
Harvinder Singh, Chairman-cum-Managing Director of a Berlin-based company that specialises in tunnel controls, has been exploring opportunities to enter the Indian engineering market in a big way. This 43-year-old Malaysian Sikh, with his manufacturing technology unit in Berlin, is unsure about security of his investment.
"Punjab and north India have tremendous potential for the type of technology that we have developed, but the systems here do not instil confidence in me. I have set up a small engineering base in Chennai with 12 engineers. Right now, I cannot experiment the same in north," he says, hoping that things may change for the better after the coming Assembly elections in Punjab.
"I admire Indian politicians for they are excellent orators. But when it comes to implementation, they are far from impressive," he says.
His views are corroborated by another German technology house specialising in micro and nanotechnology. It is represented by GS Randhawa, who holds 15 per cent share in the world's third largest microtechnology company based in Germany.
"I have held three meetings with Punjab Deputy CM Sukhbir Singh Badal during the past three years, but nothing substantial has come out. My company and I were keen to set up a microtechnology base in Punjab. We have come out with a technology that can measure solar energy potential as well energy generation. I met many bureaucrats but all meetings end without anything concrete," says GS Randhawa, who has been in Germany for over 25 years now.
While Harvinder Singh brought his teenaged son, a student of electronic engineering in Malaysia, GS Randhawa has been coming to India for the past three years to repay to his motherland through a pioneer nanotechnology unit in the state.