Textiles were not meant for a piece of clothing alone, an entire culture evolved around their making in Punjab — with new phrases, songs and motifs. That culture is now fading behind a growing number of shopping malls.
clothes of culture
Jasvinder Kaur
Time is not far when our future generations will believe that their apparels were always mass produced under a brand, in some distant Chinese factory. Unless, textile histories are written, or, are preserved in museums to showcase the richness of a tradition that was elaborate and highly personalised, our crafts and traditions will be lost forever.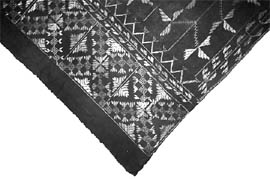 In Punjab, there was a tradition of wearing ghagra over salwar kameez, when ladies stepped out of the house. My mother would often ride a horse to visit nearby places, wearing those layers of clothing. When I was growing up, I was fascinated by these stories I heard from the elders in the family. At that time commuting from one part of Punjab to another was difficult, and was done on foot or on horses, as trains were few.
My mother would wear ghagra, when she would start from home, but finding it cumbersome to walk or ride, she would remove it as soon as she was out of the village. One day she confessed to my grandmother and asked for her permission to leave it behind. When my grandmother agreed, it was the end of my mother's ghagra wearing days.
Twenty five yards of a skirt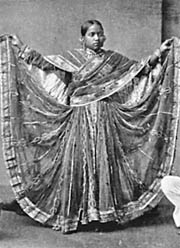 Ghagra- In Punjab, it was merely a piece of clothing which could vary from 9 to 25 yards, to be worn over salwar kameez.
Ghagras were used as a formal wear and it was customary to wear them when women stepped out of the house. They removed it as soon as they came home, like Muslim women remove a burqua. It formed part of manotties (gifts for the bridegroom's family) at the time of muklava.(when the bride goes to her husband's home ). The most common material used for making ghagras was malmal or muslin. The edge was always finished with either a row of pin tucks ,embroidery, gota or simply by putting a border of daryai (kind of cloth).The malmal ghagra was then starched (maandi) along with mica or vark which would shine in the sun. Vark was like thin layers of stiff paper which was crushed and added to maandi (starch). Other materials used for ghagras were Hari-shael ,which has references in folk tales and folk songs, laddha, saatan (satin), embroidered phulkari , parachute cloth etc. Parachute cloth was a silky material and perhaps similar to the textile used to make parachutes. For formal occasions the ghagra was made of expensive material with some embellishments like gota or embroidery.
Many Punjabi women would vouch for having with them family heirloom — old ghagras of phulkari, made with khaddar dyed in deep vegetable colours and embroidered with bright colours. Ghagras of Punjab were different from that of Rajasthan, or, other parts of India. While others were more structured and shaped to give it a curve, the ones from Punjab were merely a piece of clothing which could vary in length from 9 to 25 yards depending upon the thickness of the fabric. It was just strung with a decorative cord or naara (ezarband).
The lost string
The drawstrings or naaras were made with a thread, on a very simple adda (kind of a frame) or simply improvised by using charpai or a bed (manji) which was placed vertical along the wall. Naaras were made by series of twists and turns as it formed a kind of very loose net. Twelve to twenty kannas (reeds) were needed to make this. Their ends had designs like harad, barfi, char-khanna, etc, and was finished with a phool (pom-pom) and hanging tassels. This kind of naara was used by men for pyjamas and for women for their salwars and ghagras. Now, of course, it has become difficult to procure one of these kinds, as they are made in very small numbers.
Having grown up in a town I missed out on daily life of a village. Since we visited our village often, my interest in what goes into making of the textiles grew. From plucking the cotton, to spinning, weaving and dyeing was done in our village. Spinning was mostly done by ladies. The spinning sessions were called trinjan, when women would meet at night to sing songs while engaging in spinning activities. They would weigh the cotton to make a bet as to who would spin the most in a sitting. Punjabi folk tradition is full of references to katna (spinning), charkha (spinning wheel) etc. Songs like charkha chann-an daa....har gere yaa-d awe-n too-n mitra...are all examples of this. Women would spin yarn to make different products like -lungi cloth, susi, khaddar for phulkari, khes and daris.
Weaving was done by jolahas (weaver) who were present in almost every village. The width of the fabric woven was less than the desired width as the looms were such. It was perhaps easier to fit it in the home of the jolaha. In old khes or phulkari, it is observed that two pieces of cloth are stitched lengthwise. The job of the lalari (dyer) was specialized and required some level of expertise. Among the natural dyes used in Punjab were indigo (blue ), kikar bark (khakhi), madder(red).
Some of the dyeing techniques were simple and dyeing could be done at home. Indigo and madder dyeing were complicated and handled by lalari or dyer. A cartful of Indigo leaves were used to fill oval shaped mud vessels called matts, which were then buried in the ground as indigo dye is extremely sensitive to light. A dyer would have several matts at different stages of fermentation and it could take several weeks for the dye to be ready. It was common for people to describe different stages of preparedness of the dye as – lalari ne matt paya...matti biggar gai ...matti goore neelae tha matt (various shades of indigo). Only when the indigo is oxidised, it turns blue. The Journal of Indian Art (1887) states that the indigo plant was cultivated in Punjab in great abundance. Unfortunately that is not the case any more. Madder was used to obtain reddish-brown colour and brown or muddy colour was obtained from kikar bark. It was soaked for over a month till the bark was dissolved.
All these natural dyeing processes were practiced in and around our village. Many Punjabis can claim to have pieces of dyed khes, which have been constantly used, hand or machine washed for over decades and yet they retain the original colour. They are ideal for use during severe heat, monsoons, and even in air conditioned rooms. The versatile use of khes clubbed with the fact that it was made with home grown cotton made it popular. It could be wrapped around for warmth, used as a cover for sleeping or as a bed spread. Names like dotahi (twice- folded) and chautahi ( folded four times) are associated with the khes. It must be noted that use of woollen fabric was limited in rural Punjab in the early 20th century, as is observed in 1908 Imperial Gazetteer of India that dresses in the plains of Punjab were made entirely of cotton cloth. Thus, thick khes was doubled up as chadar for warmth.
The tale of phulkari
Phulkaris — which have been the most well known textile of Punjab mainly due to its vibrant colours and its beauty has been mentioned in our folk songs, folk lore and are still used for marriage rituals. The khaddar fabric on which phulkaris were embroidered, were either deep indigo blue or madder dyed to a deep reddish brown. Phulkaris are still being made in large numbers, but the work is different from the traditional phulkari known to us. The home spun khaddar fabric has been replaced by more trendy fabrics. Although the embroidery is not the same, the consolation is, at least the craft is kept alive.
Daris were flat woven cotton rugs which were made in almost every household. These doubled up for bedding or as floor coverings. These boldly patterned daris often had blue and white bold geometric designs. These are still being made in certain pockets of Punjab.
Natural dyeing practices are almost non existent in Punjab today. However they are still being practiced in other parts of India. These processes are lengthy and laborious and therefore more time consuming and expensive.
Women somehow do not have a lot of free time to engage themselves in textile arts. Some of the craft traditions like khes, naaras, daris are made in very small numbers. There are multiple reasons for the decline of these crafts. However, there is need for us to work towards preserving our craft traditions, or, we would be narrating the fable of these traditions to our grandchildren.
Jasvinder Kaur is a textile researcher who has worked at The National Museum, New Delhi, Musee d'art et d'histoire, and Musee d'ethnogrphie, Geneva, Switzerland.

The complexity of dyeing khes


Women covered themselves under layers of clothing in the early twentieth century
n Loom for making Khes is more complicated and has greater number of treadles. The common weaves of khes are Sada Bafi, Khes Bafi, and Bulbulchasm Bafi.
n Khes in some places were also made with silk.
n Pre industrial era depended exclusively on natural dyes. Indigo, for example, is obtained from leaves of shrub called indigofera tinctoria.
n Fermentation and continued fermentation results in separa tion of indigo white from indigo tan. Indigo white provides the dye substance and only in this state it combines with cellulose fiber. On oxidation indigo white is converted to indigo blue and bonded to the cotton fiber.
n The cotton fabric or yarn may need repeated process to obtain the desired deep indigo blue
n Madder dye is not absorbed by cotton in its natural state. Cotton fabrics first have to be treated with a mordant which could be salts of alum. This helps the red madder dye to be absorbed by cotton
n Indigo dye bath is cold whereas madder dye needs to be heated.


Facts about Phulkari


n Till early 19th century, phulkaris were produced for domestic consumption (with in the family). It was only in later part of the 19th Century, in times of famines and hardships that the phulka ries were put to sale and commerciali sation.
n Phulkari is worked entirely from the reverse of the fabric,so that the embroiderer does not see the front while she is creating the pattern. Use of coarse khaddar fabric made it easier to count the yarn while doing so. Use of cheap materials, lack of expertise and saving of time has reduced this beautiful craft into a car icature of its earlier version.
n Though, fresh attempts are made to turn this lost tradi tion into a cottage industry with the combined efforts of PSIEC (Punjab Small Industry and Export Corporation LTD), NGOs, designers and entrepreneurs, it is too little, too late.