| | | |
| --- | --- | --- |
| | OPED — HEALTH | |
Old at risk of harmful effects of drugs
As the human body ages, most vital organs function below normal capacity. This affects how the body handles medicines. Elderly patients may be thus exposed to higher concentration of medicines, increasing the chances of adverse drug reactions
Dr Jagjit Singh

As the average life expectancy goes on rising so does the number of persons living beyond their sixties. Today, the life expectancy in India has increased up to 66.8 years but is still less than in developed nations. In medical terminology, usually a person above 65 years is termed as 'elderly'. Today 'geriatrics' — the field of medicine that deals exclusively with elderly patients — is flourishing in developed countries. Countries like ours are also actively engaged in establishing geriatric clinics in tertiary-level hospitals.


Problems of old age

Elderly patients tend to develop dementia, hearing and/or vision problems, which can cause problems in taking the right dose of their medicines or not remembering how and when to take the drugs.

Moreover, they may not remember or misunderstand verbal instructions of doctors. This may lead to poor compliance resulting in poor disease control. As per a UN initiative of 1999, all nations should prepare their healthcare, social, and economic systems for recent and future demographic ageing of their population. To date there is no current national formulary, guiding drug therapy for elderly patients in our country. PIM as defined by Beers criteria comprises "drugs that pose more risks than benefits to the patient. The risks of using these medicines range from minor weakness to orthostatic hypotension, prolonged sedation, falls and fractures, or even life-threatening events.

General precautions

Elderly patients are about three times at risk of developing adverse drug reactions (ADRs) than normal adults of 30-40 yrs.

Prescribers must be alert to fact that newly developed signs and symptoms may be due to the adverse effect of a medicine and not necessarily a new disorder. The vicious cycle of prescribing medicines to treat new symptoms leading to more adverse effects of the newly prescribed medicines must be recognised and sorted out early. As a general caution, "start low and go slow" for these vulnerable senior citizens. Try to use as few medicines as possible in the elderly.

Drugs available in India labelled with a 'special precaution' note for elderly in an Indian formulary (CIMS India (January-April 2010) and severity grade as per Beers Criteria(2003)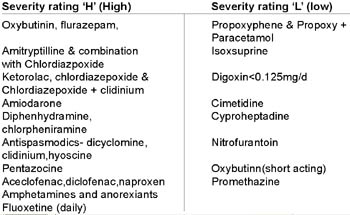 Ageing & Drug response
As the human body ages, there is a reduction in the normal physiological functioning of vital organs — kidneys, liver, heart, brain and lungs etc. This has an effect on how the body handles medicines or drugs. As kidneys and liver are the major organs, which help in the metabolism and elimination of medicines from the body, elderly patients may be exposed to higher concentration of these medicines, thereby increasing the chances of harmful effects of medicine, even when prescribed in usual adult dose.
Elderly patients are also more 'sensitive' to actions of many medicines, which can lead to their body's exaggerated response to medicines, causing more side-effects than anticipated. For example, the sleep-inducing and anxiety-relieving medicines can impair the normal posture-control mechanisms, which may lead to falls and fractures. Moreover, elderly patients are usually on many medicines for diseases, which occur with ageing, for example diabetes, hypertension, heart disease. Also they may suffer from joint pains (due to osteoarthritis), memory problems (dementia), unable to get good sleep (insomnia), cataract, varying levels of hearing loss, gastrointestinal problems like indigestion and constipation. There can be osteoporosis, especially in females, and enlargement of the prostate gland in males leading to urinary problems.
This situation is a double whammy for the elderly — their bodily functions gradually decline, while the number of medicines prescribed to them increases. This creates a situation where this group of senior citizens becomes vulnerable to harmful effects of medicines (adverse drug reactions or ADRs).
Since most elderly patients are often on multiple medicines for more than one ailment, there is also a risk of drug-drug interactions and drug-disease interactions, which may be harmful to patients. The problem of poly-pharmacy, prescribing more than seven or at times, 10 medicines, is specially more severe in hospitalised elderly patients, and is a major cause of medicine errors posing risk to the patient's safety.
Careful selection
Researchers all over the world, especially in developed nations like the USA, Canada and European nations, have tried to gauge the risk to elderly patients from these so-called "potentially inappropriate medicines" (PIMs). In one criteria for safer medicines in the elderly developed by Beers and colleagues in 2003 in the USA, they have proposed a " list of PIMs, which should be avoided in elderly patients since the use of these medicines entails more risks than benefits."
This may not hold true for all elderly patients taking various medicines but it is more likely to happen in that age group than in young or middle-aged persons. It has been seen that the use of safer medicines as substitutes can reduce the chances of potential harm from these medicines.
Few of the commonly used medicines in Beers PIM list, which are available in India, and which could pose increased risk, if prescribed to elderly patients, are described here: Out of all non-steroidal anti-inflammatory drugs (NSAIDS), indomethacin (is a strong painkiller, causes some effects in the central nervous system (CNS); doxepin (is used in psychiatric disorders, is a strong anti-cholinergic drug and has sedating properties); disopyramide (is an anti-arrhythmic agent, it is the most potent negative inotrope, and may induce heart failure in elderly patients. It is also strongly anti-cholinergic drug); ticlopidine (is a platelet-inhibiting agent, though no better than aspirin); cyclandelate (is an older neuro-protectant but lacks efficacy); doxazocin, clonidine, short-acting nifedipine (anti-hypertensives, potential for hypotension, dry mouth and constipation); chlorzoxazone (a muscle relaxant, poorly tolerated in elderly, effectiveness doubtful); thioridazine, amitryptilline, ergotamine, diphenhydramine, chlorpheniramine and ferrous sulphate in doses greater than 325mg/day.
Besides these, some other commonly used medicines to relieve pain and swelling — naproxen, piroxicam and ketorolac; sleep-inducing and anti-anxiety agents like diazepam, flurazepam, chlordiazepoxide; anti-spasmodics like oxybutynin, dicyclomine and clidinium can pose risk to the patients and should be substituted for safer medicines.
Common situations
For elderly patients, who suffers from inadequate sleep, if the doctor prescribes medicine, it should preferably be a short-acting agent like lorazepam or oxazepam, so that it does not cause drowsiness or sedation the next morning due to prolongation of effects. Similarly, an elderly patient requiring painkillers may be prescribed acetaminophen to its maximum recommended/tolerated dose with safer agents like ibuprofen or carefully observed selective cycloxygenase inhibitor (COX 2) inhibitors like celecoxib. In case of depression, agents like selective serotonin reuptake inhibitors (SSRIs) may be safer than tricyclic antidepressants (TCAs), especially amitryptilline. Similarly, for allergy treatment newer agents like cetirizine are safer than hydroxyzine, chlorpheniramine and diphenhydramine, which can cause sleepiness and urinary retention (in males).
safe medicine criteria
Many algorithms and criteria continue to be developed to decrease the harm from medicines in elderly patients, both in community as well as in those hospitalised. Some of these include "STOPP (Screening Tool of Older Persons' Potentially Inappropriate Prescriptions) Criteria, which is a systems-defined medicine review tool, START criteria (Screening Tool to Alert Doctors to Right Treatment), NORGE criteria (Norwegian general practice criteria), PRISCUS list (Germany) and the French consensus list etc.
Many studies on Indian patients for evaluating PIM using the Beers criteria have been done. The intention is to try to configure under what disease conditions, and with which medicines the safety of elderly patients is compromised with so that effective remedial steps may be taken at the earliest.
The above-mentioned list is neither exhaustive nor is it meant to intimidate the elderly regarding the medicines being prescribed to them. The only purpose is to create awareness about this important fact to be kept in mind both by the prescribers and the patients so as minimise chances of inadvertent risks from medicines at this extreme age.
(The writer is Assistant Professor, Department of Pharmacology, Government Medical College and Hospital, Chandigarh)