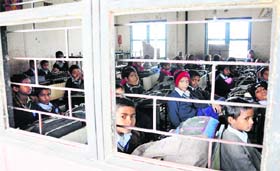 Hundreds of students in government schools of Chandigarh brave the chill as the school authorities turn a blind eye to broken windowpanes. The plight of students reveals the callous attitude of principals, who sit in warm offices and blame the students for breaking the panes. Tribune photo: Manoj Mahajan
Election panel sets cash limit
Mohali, January 4
The move by the Election Commission to limit the carrying of cash to Rs 2.5 lakh during the period of the model code of conduct has left the coffers of the state exchequer empty.
DC wants out, seeks repatriation
Chandigarh, January 4
The UT Administration, which is already facing a shortage of senior officials, is set to lose Deputy Commissioner (DC) Brijendra Singh who has sought repatriation to his parent state Haryana.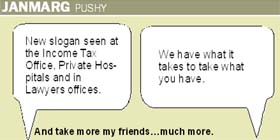 Ambala schoolboy succumbs to injuries
Chandigarh, January 4
Nine-year-old Pankaj Kumar, a victim of the Ambala school van accident, succumbed to his injuries at the neurosurgery department of the PGI here today, taking the toll to 12. His death has left his family shattered as they were praying for his recovery before his birthday on Friday.


This is how Mohali police is celebrating traffic week !


A policeman riding pillion without a helmet in Phase IV in Mohali on Wednesday.
Students without helmets on motorcycles in Sector 70.
Policemen challan violators in Phases IIIB-I and IIIB-II.




A scooter parked wrongly in Phase VII.
Despite daily powercut, no traffic policeman is seen at the lightpoint in Phase-III-V.
Tribune photos: Vicky Gharu
Land mafia choking Patila Ki Rao rivulet
Nadha (Mohali), January 4
Taking advantage of the areas de listed from the Punjab Land Preservation Act (PLPA), 1900, the natural course of Patila Ki Rao seasonal rivulet passing through Nadha village is being "choked" by land mafia in the area. Raising stone crate wall has reclaimed a large part of the natural course of the rivulet.
| | |
| --- | --- |
| A stone crate wall raised in Patiala Ki Rao to divert the flow of seasonal rivulet near Nadha village. | Plots being carved by levelling a hillock near Karoran village. Tribune photos: Manoj Mahajan |
Relief for Raipur Rani, Barwala residents
Panchkula, January 4
Residents of Raipur Rani and Barwala areas in the district facing fly menace for decades can expect relief soon. The Haryana State Pollution Control Board has decided to bring poultry farms under consent management. Following this, no new poultry farm will be allowed to be set up in the area without prior permission and will be under constant watch of the environment department.


No light, free-for-all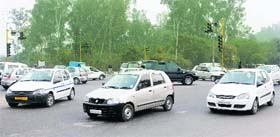 Traffic flow is hit due to non-functional traffic lights on account of a power cut at the Hallo Majra intersection in Chandigarh on Wednesday. Tribune photo: Manoj Mahajan
Beating the cold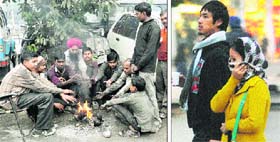 Motor mechanics take time off and warm themselves around a bonfire to fight the biting cold at Motor Market in Sector 48; and (right) youngsters sip piping hot coffee as they stroll at Sector 17 in Chandigarh on Wednesday. Tribune Photos: Parvesh Chauhan and S Chandan
Chill in, flying out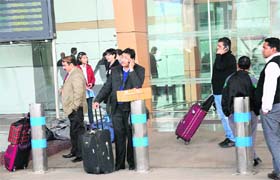 Some passengers whose flights have been cancelled due to fog wait at the airport in Chandigarh on Wednesday. Tribune photo: Manoj Mahajan
Food dearer, students up in arms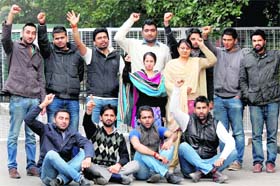 Members of the Panjab University Campus Students Council protest against hike of mess charges on the university campus in Chandigarh on Wednesday. Tribune photo: Manoj Mahajan
CHB mulls two officials' retirement on Feb 29
Chandigarh, January 4
Caught in a peculiar situation, the Chandigarh Housing Board (CHB) is looking into the possibility of retiring two senior officials, with only one post having been sanctioned.
Civil Surgeon submits report on 'kidney scam'
Mohali, January 4
The Civil Surgeon, Mohali, Usha Bansal, submitted an inquiry report on the "kidney scam" to the Deputy Commissioner, Varun Roojam, here late this evening. In her report, around 175 transplants done in the last over one year at Surya Kidney Centre, Sector 69, have been examined.
Surprise checks at 6 pvt hospitals in Zirakpur
Zirakpur, January 4
The Punjab Pollution Control Board today conducted a surprise check at six private hospitals in Zirakpur, Baltana, Pabhat and inspected health care facilities to check the violations of the Bio-Medical Waste rules, 1998.
MC removes encroachments at Phase VII in Mohali
Mohali, January 4
The tehbazari wing of the Municipal Council targeted Phase VII and removed all encroachments put up by shopkeepers during a drive carried out here today. Verandhas in the market areas have been encroached upon by the shopkeepers to display and stock various items sold by them.
Rs 70-lakh project awarded to CBRI
Chandigarh, January 4
The UT Administration has awarded a project of Rs 70 lakh to the Central Building Research Institute (CBRI), Roorkee, to preserve the buildings in Capitol Complex. The Capitol Complex includes the civil secretariat, assembly hall, open hand monument and Punjab and Haryana high court.
Panchkula MC to launch its website soon
Panchkula, January 4
"Residents can hope for a better service at the municipal corporation as the Panchkula Municipal Corporation is all set to launch its own website soon. A total of 12 companies have shown interest for the purpose and it will not take long time to start it after finalising the name of the company, said KK Jain, the executive officer of the corporation.
Residents told to provide info on domestic help to police
Chandigarh, January 4
To put a check on anti-social elements, the UT District Magistrate has directed residents or owners of establishments here to furnish information before employing any domestic help, helper or even part-time maids at their respective police station.
Abandoned infant's parents yet to arrive
Chandigarh, January 4
A day after the police traced the parents of the one-month-old infant to a remote village in Moradabad, none of them appeared before the police today. The girl, was abandoned by her mother on December 22 at the Government Multi-Speciality Hospital, Sector 16.


No UPE status for PU
Chandigarh, January 4
In what is bound to dampen its spirits, Panjab University (PU) has failed to achieve the acclaimed UGC status of University with Potential for Excellence (UPE), losing out on much-required funds of Rs 50 crore.
'Warden called Vineet hours before his death'
Chandigarh, January 4
"The warden of DAV Public School hostel in Sector 8, Ashwini, had called Vineet Sharma from his cellphone at 7 pm on Saturday. He was in touch with the student a few hours before he was found dead. Vineet was with me when he left to meet the warden.


Dramatics trophy for DAV College club
Chandigarh, January 4
Maintaining the rhythm of wining trophies, 'Aaghaaz', the dramatics club of DAV College once again won the dramatics trophy at IIT, Mumbai. The club again proved its worth at Mood Indigo Fest, Asia's biggest Youth Fest.
Students pose with the trophy won during the IIT-Mumbai fest, on the campus of DAV College at Sector 10 in Chandigarh on Wednesday. Tribune photo: S Chandan