In states where peace and prosperity abound, theatre is gasping for breath. However, in many strife-torn areas folk theatre is proving to be a successful tool for community mobilisation
Encounters of a different kind
Vandana Shukla
In Kashmir valley, where people had been afraid of assembling - because any assembly of more than four could invite action under prohibitory orders ( section 144) for a very long time, thousands assembled, not only at one place but in over forty different towns, stretched over a period of a month. Yet, it made no news. Because, what they did was what normal people do in normal times - sharing of laughter and ideas that tickle initially, but leave one with concerns to ponder over.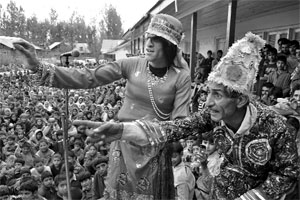 Folk traditions: Pushing themselves back to the fore in Kashmir where violence had become a norm
In November this year, the valley witnessed a new kind of resurgence - for the love of arts it had forgotten in the brutality of militancy for over two decades. Community theatre brought back community mobilisation, the kind that the valley had never witnessed before. In towns, that made headlines for all the wrong reasons for decades - Baramulla, Kupwara, Anantnag, Charsharief, Rajwarh, Kulgam, Bandipora, Tilgam, Budgam and others, people came in hordes, assembled in open spaces and saw how theatre mirrored their lives. Sometimes with a smile on their faces, and at times with a suppressed tear. They laughed, they cried and they listened and thought, without reacting and sloganeering, and turned a theatre initiative into a kind of a movement for normalcy. This became possible for two reasons. One, Bhand Pather, the form of theatre they witnessed is a folk tradition of Kashmir, it speaks to people in their own language, and two, people in the valley had hungered for 'normal' things like theatre for far too long.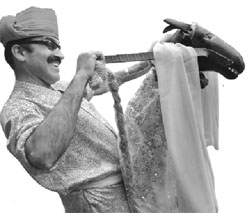 Laughter carries amazing power of communication in Bhand
The valley is not alone witnessing this resurgence. As life comes to its normal course, if not after completing the cycle of violence, but certainly creating more space for pursuits of a normal life, the folk and cultural traditions find ways to push themselves back to the fore at many places where violence had become the norm. In parts of Bastar, in Naxal prone areas of Andhra Pradesh, Orissa and Madhya Pradesh too, such initiatives have worked wonders.
In the strife torn states, it required more than just courage on the part of some thespians, musicians and artists, who had waited all these long decades of turmoil in the disturbed areas to bring people back to their cultural moorings, to offer them a platform so that they could once again articulate their fears, concerns and aspirations.
Theatre of aspiration in Kashmir
It all began in the summer of 2011, when Jammu based theatre group Natrang staged an Urdu play 'Chhoona Hai Aasman' at eleven different towns in the valley, while some of the towns were still under the threat of militant attacks. It was a risk, but, a risk 'worth taking', says director of the play Balwant Thakur. The theme of the play was expected to touch a chord with the youth of the valley, who, Thakur felt, were tired of violence and strife. The play was based on a simple narrative, a tale of aspirations of a young boy, who, inspired by the outside world wants to excel and grow, but is pulled down again and again by the absence of conducive circumstances at his place. The overwhelming response of this play inspired Thakur to explore the ground further.
To take it ahead, Natrang, with the support of Sangeet Natak Akademi, New Delhi, started a residential workshop with twenty selected Bhand groups of Kashmir. Bhand Pather is one of the oldest living theatre traditions of the north. In Kashmiri language 'Bhand' is an actor and 'Pather' stands for theatre. The form is a musical, woven around a central theme which is usually a satire or laced with wit and dry humour.
The selected twenty Bhand groups were requested to nominate one person from the group to join the workshop, with an aptitude for writing Bhand scripts and direction. The Akademi invited Moti Lal Kemmu- one of the senior most thespians of the state, a Sahitya Akademi and Sangeet Natak Akademi Awardee, to conduct the workshop, along with other experts in acting and direction like Amin Bhatt, Nissar Naseem, Sajood Sailini, Dr. Farooq Fiyaz, Bhawani Bashir, Anil Tickoo, Mushtaq Ali, and Ravi Kemmu, who came as visiting faculty for the workshop. " In folk theatre there is no tradition of writing, but we had to do it to infuse new life in it. Old masters of Bhand Pather are dead, and militancy did not allow new ones to evolve in the art. I used to fear this art will die," Says veteran thespian Moti Lal Kemmu.
In ten days, the group was able to conceptualize twenty new scripts with designs and direction. The effort was to infuse new energy in Bhand Pather through new concepts and themes. Traditionally Bhand performers have been staging the same old 6 to 7 themes repeatedly. This was the first time when they were getting trained into new style of presentation, incorporating new themes which addressed the trauma of a common man, who suffered owing to the continued disturbances in the valley.
The directors knew, they were taking a risk, they had set out to tell people their own tales in the language of their own theatre. After the workshop was over, twenty participants representing twenty different groups of Kashmir went to their respective groups and towns and started producing the plays. Each town had its own quota of problems, which needed to be articulated, and a message had to be given, but, in an entertaining way.
Cultural activism
In the valley, where an entire generation has grown without ever tasting healthy entertainment, without the fear of gun in a public place, people came in thousands for each show. Perhaps, they were attracted by the novelty of the idea, but were caught on with the issues that the Bhand acts raised. The maskhara, (clown), who presents the most serious issues in a lighter vein with his emotive skills and gift of the gab entertained the young and the old alike. He also tickled their minds to think; questioned them about their ignorance of the ill-designs of their exploiters, telling them that education is the only weapon that can protect them from all kinds of invasions, or aiming satire at the youth of Kashmir who waste most part of their lives waiting for a government job. The maskhara prodded them to find their potential in a challenging private enterprise, to educate women so that they can make a positive difference to the society, take care of pollution related problems of the valley, keep away from the menace of drugs, and stop suffering the everyday bands and strikes, by using the power of vote. " The young directors have turned it into a cultural movement, I knew it when I saw five to ten thousand people turn up for each show," says Kemmu.
The masses create a stage
Post-independence, with a strong following of theatre groups like IPTA (Indian People's Theatre Association) the theatre movement made unparalleled contributions across the country with its progressive ideology. It also became a tool for social mobilisation, if not activism. But, the objective of theatre changed over the years. While proscenium remained the form of an intellectual exploration centred around the urban auditoria, the folk traditions were marginalised in the absence of an organised effort to feed their contemporariness.
But, in areas affected by long stints of violence, a need was felt to go back to the idiom of the mass theatre to convey a message of peace and normalcy.
As such, theatre is primarily a medium of the masses, in India almost all states have a rich tradition of folk theatre, which is reclaimed by the masses whenever the need arises. After long stints of conflict, people often wish to get back to their own medium to articulate their suffering.
Anoop Ranjan Pandey did the same in Naxal affected areas of Bastar in Chhattisgarh. " Local folk traditions were dying in Bastar because of a prolonged period of violence. We oppose violence from both sides, may it be the Naxals or the state sponsored oppression of them, we are not theatre activists, we are cultural activists and our following is growing," says Pandey, who organised the youth of Bastar in creating Bastar Band. The effort was to keep the youth away from the culture of gun by giving them dhol and mandar, the traditional musical instruments of Bastar tribals. " I am also trying to save the language, I help them compose their songs, these songs are their tales, their message to the world, they too want to get heard," he insists. While the young men and women turn from the guns to composing and presenting music, dance and theatre shows, Pandey says, it is better to organise raw cultural festivals than organising violent attacks of perfection. Bastar Band has certainly grown in popularity, it has a great following even outside Bastar, because at the end of the day people want peace and normalcy. And, this is what their message is.