M A I N N E W S
EC talks tough on black money
Shahira Naim
Tribune News Service
Lucknow, January 8
Hours after the Chief Election Commissioner S Y Quraishi voiced concerns over the role of moneypower in election-bound states of UP, Punjab and Goa, a sitting MLA from Charkhari constituency in Mahoba, Anil Kumar Ahirwal,was detained by the police after he was found carrying unaccounted cash in his car.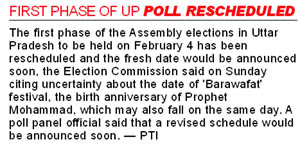 Ahirwal could not explain why and where he was taking the cash. After being detained for several hours, he was allowed to leave.

But the cash was seized and investigation initiated by the Commercial Taxes and Income Tax departments.

More than Rs 8 crore have been seized in less than a fortnight due to the strict expenditure monitoring, first introduced by the EC during the Bihar Assembly elections. While the EC has fine-tuned the operation since then, and used it to great effect in Tamil Nadu, it is being tried for the first time in Uttar Pradesh.

Political parties and political leaders having their own TV channels and newspapers, said the CEC today, had also queered the pitch and disturbed the level playing field and the model code of conduct.

While there is no cap on

expenditure of political parties during polls, expenses incurred by political parties would be divided among candidates proportionately, he added. Giving details of the exercise,Chief Election Commissioner SY Quraishi said that this time every candidate is expected to open a separate bank account for easy monitoring of poll expenditure. All transactions above Rs 20,000 are to be made through cheques.

Both political party functionaries as well as candidates have been asked not to carry large amount of cash, which they cannot explain. To check violation of these orders, flying squads and surveillance teams have been put in places.

For the first time Income Tax Department and Revenue Services officers have been involved to keep tabs on black money being used in elections. They would be keeping an eye on anything amiss at airports, hotels, financial brokers and at farm houses of the rich and influential, informed Quraishi.