Prevent diabetes; detect pre-diabetes
Dr Meenal Kumar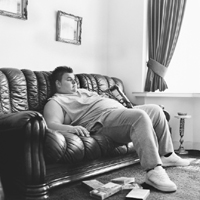 When her doctor, a gynaecologist, asked Katherine, 45,  to climb on the weighing machine in the clinic the needle started trembling, seeking to settle at over 100 kg mark.  "Doctor, don't worry about my weight, I have been a bit chubby since childhood. Now my problem is gynaecological — I have come with discharge coming from my uterus. Is it cancer, doctor? Also, I am having vision loss and there is numbness and needle pricks in hands and feet. I have breathlessness and pain in the chest. My blood pressure is high. I have to avoid urine the whole night…."
The doctor interrupted, "Madam, it is overweight that is the cause for all your problems; you may be suffering from diabetes and its complications. You have come rather late. We could save you from the suffering if you had reported early."
"What do you mean by early, doctor"?
"Before you developed diabetes — the stage called pre-diabetes", doctor replied.
What is diabetes?
It is a condition characterised by high blood sugar resulting from the body's inability to use blood glucose for energy. In type 1 diabetes, the pancreas no longer makes insulin and, therefore, blood glucose cannot enter the cells to be used for energy. In type 2 diabetes, either the pancreas does not make enough insulin or the body is unable to use insulin correctly.
Once you start suffering from diabetes or, worse still, develop complications in your uterus, eye, kidney, heart or nerves, it is too late to detect diabetes or treat it satisfactorily. The best time is to detect a stage called pre-diabetes, when good prevention is possible and all the sufferings can be avoided. Screening for pre-diabetes in people who have no symptoms should be considered in adults with a BMI of 25 kg/m2 or more. If no there is obesity, testing should begin at age 45. If the results are normal, testing should be repeated at intervals of two years. Fasting blood sugar or glucose tolerance test, or both, could be appropriate for identifying a pre-diabetes condition.
What is pre-diabetes?
It is the state in which some but not all criteria for diabetes are met. It is often described as the "gray area" between normal blood sugar and diabetic levels. While in this range, patients are at risk for not only developing type 2 diabetes, but also for cardiovascular complications. It has been termed "India's largest healthcare epidemic," affecting more than 100 million Indians.  Pre-diabetes is also referred to as borderline diabetes, impaired glucose tolerance (IGT), and/or impaired fasting glucose (IFG).
Suspect pre-diabetes with the following symptoms: Constant hunger, unexplained weight loss, weight gain, flu-like symptoms, including weakness and fatigue, blurred vision, slow healing of cuts or bruises, tingling or loss of feeling in hands or feet, recurring gum or skin infections, recurring vaginal or bladder infections, etc. 
*Individuals with pre-diabetes have glucose levels higher than normal, i.e. the fasting glucose level above 100 - 125 mg.
*Patients with pre-diabetes should have intensive lifestyle management that decreases cardiovascular and other risks.
*Individuals with pre-diabetes should lose 5% to 10% of body weight and maintain it on a long-term basis.
*Regular, moderate-intensity physical activity is recommended for 30 to 60 minutes daily.
*Diet should be low in total fat, saturated fat and trans-fatty acids. There should be lower sodium intake and avoidance of alcohol. Fiber intake may reduce the risk of diabetes by improving your blood sugar control. Fiber intake is also associated with a lower risk of heart disease. It may even promote weight loss. Foods high in fiber include fruits, vegetables, beans, whole grains, nuts and seeds.
*Metformin and acarbose are safe to prevent diabetes under medical supervision.
*Blood lipid-level goals should be the same as for those with diabetes.
lPre-diabetics should have normal blood pressure ( 130 & 80 mm Hg). ACE inhibitors are recommended as first-line agents to treat high blood pressure.
*All persons with pre-diabetes who are not at increased risk should take aspirin.
*Monitoring should include an annual glucose tolerance test and twice-yearly testing for albumin in the urine and fasting plasma glucose, haemoglobin A1C, and lipid levels. The target A1C goal for adults is generally less than 6%.
The writer is a Chandigarh-based senior gynaecologist.