COLUMNS



THIS ABOVE ALL

TELEPROMPT

GOOD MOTORING

LIFE'S LESSONS

LEXICON

NETWATCH

SPORTS & WELLNESS


FITNESS MANTRA

FOR CHILDREN



CROSSWORD

RHYME TIME
Earlier Feature


TELEVISTA


AUDIO SCAN
Breaking free
Many women are liberating themselves from the demands of the family and work and are trying to find a life beyond the home. Nonika Singh checks out the emerging trend where women are pursuing individual passions and trying to find some ďme-timeĒ sans husbands and children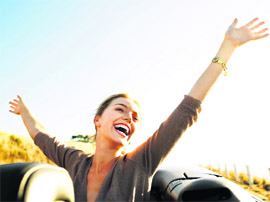 Once her home was her world. The she stepped out of the four walls into the professional realm and carved out a niche for herself. Caught between the demands of home, the pulls and pressures of a job, as she looked around a realisation hit heró work was no panacea either. Where was she as a person? Indeed, once again the individual in her was being forsaken. That in a nutshell, is the dilemma of modern woman, whose quest for excellence in her professional life and the desire to be the best homemaker has extracted a big price from her.
His life spells magic
Shoma A. Chatterji gives a peep into the uncommon life of talented music composer and director A. R. Rahman
THE Lifetime Achievement Award bestowed upon A.R. Rahman at the Dubai International Film Festival is yet another feather in his cap. He has won two Oscars and the Golden Globe and many more titles, awards and others along the same line that do not really matter to him. Rahmanís life story equals the magic he creates with his music.
Birdís eye-view
Angry Birds and Facebook were the most downloaded applications of the year that went by, says Natasha Baker
Angry Birds and Facebook were the most downloaded iPhone applications of 2011, according to Apple, but some less predictable apps also made their lists. Craig Palli, a vice president at Fiksu, a marketing company for application developers, explained that last yearís top apps incorporate three main trends: the ability to connect with friends, discovery and games that let users pass the time and pick up from where they left off.
Train to real India
An NGO brings together a motley crowd of young Indians and foreigners to take a journey across India to see the spirit of social enterprise and help them find the road to entrepreneurship
Mohita Nagpal
One train, 450 youngsters, 15 days, 7,000 km and 13 stops. Overwhelming as the journey sounds, it proved life-changing for those who undertook it, exploring on the way the hidden social enterprise of India. Jagriti, an NGO, brought together an odd assortment of yatris (travellers with a mission) in a train that criss-crossed the country, exposing them to institutions that have developed unique solutions to India's challenges, in an effort to awaken the spirit of entrepreneurship among them.
SPORTS & WELLNESS
If you think you canít run, just stop thinking
The recent Running and Living Half-Marathon, in Panchkula, brought together people whose life got a different spin, thanks to the sheer joy of running. A few of them describe how their life changed after running became a way of life, reports Ruma Kat
When a whole lot of people from across the globe congregated at the North Park Hotel in Panchkula last week for the second Running and Living Half-Marathon, there was just a solitary thought dominating their minds ó to run.