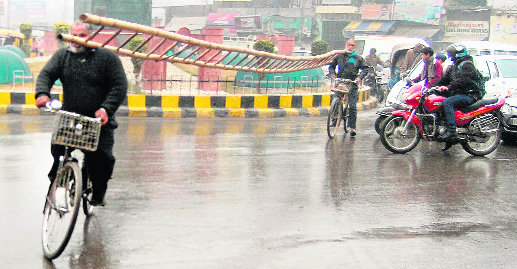 Ladder crossing: Two cyclists carry a ladder on their shoulders causing inconvenience to commuters in Amritsar. Tribune photo: Sameer Sehgal

The Chorus of Women strikes chord with audience
Amritsar, January 16
Sunday was all about women at the ongoing 14th Bharat Rang Mahotsav in Amritsar as the two plays for the day were staged by the women, for the women and made by the women. If one was a modern day tragic chorus about imposed traditions and stereotypes on women by the society the other was based on a classic story by Rabindranath Tagore telling the story of an untouchable girl.
Poll code violation: Park's name, statue of SAD leader go under cover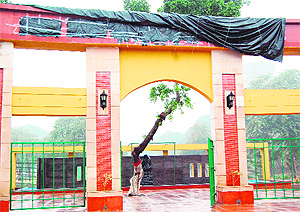 Amritsar, January 16
On the lines of covering the statues of UP Chief Minister Mayawati and the elephants for being BSP's the symbol of the BSP, the Election Commission has ordered to cover-up the plaque of a park constructed in Amritsar South constituency as well as the statue of SAD senior leader Raminder Singh Bolaria, after whose name this park was rechristened recently.
Name of the park named after SAD leader Raminder Singh Bolaria. Photo: Vishal Kumar

EC targets sale of habit forming drugs
Amritsar, January 16
Drug inspectors have been asked to conduct raids at suspected medical stores, including wholesalers, retailers and stockiest in this connection especially in the rural areas. Special emphasis is being laid on the border areas, urban slums as well as the rural belts. To check the misuse of drugs in the ensuing assembly polls, the Punjab Election Commission has directed the health authorities to check the flow of intoxicants as well as habit forming drugs.
Mercury dips but it's raining fun in city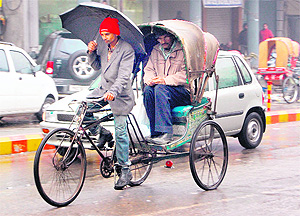 Amritsar, January 16
Monday morning witnessed a grey sky coupled with a heavy downpour and even lower mercury levels than yesterday. The winter chill brought surprise showers for the city which continued till the morning s today. The sudden deluge not only added to great inconvenience for the residents but further lowered the temperatures in the region.
A rickshaw puller holds an umbrella on a rainy day in Amritsar on Monday. Photo: Vishal Kumar

Eight booked for kidnapping minor
Amritsar, January 16
The police has booked eight persons for allegedly kidnapping a 14-year-old girl on the promise of marriage. The accused include Roshan Deen, his brother Makhan Deen, residents of Rohi Dera Gujran, Bandala, Moju of Sangat Pura, Dera Gujran, Roshan Deen of Ghanupur Kale and three other unidentified persons.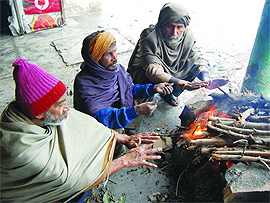 People sit by a bonfire on a chilly day in Amritsar on Monday. Tribune Photo: Vishal Kumar

Health authorities fail to check practice
Amritsar, January 16
The health authorities have failed to check the sale of habit forming drugs. Sale of these drugs goes on with impunity especially in the urban slum areas such as Guru Ki Wadali, Chetuana, Maqboolpura, Chheharta, Ghannupur, Kale, Verka etc.
Bar assn on warpath in lawyer's assault case
Threatens to strike work if counter case registered against the lawyer not withdrawn
Amritsar, January 16
The Amritsar Bar Association is on a warpath over the alleged police inaction in the incident in which an advocate, Kuljit Singh, was assaulted and seriously injured by several "political connected" unscrupulous elements in Rishi Nagar area on January 3.
When Polish students meet Amritsar counterparts
Amritsar, January 16
A group of folk artists from Poland today interacted with the students of Khalsa College of Education (KCE) and exchanged views on education. The visiting students said the major focus of the education in Poland was to identify uniqueness in students and then sharpen their skills in their respective fields.
Delegation of MPs crosses over to Pakistan
Amritsar, January 16
A 16-member delegation of Member of Parliament, headed by senior BJP leader Yashwant Sinha, today crossed over to Pakistan from Attari-Wagah land route near here. They were invited by Pakistan Institute of Legislative Development and Transparency, a non-government institute for a two-day interactive programme.