Dying dialogue
Conversation coma is the new entry into the list of words that implies loss of communication as well as connectivity in the modern world
Mona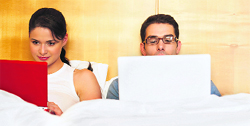 In the age of instant communication, strangely, it's the 'dialogue' that's getting lost. A recent survey in UK revealed that 'one in four couples speak to their partner for less than 10 minutes a day'! Called 'conversation coma', the survey undertaken by Bigham's Ready Meals blames 'increasing workloads' for the loss of interaction. We did a quick survey in order to know if this was true for city folks as well.
Strangely, it's not just the work overload that becomes culprit for the loss of real communication. Doctor Sukriti and Doctor Neeraj have been married for close to two years now; working in the same hospital has not helped when it comes to sharing. "Whatever little time we get seems to be good enough for us," says Dr Sukriti. "But, yes, at times we miss out on important things," she admits. Coming from families of doctors, this couple knows that 'time' is a rare commodity in the profession they have chosen and are fine with it. "We come back to each other at home; that is the greatest assurance. Working in different shifts plus long working hours do take their toll," she says. Work overload is the culprit for Avinash and Manju not getting enough time together, coupled with the responsibility of a baby. "My work has no scheduled offs.
Except Sunday, I rarely get to talk to my wife," admits Avinash. By the time he winds up his pharmaceutical shop and reaches home, it is already past 11 pm. By that time, his kid and working wife already pack up for the day. "I understand that she has to wake up early to ensure that our baby reaches school on time and she reports to her office also on time. Therefore, I can't ask her to be up and waiting for me," says Avinash. The couple, however, makes up for the lost time on Sundays, which they have reserved for the family.
Work follows Atul and Nayna home. Both in the corporate sector, Atul, an engineer, and Nayna, in corporate communications, reach home late. "Making a meal is just not possible after such a hectic day. We rather pick up food prepared by the maid and eat it in TV's company; too tired to talk," they share.
Well, it's not the just working couples who miss exchange of ideas, its virtual communication that takes precedence in the life of youngsters over the 'real'. If Facebook and Blackberry messenger take much of their time, so does talking with 'friends' spread across the globe over phone or Skype. "I so miss the evenings when my kids would share their day. Now despite being at home, they are on their own trip engrossed in gizmos. Talking to mum isn't as cool as changing their profile pictures. All they talk to each other is also about downloads," says Madhu Sharma, mother to a teenage boy and a girl. We take expert opinion. "We have surrounded ourselves with a virtual wall. We are not talking because we have nothing to say," says Professor Jitendra Mohan, Professor Emeritus of Psychology, Panjab University. In the recent times virtual reality has replaced the real life, turning us into apathetic beings with no values or sense of bonding. The information overload mainly consists of sensational news. "We are so mechanised that we fail to feel the loss. It's only when the child goes astray that one realises that the connection is long lost." But all is not gone, there is still hope. "Our conversation is in 'comma', not dead. It's time to revive the Cs — conversation, communication, commitment, curiosity and connectivity," he stresses. mona@tribunemail.com

Dehradun, January 17
The Uttarakhand Youth Twenty20 Cricket Tournament started today at Kasiga School, Dehradun, with a total of 2 matches played on the first day.
In the first match played between Sunrise and IME, the former won by 89 runs. Batting first, IME scored 193 runs losing just 1 wicket. Ravi Thakur scored unbeaten 95 runs. Sahil Yadav scored valuable 57 runs. Chasing the target, Sunrise could only score 105 runs. In the second match, YSM won by 16 runs its match against Kings XI South India. Batting first, YSM scored 145 runs whereas Kings XI South India could only score 129 runs. — TNS

Meerut team victorious
Tribune News Service
Dehradun, January 17
The JSM, Meerut, team won by 16 runs its match against Malik Sports, Delhi, in the 4th Uttarakhand Shaheed Girish Bhadri Cricket Tournament here today.
Electing to bat after winning the toss, the JSM team scored 248 runs at the loss of 8 wickets. Gaurav Goel scored the highest runs (61) for the team. Sunil took two wickets for Malik Sports.
On the other hand, the Malik Sports team could only score 232 runs.
Rahat Elahi of the JSM team was declared as the man of the match.