Back pain — myths and misconceptions
Dr Ravinder Chadha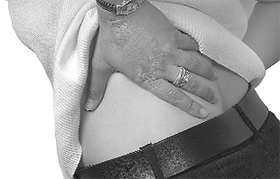 Low back pain is an affliction suffered by most people at one time or the other in their lifetime. Reasons could be as varied as incorrect posture, prolonged periods of sitting, injury, disc prolapse and so on. Prompt diagnosis, early treatment and timely rehabilitation are important for effectively reducing the pain/agony and enhancing the quality of life in such individuals.
Rarely do low back pain patients require surgery. A vast majority of patients can be treated conservatively via medication, physical therapy, manipulation, massage therapy, etc. Valuable time is wasted in visiting untrained, self-styled medical experts due to certain deep-rooted myths in the Indian mindset. Awareness is creeping in slowly but surely in our society, yet we have a long way to go to match up to our Western counterparts. Pain could be complex leading to complications and, therefore, it should be dealt with professionally.
The myths commonly encountered are as given below:
Only overweight individuals suffer from back pain Anyone and everyone can suffer from back pain. However, being overweight does enhance the risk. Like obese individuals, pregnant women's protuberant abdomen puts undue load over the lower back. Even as little as 5 kg increase in weight can put stress on the spine, increasing the risk of injury.
Acute onset indicates big problem
Severity of pain from lower back injury doesn't always signify the extent of physical damage present. Muscle spasm from a simple back strain can lead to excruciating pain, considerably limiting the ability to walk or even stand. Conversely, a large herniated disc may be absolutely painless.
Application of heat and pain creams are beneficial
Individuals suffering from back pain usually apply a hot pack, analgesic cream or spray in the hope of getting relief. But the application of heat and ointments increases blood circulation and swelling. Application of ice acts as a local anaesthetic, thereby relieving pain and reducing swelling by constricting blood vessels. Heat therapy should be started after a day or two. This increases blood flow to the injured part, reduces muscle spasm and improves the flexibility of ligaments.
Surgery as the only cure for back pain
The truth is that more than 90 per cent patients can overcome pain with proper physical therapy and anti-inflammatory medications. The first line of treatment for patients with low back pain should always be non-invasive, but the sad truth is that spinal procedures are often overprescribed for simple back pain which entails exorbitant costs and greater complications.
Bed rest is the only treatment for low back pain
Patients with back pain are advised bed rest for a period of two or three weeks. It is believed that bed rest is a natural healer and physical activity can irritate the spine, leading to an increase in pain.
Prolonged rest can, in fact, cause cardiovascular de-conditioning, loss of bone mass and the weakening of spinal muscles supporting the spine. Activities that aggravate pain like heavy manual work, lifting heavy weights, sitting for a long duration and driving should be restricted or avoided as the condition demands. Rest for one to two days for an acute injury or strain is fine. While resting one must ensure getting up and walking for a few minutes every hour to keep the muscles flexible and supple.
Exercises should be avoided during back pain
Exercises are extremely essential for anyone experiencing back pain. The key to exercising is to take to an appropriate regimen. Wrong exercises can make pain worse. Therefore, it is imperative to diagnose correctly the cause of the pain and then perform targeted exercises to combat it. Exercises improve flexibility, strengthen muscles and help healing.
Fit individuals can never have back pain
Individuals who exercise regularly are less prone to back pain. However back pain can affect everyone regardless of the level of activity. For example, light sports such as golf and walking can even cause back pain. Even a fit individual who doesn't condition the abdomen and back muscles can suffer from back pain with a mild overload like bending down or a bad posture.
Lifting heavy objects will strain the back
Most injuries are caused not by lifting heavy weight but the way it is done. The proper form: Squat, keeping your back straight, grabbing the object, bringing it close to the body and then standing with the help of thigh and hip muscles. Just grabbing a small object off the floor by simply twisting in a wrong way can strain the back.
Sitting straight prevents low back pain
People who sit at a 90 degree angle for prolonged periods can strain their spines. Therefore, a few times a day, adjust your posture, lean back in your chair with the feet on the ground and make sure that there is a slight curve in the lower back. This ensures distribution of the body weight more evenly, as shoulders and upper back muscles take some of the pressure off the spine. People who often slouch at their desk should consider using a cushion to support the lower back to keep the spine in alignment.
What may be even more important than sitting correctly is taking frequent breaks from your desk throughout the day to boost blood circulation to the back muscles and lessen fatigue. Standing up every half an hour and taking a five-minute stroll or stretching every hour is a good habit. Performing certain activities while standing up gives the spine a little reprieve.
Hard mattress is best for the back
Hard mattresses increase pressure on the spine and might be the source of back stiffness. Similarly, a too soft mattress doesn't offer enough support. Ideally, a medium-to-firm mattress suits the back.
The writer is a former doctor/physiotherapist, Indian cricket team. E-mail —
chadha_r2003@yahoo.co.in