Police lied to keep me away: Rushdie
IB specified threat to author's life: CM

Jaipur, January 22
The Salman Rushdie row refused to blow over today with the controversial author slamming the Rajasthan Police for "inventing" a threat to his life to keep him away from the Jaipur Literature Festival.
The state government dismissed the charge saying Intelligence Bureau had given the inputs and it was not concocted.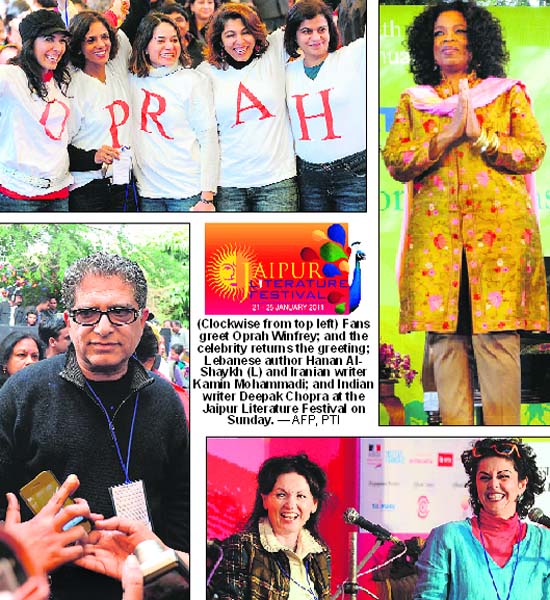 A day after the Mumbai police refuted reports that it had passed on information about "paid assassins" being on their way to eliminate Rushdie, 64-year-old Rushdie took to microblogging site Twitter to vent his anger. "The Rajasthan police invented plot to keep away Rushdie' I've investigated, & believe that I was indeed lied to. I am outraged and very angry," he tweeted.
Rushdie said he does not know if the false intelligence information was given by the Rajasthan police under instructions from someone. "Don't know who gave orders. And yes I guess the same police who want to arrest (authors) Hari, Amitava, Jeet and Ruchir. Disgusting," he said responding to a comment on whether it is the same police who now want to arrest writers for reading passages of his banned work 'The Satanic Verses' at the festival.
Rejecting Rushdie's charge, a Rajasthan government official said, "It was the input of IB on the basis of which the organisers advised Rushdie not to attend the festival. "It was brought to our knowledge today that Rushdie through twitter had said that the Rajasthan police tried to keep him away from the festival. It is absolutely wrong," the official said.
"It is our duty that if we receive advisory on any threat perception against anyone, we provide full security to him," Chief Minister Ashok Gehlot said.
Rushdie posted a link to a news report that said local intelligence officials in Rajasthan had "invented" information about the assassination plot against him to keep him away from the event. His accompanying tweet read, "Here's the story. Astonishing." The author had dropped plans to attend the literature meet saying he was informed by intelligence sources in Maharastra and Rajasthan about threats to his life. — PTI