PUNJAB

HARYANA

JAMMU & KASHMIR

HIMACHAL

REGIONAL BRIEFS

NATION

OPINIONS

LETTERS

BUSINESS

SPORTS

WORLD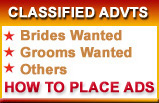 EDUCATION

JOBS & CAREERS

HEALTH & FITNESS

SCIENCE & TECHNOLOGY

REAL ESTATE

SPORTS & WELLNESS
Monday, January 23, 2012, Chandigarh, India
Edition update time 2:30 am (IST)


Latest news, updated at 6:15 pm
Turf war turns terror witness into accused
New Delhi, January 22
Is Naquee Ahmed another innocent Muslim youth in his early twenties to be unfairly detained, tortured and charged with terrorist links? Or, is he a terrorist or a terrorist in-the-making? The answer is not forthcoming from either the Special Cell of the Delhi Police, which reportedly used the young man to identify culprits believed to have planted bombs in Zaveri Bazaar in Mumbai (July, 2011), or the Anti-Terror Squad (ATS) of the Mumbai Police, which picked him up in Mumbai on January 9 and formally arrested him the next day.
SAD's please-all manifesto out
Ludhiana, January 22

The Shiromani Akali Dal (SAD) today released a please-all election manifesto, focusing especially on the youth and women. Vowing to continue all existing schemes for the economically weaker sections, party chief Sukhbir Singh Badal said the scope of such welfare schemes would be enhanced.
SAD manifesto targets the poor & youth
Ludhiana, January 22
The Shiromani Akali Dal (SAD) today released its manifesto, promising something for everybody. Specially targeting the youth, unemployed, weaker sections and women, the manifesto promises to continue with the welfare schemes. "The objective is to ensure that the benefits reach the needy and promises don't remain on paper", said SAD president Sukhbir Badal.
(Details on Punjab page)