Before elections, artists cry hoarse on unkept political promises
Aparna Banerji
Tribune News Service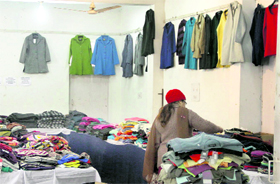 A sale of woollen garments at Virsa Vihar in Jalandhar. Photos: Sarabjit Singh
Jalandhar, January 22
With just a few days left for the elections, there are many facets to the city and residents' needs, which have never been touched.
While area residents and localities cry hoarse over basic amenities like water, sewerage and roads, needs like art aren't even on the minds of politicians even as artists sulk.
When it comes to a systematic subversion of art, there isn't a more classic example than Jalandhar. There is a long list of political promises to the city artists that weren't kept.
Virsa Vihar, which was particularly made for the artists, presently hosts sales of hosiery items.
While it has been promised Rs 25 lakh by Captain Amarinder Singh and Rs 10 lakh by Manoranjan Kalia at different times in the past many years, both the amounts remained unpaid.
The world's oldest classical music festival and Punjab's gem, Harivallabh Sangeet Sammelan, clearly saw diminished interest both by artistes and audience this time. It has also not received Rs 25 lakh it was promised in the budget last year.
The city does not boast of a single auditorium or hall which might be both spacious and acoustically sound. The concept of spending a culturally rich and educating weekend is alien to city kids and art lovers because both art (visual or audio) and theatre events are a few.
While the city is clearly the media hub, it is nowhere near being the art hub of Punjab despite a glorious history of producing artists and intellectuals.
The art fraternity has lost hope as it looks at the Amritsar and Ludhiana art circles longingly. With the coming elections the city artists express their aspirations and demands.
Rakesh Dada, treasurer, Harivallbh Sangeet Sammelan, said "As long as we do not get proper funds, we cannot host a great show, because artistes demand more hefty fees now. For the last few years, we have been getting Rs 5 to 7 lakh (on an average) during every Harivallabh. The Rs 25 lakh that were allocated in the last budget have still not made it to us. Due to the election code of conduct, we did not get any funds this year during the Harivallabh from the government. For the Harivallbah Academy, too, we need a couple of crores for its smooth running. We can make it functional, but for a world-class arrangement things have to be better. We have been demanding heritage status for Harivallabh. Sure we need that but we don't want it to go in the hands of the government. We love the festival and don't want it to meet the fate that the Kapurthala Heritage Festival met. If only the government gives us timely funds, we can change things."
Basudeb Biswas, national award-winning painter, "Virsa Vihar isn't much of an option for artists, except for holding exhibitions. There is no infrastructure at the place. Jalandhar (or Punjab) artists are also facing a greater bias. While the artists from Chandigarh can participate in exhibitions held by the Punjab Lalit Kala Akademy, those from Punjab can't participate in those held by the Chandigarh Lalit Kala Akademi. The result is that it's always Chandigarh artists that end up taking all the prizes. So we have nothing in the city and elsewhere too, there's politics. The present DC formed an advisory committee of Jalandhar artists when he had just come in. But after that, he didn't have time to hold even a single meeting. Has the government or political parties ever kept artists on their priority list?"
Deepak Bali of the Punjab Jagriti Manch said, "The amount allocated to the manch in the budget never came, even though there was supposedly a special thrust on culture in the election manifesto of the ruling party last time. The Amritsar Naatshala is doing a much better job than the Jalandhar theatre circles. They have something to watch every weekend."
Chaitanya Kochar, art observer and coordinator of the city chapter of Spic Macay, "When the politicians are busy clamouring for their vote banks or just creating assets for self and favoured groups, how can they be supposed to find time for character-building projects of the youth. Those presently contesting elections have given away lakhs of rupees to high-profile societies for building concrete halls that never got completed. But they forget the plight of the ignored children of the slums in their constituencies. Fine arts and other artistic activities, which can be started at negligible cost at community-level gatherings or block/school-level platforms, are ignored."
"The administration is like sitting over Virsa Vihar with a protectionist and preventive attitude. The chairpersons have no time to conduct the mandatory monthly meetings let alone visiting the premises to oversee the activities. In this scenario the bureaucracy is duty bound to take charge, create order and provide a calm working atmosphere and space for the sincere artist," he adds.
Painter Amit says, "I have personally made efforts to meet the Mayor on issues concerning art. I left my card with him, but I never received a call from him later. I had talked to him on issues regarding art during an award ceremony. City kids do not have any initiation in art. The government could hire artists like us to paint murals at key public sites. The city could be made to look more beautiful. Regular events could be held for schoolchildren. Right now there is nothing. Its an artistic void that we are living in. Cultural enrichment of a city is the farthest thing on a politcian's mind and I hope some government wakes up to the artistic crisis before its too late."
Channi JS Takulia, office secretary of Virsa Vihar, says, "We have to hold private sales and exhibitions to meet expenses. We have been promised Rs 25 lakh by Captain Amarinder Singh and Rs 10 lakh by Manoranjan Kalia at different times, but did not get any of the amounts. So many projects at the Virsa Vihar are lying incomplete. There is an idea to build an amphitheatre, which can't start before we get the requisite funds. The upper story also needs work. We have held bhangra, giddha, music and dance classes from time to time, but the projects mostly fell flat. We meet maintenance costs with money generated from sales and exhibitions. There is only one AC room in the entire building. The upper rooms also need renovation but I never got a query asking what we need at the Virsa Vihar."