Constituency Watch Nakodar
Retarded growth leaves residents fuming
Nikhil Bhardwaj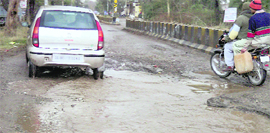 Roads full of potholes give commuters a nightmare in the constituency. Photo by writer
Nakodar, January 16
Proximity to Jalandhar has not helped matters for this constituency. Development issues have been hogging the limelight for years, but very few politicians have cared to provide even the basic amenities to the residents of this constituency.
The dilapidated road, leading to the bus stand, says it all about development in the town. The road is in a bad shape for the past many years, but 'neta ji' did not pay head to the same and instead blamed the ruling government for not issuing funds for the development.
The main bus stand of the town also cries for basic infrastructure and amenities. Now, it seems only the beggars use the premises as their residence.
Industrialists are worried about sorry plight of 'dari industry' in the town. They claimed once the industry featured among the top in North India, but now the condition is pity and the politicians don't have time to think its revival.
Industrialists alleged that the sitting MLA of the Congress, Amarjit Singh Samra, who was voted to power for the fourth consecutive term, did not even raise a single question in the Assembly about the plight of the industry.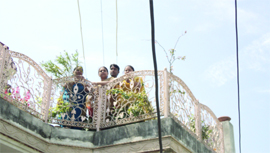 11-kv wires passing over the rooftops in Sunder Nagar pose a continuous threat for residents. Photo by writer
Similarly, commission agents of grain market claim that the mandi is devoid of sheds for the past many years. They alleged that their crops get destroyed in the rain.
People also demand installation of traffic lights on the Jalandhar bypass to prevent occurrence of accidents.
Residents of the constituency want a leader who will deliver basic amenities.
Residents though laud the efforts of the MLA in bringing the sanitation project, but in reality, the project has not solved the problems. Sewer can be seen accumulated in the lanes. And in rainy days, roads are often flooded with the sludge.
Polity wise
n In Nakodar, the main fight is between the Congress and SAD candidates.
n Congress' Amarjit Singh Samra has won four consecutive times from the constituency.
n SAD candidate Gurprtap Singh Wadala, son of veteran leader Kuldip Singh Wadala, who won the SGPC elections recently. Notably, Kuldip Singh had also lost to Samra in the last Assembly elections.
n The Congress will heave a sigh of relief with the withdrawal of its rebel candidate Gurvinder Singh Atwal