Overcoming adversities, they excel in game
Kusum Arora
Tribune News Service
Jalandhar, January 6
Where there is a will, there is a way. Probably this is how one can sum up the story of the budding brother duo, who have overcome adversities in life to pursue badminton as a sport and career.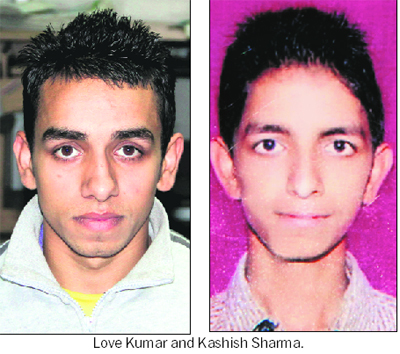 Courtesy their determination to grow in life that Love Kumar (21) and Kashish Sharma (16) got a golden chance to pursue this sport at the Ratti Badminton Academy, which is being run at the local Raizada Hans Raj Stadium.
While Love Kumar scored first rank in the singles of the senior state badminton championship, Makandpur, his brother Kashish bagged second rank in the Punjab junior badminton championship also held at Makandpur.
Talking to Jalandhar Tribune, Love Kumar, who is pursuing BA-I from Lyallpur Khalsa College, said: "Pursuing badminton as a game was the best decision of my life. And thankfully, I got a good coach too, who not only shaped mine but my brother's life too," he said.
At present, both the brothers are undertaking free coaching, getting free boarding and lodging at the academy, which is being run by their coach Gagan Ratti. Owing to their top rankings in the state, the brother duo is also being sponsored by some good Samaritans.
Kashish Sharma, the younger brother who left for the school nationals to Pune today, said that he learnt the game during his schooling at Shakargarh DAV Senior Secondary School, Gurdaspur. He said: "I picked the game watching my brother play. He motivated me to take up the sport seriously and join the academy here."
Talking about their family in Gurdaspur, they said that financial constraints coupled with certain other adversities made them more dedicated in this game. Their father runs a vegetable shop in Gurdaspur and has a big joint family to feed. The brother duo said: "We are happy to have earned a little bit for our family also."
The brothers were all praise for their coach Gagan Ratti and international badminton player Sachin Ratti, who taught them the basics. "I idolize my coach, who is shaping up my life," said Love Kumar.
Now, Love Kumar would participate in the upcoming senior national badminton championship to be held at Bangalore from January 17 to 25. Both the brothers practice for at least three hours in the morning and evening.
Gagan Ratti said: "They are a great motivating source for each other. And the way they have excelled in the game, I am sure that they will soon make it big in this sport."