Just click to know your polling booth, RO
Deepkamal Kaur
Tribune News Service
Jalandhar, December 28
Want to know where your polling booth is or who's your booth-level officer or returning officer. You need not run after political leaders or officials to know the same. Simply log onto jalandhar.nic.in and click on the link 'Election 2012' and you will have all details, including email addresses and mobile phone numbers of officials concerned.
Through the column 'Search your vote', one just needs to click on the constituency map to get a complete list of all the booths area wise. The list gives street number and even house number details of each colony covered under it. It further gives the name of the booth-level officer (BLO), his mobile number and even the workplace he can be found at. The column also mentions the number of male, female and total number of voters booth wise.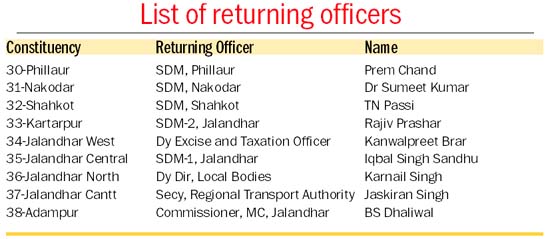 Via the column returning officers and assistant returning officers, the names, designation, office, residence and contact numbers and email addresses of all officials have been mentioned for each of the nine constituencies falling in the district. The lists have been especially updated on the instructions of the Election Commission of India so that anyone having any complaint could quickly bring it to the notice of the concerned RO.
The ROs include eight PCS officers and a lone IAS officer at Nakodar. There are two Assistant ROs under each RO, who include tehsildars, naib-tehsildars, district revenue officer, assistant excise and taxation officer, XENs of MC, district panchayat and development officer and block development and panchayat officers.
Meanwhile, all ROs have set up dedicated rooms or election cells in their offices wherein the static teams receive complaints, inform the flying squads about the same, prepare reports of the seizure and submit it on daily basis to the district election officer.
Additional DC Praneet Bhardwaj has set up a media monitoring centre at his office wherein four TV sets have been brought for monitoring of advertisements by various political parties. An election cell has also come up at circuit house which would be put for use by the election observers who are expected to be in the city in the next few days.
Voter ID cards
The new voter ID cards being issued this time have holograms which even have a unique number on them for further authenticity of cards. The size of the cards is also perhaps little smaller this time. Various booth-level officers are still in the process of preparing these cards.
Offices wear deserted look
As almost all officials of the sub-divisions, revenue department, municipal corporation, transport office are on poll duty, the entire subordinate staff has also been taken for assisting them for various works as part of the teams. As a result, all employees these days are busy with field or office election duties with hardly any routine work being done.