No end to drug abuse in sight
Politician-drug mafia nexus to blame; residents want to make it a poll issue
Aparna Banerji
Tribune News Service
Jalandhar, January 5
The city is teeming with victims of the drug trade and tormentors too. Houses have been destroyed, husbands and sons have been lost and in some areas even mothers and grandmothers have fallen prey to the drug menace.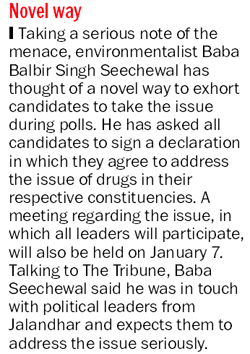 When elections are around the corner, leaders make big "we will nail the offenders" promises to woo voters, but as soon as they come to power, things are back to square one.
Voices demanding taking up of drug abuse as a poll issue have grown louder from time to time. Residents of the Bhargo Camp area, falling in Jalandhar West constituency - one of the most notorious areas in the city as far as drug abuse is concerned - had recently demanded that drug abuse be taken up as a poll issue. But so far, none of the politicians seem interested.
Areas like Kazi Mandi, Bhargo Camp, Mangu Basti, Basti Gujan, Basti Danishmandan, Basti Bawa Khel, New Sant Nagar, Kot Ram Das, Nangal Shama, Jinda village, Industrial Area, Santokhpura and Kishanpura (falling in Jalandhar North, West and Centre constituencies) are riddled by the problem of drug abuse.
In some of these areas, even children have taken to drugs. Most of these areas are child labour hubs and it is common practice to exploit drugged children by making them work sans adequate wages. People in slum areas across Jalandhar are also victims to the problem. Sources say that when their own MLAs' henchmen are top drug dealers, who do they go to?
Interestingly, the observers or those who have ever made efforts to get rid of the problem in their areas, all agree that the nexus so strong that taking it up as a poll issue can't bring an end to it. They say the politicians are deeply involved in the menace (some intentionally, others out of compulsion).
Dr Bhajan Shipra in the Kazi Mandi area, which falls in the Jalandhar central constituency, says he himself has seen people falling prey to the menace. "We have run de-addiction campaigns in the area. While there were only two to three drug addicts in the area then, now there are over 200. The number is still increasing. I have written to the CMO in Jalandhar and Chandigarh many times. Once, after a complaint to the MLA of the area, the CMO had even ordered raids to some of the shops. Some of the establishments were sealed. About eight to 10 cases were filed. But all the offenders soon got out on bail. The cases are running but they are out and free. None of us can do anything about it."
Dr Bajaj from the Maqaoodan area, falling in the Jalandhar North constituency, says: "I myself have run drug de-addiction campaigns with an official whose NGO formerly held de-addiction drives in the city in about 1996. People were arrested. We were also instrumental in getting sacks of poppy husk seized. Interestingly, they were later passed off as tobacco sacks. People arrested were released. The MLA of our constituency won on the very issue. He had promised to work to ward off drugs. Now, things are back to the same. I don't doubt his honesty. But the nexus is too strong for one honest man to counter it."
"Even the law is on the side of the offenders. Doses of a certain illegal drug are contained in legal, therapeutic capsules. But we can't catch them because the therapeutic capsules are not covered under the NDPS Act. The excise, the police and medical departments watch on. Don't you think they have eyes to see what's happening? Of course, they do. But no one is willing to save the victims from the curse of drugs," he says.
An SHO, formerly posted at one of the drug belts of the city, said: "Illiterate people are fed drugs on exorbitant rates and no one advices them to stay away. Families lose bread winners to drugs.
People incur debts to fund their drug habits. Youths take to snatching and stealing to fund drug and politicians watch. Honest officials are transferred. Cases are slapped on others who are willing to punish offenders. A solution can only be found if the public co-operates with cops and is aware of its rights. This time the EC and police seems stricter during elections. Political malpractices (doling out drugs and liquor) can be curbed if public helps us."