Security, education on women's mind
Aparna Banerji
Tribune News Service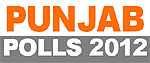 Jalandhar, January 7
While there is lot of speculation and hectic activity on the political scene, what really makes or breaks a politician is actually his/her voters. A politician can't really profit with half (or more) of the voters in his constituency angry. But a conversation with women from various walks of life reveals that they have little liking for politicians and their smooth talk.
City women are sick of the lack of safety and security on streets and chaos and disparities in the field of education.
With the poll scene constantly growing intense, city women want issues like security, inflation, domestic violence, education, female foeticide, unemployment and health to be taken up in the coming Assembly elections.
Vandana Ghai, a housewife, says, "Everyday, we hear of snatching and crime against women. I don't feel safe to go out after 6 pm. I can't send my daughters out alone. The Wadala Chowk area, where I live, and the nearby Urban Estate areas are clearly unsafe for women after dark. From an unsafe city to skyrocketing kitchen budgets, our survival has been made difficult. Issues of women's safety and inflation certainly need to be addressed this time during elections."

Komal Mehta, who runs a local NGO, says, "None of the election candidates have ever deemed it important to address the issues of women living hellish lives. I have worked with women in slums. Domestic violence and crimes against women are on the rise. While the government announces big schemes for schools, there is no work happening at the grassroots level. A large number of poor parents still refuse to send their daughters to school. Hygiene or proper living doesn't figure in their definition of happiness. Earning Rs 30 to 50 and getting food two times a day is their idea of normalcy. They are not aware enough to realise they are hugely being discriminated against. But are these issues ever raised during the elections?"
"Working with these women I observed that a politician comes and gives a sack of wheat and women rush to vote for him. I would just like them to be aware and vote for candidates who will keep their well-being in mind."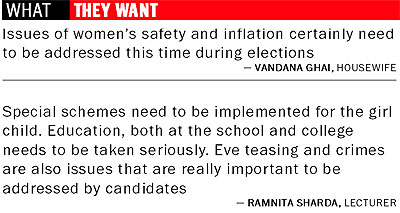 Ramnita Sharda, a lecturer at a local college, says, "Special schemes need to be implemented for the girl child. Education, both at the school and college needs to be taken seriously. Eve teasing and crimes are also issues that are really important to be addressed by candidates that women get a socially secure environment to live and work in, in the city."
"Tax exemption for women and implementation of pension schemes for college lecturers is also extremely important. While politicians go on over a plethora of issues, these women specific issues are always sidelined. It's time that women wake up to their games."
Kheto Devi, president of the Sudhar Sabha of the local Indira Colony slums says, "I just want that the girls in the slums to be educated. They have precious little in the name of health care and education. The candidates have never addressed these issues. When basic health and education is not ensured, how can we dream of getting them jobs and make them self-sufficient. It's the duty of politicians to take up these issues in the upcoming polls."
Mandeep, a teacher working at a local NCLP school, says, "I am double MA BEd. I am presently in a job where I am being paid a meagre four thousand bucks. Teachers less qualified than me (plus 2) are earning Rs 10,000. Empty posts are being filled with contractual teachers, even as existing teachers are dissatisfied. My salary, too, along with other NCLP colleagues, has been pending since April. I haven't as yet encountered a single candidate paying heed to what goes on or doesn't with teachers or at our schools. They wouldn't even know how many schools there are in their constituency."
"My last class didn't get their stipends (they have passed out a year ago) and the stipends of the present class are also pending. Our poor labour students come in without wearing sweaters in the dead of winters. We fell like crying but when we don't have money, how can we extend them additional help."
"Teachers or students' well being or educational issues never ever make it to election issues even though we are the ones who decide the course of students' future. The city education scene is bad. The issue ought to make its way into the elections."
Harivnder Kaur, principal, Red Cross School For The Deaf, says, "Women labourers get paid half of what their male counterparts do. There's anarchy and crime on city streets. Eve-teasing and female foeticide are also common. No matter what politicians pretend to do about these issues. Not much has been done so far. This time, these issues should make it to elections."
"Education for the girl child should also be made a poll issue. The insight of a candidate for the well-being of his constituency would be reflected if he takes up these issues."
Poonam, a teacher at a private school, says, "Lack of creative and aggressive educational programmes is wreaking havoc on the minds of children. We have never seen any local initiatives by candidates where a thrust is given on a healthy and creative school environment for children. Ensuring a safe city for us to live in is also important. Scared women can't be as great as teachers as free-minded ones."