COLUMNS



THIS ABOVE ALL

TELEPROMPT

GOOD MOTORING

LIFE'S LESSONS

LEXICON

NETWATCH

SPORTS & WELLNESS


FITNESS MANTRA

FOR CHILDREN



CROSSWORD

RHYME TIME
Earlier Feature


TELEVISTA


AUDIO SCAN
Soccer Sorcerer
Baichung Bhutia is a wizard, the likes of whom are born once in a lifetime. M. S. Unnikrishnan recounts the story of this legend, who bid adieu to international football recently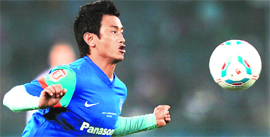 aichung Bhutia was blessed to have got the kind of testimonials when he signed off his international career with a match against FC Bayern Munich, the top German club, at the Jawaharlal Nehru Stadium in New Delhi on January 10. Bayern Munich rarely fly around playing farewell matches, especially since it is a team packed with six World Cup players, and least of all for an Indian, as Indian soccer is an unknown commodity back in Germany.
Dance with apurpose
Many event management companies and TV channels are using the recent trend of flash mobs, which was started by social activists, to create a buzz, writes Radhika Bhirani
If youíre busy shopping at a packed marketplace and someone next to you breaks into a jig, donít fret, just join in! Chances are it may be a flash mob.
Memories of a lifetime of friendship
Padam Rosha pays a tribute to S. N. Mathur, former Inspector-General of Police, Punjab, and Director, Intelligence Bureau, a friend and batchmate, who passed away recently
IN the dying hours of 2011, my friend Shiv Narain Mathur passed away. He was sitting in a sunny nook with his wife Prem and son Siddharth on the afternoon of December 31, sipping soup when he simply left. "Only saints go like this," people said.
Whizkid Williams
UKís Jay Williams built his first website at five
An eight-year-old brainy boy from the UK, who is fast gaining reputation as the master fix-it for computer-related problems, has given Bill Gates a run for his money despite such a young age. From helping his neighbours get to grips with the internet, to coming to the rescue when the computers crashed at school, Jay Williams, from Erdington, Birmingham, is proving to be a tiny troubleshooter.
SPORTS & WELLNESS
Leander stands tall still...
Leander Paes partnered Janko Tipsarevic of Serbia to lift the doublesí title in the recent Chennai Open ATP event. He has once again proved that age is no bar in maintaining his winning spree. M. S. Unnikrishnan reports on how Paes has conquered new goalposts with each successive win
He old war horse is still going strong at 38 years, heís setting new goals, and shifting goalposts far, to conquer new frontiers on the tennis horizon. Leanderís wins are remarkable, considering the inability of the younger lot like Somdev Devvarman, Yukhi Bhambri and Rohan Bopanna to make their marks in big-ticket events.