PUNJAB

HARYANA

JAMMU & KASHMIR

HIMACHAL

REGIONAL BRIEFS

NATION

OPINIONS

LETTERS

BUSINESS

SPORTS

WORLD


State lacks facilities for winter sports
Manali, January 17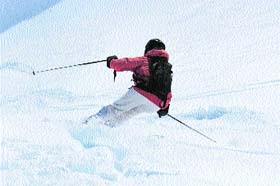 High on "empty hype", low on facilities, the Winter Games and winter tourism have failed to take off in the state for the past 32 years. Solang Nullah ski resort and Narkanda ski slopes, adjudged as the best natural ski slopes, have not even a "single snow-beating machine, an essential equipment to prepare a ski run", leave alone a well-equipped ski resort.
Pollution board to study biodiversity around Rohtang
Solan, January 17
With a view to reducing environmental degradation owing to tourist activities, the Himachal Pradesh Pollution Control Board will undertake a study on air, water and soil pollution and biodiversity around the Rohtang Pass area and suggest remedial measures to ensure minimal damage to the ecology.
Hot springs to become new hope for apple industry
January 11, 2012
Kangra narrow-gauge rail line in bad shape
January 4, 2012
Power companies play havoc with state's ecology
December 28, 2011
Mini secretariat complex awaits completion
December 21, 2011
Kangra tea industry in crisis
December 14, 2011
Work yet to begin on Palampur projects
December 7, 2011
Traffic chaos continues in Kangra
November 30, 2011
Palampur police station cries for repairs
November 23, 2011
Palampur a victim of govt apathy
November 16, 2011
'No steps taken to curb overloading of vehicles'
November 9, 2011