Kangra tea industry in crisis
Palampur, December 13
The tea industry in Kangra Valley is passing through serious crisis these days. Tea growers are finding it very difficult to maintain their tea plantations as there is no buyer for their produce.
NGO picks holes in upcoming hydro project in state
Shimla, December 13 An NGO fighting for the cause of people affected by hydropower projects said here recently that the upcoming World Bank-funded mega project in the state had several flaws.
Snow lures tourists to Solang Valley
Manali, December 13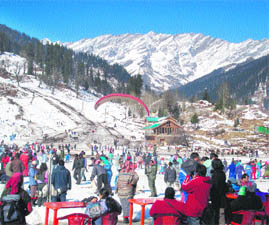 After the season's first snowfall in the entire upper Manali region, Solang Valley, 13 km from north of Manali town, has become the biggest winter attraction with hundreds of tourists thronging it everyday to have fun in snow.
Tourists enjoy paragliding in the Solang Valley, 13 km from Manali. Photo by writer