PUNJAB

HARYANA

JAMMU & KASHMIR

HIMACHAL

REGIONAL BRIEFS

NATION

OPINIONS

LETTERS

BUSINESS

SPORTS

WORLD


Power projects threaten existence of villages
Palampur, October 25
Over one dozen power projects, being executed in the Dhauladhar hills, have made the lives of hundreds of villagers miserable as these project have adversely affected local drinking water sources, villages roads and pastures. Besides, reckless cutting of hills for these projects have resulted in a large-scale soil erosion and landslides threatening the existence of villages. Though the local administration is well-conversant with the situation, but no efforts are being made to do something about it.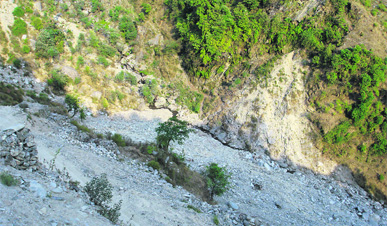 Landslides happening because of reckless cutting of hills by the Om Power Corporation pose a threat to the existence of Surad village. Photo by writer

Prime government property in ruins
October 19, 2011
Illegal mining thrives in Baddi area
October 12, 2011
JP group sits pretty on project assets
October 5, 2011
Kangra turning into concrete jungle
September 28, 2011
Sanitation mess in Kangra
September 21, 2011
Medical waste poses health risk in Kangra
September 14, 2011
Neglected & forgotten
September 7, 2011
Encroachers clog state highways
August 31, 2011
Road mishaps on the rise in state
August 24, 2011
Peacocks spotted at Khokhan sanctuary after a decade
August 17, 2011