PUNJAB

HARYANA

JAMMU & KASHMIR

HIMACHAL

REGIONAL BRIEFS

NATION

OPINIONS

LETTERS

BUSINESS

SPORTS

WORLD


Peacocks spotted at Khokhan sanctuary after a decade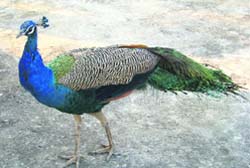 Kullu, August 16
A pair of peacocks was spotted recently after a span of over a decade in the Khokhan scantuary, about 10 km from here, by villagers and employees of the scantuary.
Projects dedicated to martyrs hang fire
Palampur, August 16
The nation recently celebrated the 11th anniversary of the Kargil War as "Vijay Divas". The state government had also remembered its martyrs who had sacrificed their lives for the security and integrity of the country in the Kargil War and other insurgency operations. However, it is unfortunate that these heroes and their families are given importance only on such occasions.
Project workers face nature's fury
August 10, 2011
State leads in spending on agriculture
July 27, 2011
Ex-CM's dream project in nightmarish state
July 20, 2011
Trekkers' paradise in neglect
July 13, 2011
Tourism needs a reality check
July 6, 2011
Tourist influx triggers traffic chaos
June 29, 2011
Mandi villages find way out of water crisis
June 22, 2011
Air pollution alarming in Baddi area
June 15, 2011
Thieves targeting temples
June 8, 2011
Nothing to cheer for cherry growers
June 1, 2011