PUNJAB

HARYANA

JAMMU & KASHMIR

HIMACHAL

REGIONAL BRIEFS

NATION

OPINIONS

LETTERS

BUSINESS

SPORTS

WORLD


Mandi villages find way out of water crisis
Mandi, June 21
Facing acute water shortage and intermittent drought, villagers in Barswan panchayat have started conserving water from its traditional "baolis" in water-harvesting structures built by them under the Mahatma Gandhi National Rural Employment Guarantee Programme. "The villagers are now using water from these structures," says Prem Sagar from Barswan.
Magic a dying art: Samrat Shankar
Shimla, June 21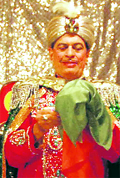 Born into a conservative Aggarwal business family of Ellenabad village in Sirsa district of Haryana, choosing to become a magician was not an easy task for Samrat Shankar, who is today one of the top magicians of the world. Shankar, who has been enthralling audiences, especially children, for the past 22 days in the Queen of Hills, says it was at the age of 14 that he saw the first magic show of his life in Srikaranpur, Ganganagar in Rajasthan, where his family had moved from Sirsa.
Air pollution alarming in Baddi area
June 15, 2011
Thieves targeting temples
June 8, 2011
Nothing to cheer for cherry growers
June 1, 2011
'Polythene-free' state has it in abundance
May 25, 2011
Simian terror grips Solan areas
May 18, 2011
Dharamsala all set to host IPL matches
May 11, 2011
Sanitation mess in Khajjiar
May 4, 2011
State's healthcare system ailing
April 27, 2011
Illegal land deals threaten Kangra's tea gardens
April 20, 2011
Shady land deals rampant in Solan
April 13, 2011