PUNJAB

HARYANA

JAMMU & KASHMIR

HIMACHAL

REGIONAL BRIEFS

NATION

OPINIONS

LETTERS

BUSINESS

SPORTS

WORLD


Sanitation mess in Khajjiar
Khajjiar (Dalhousie), May 3
With the mercury beginning to rise in the plains, tourists have started rushing towards famous hill stations of the state. The picturesque Khajjiar, also famously known as "Mini Switzerland", is visited by a large number of people every year. However, the authorities seem to be least unconcerned about the cleanliness of this important hill station of Dalhousie.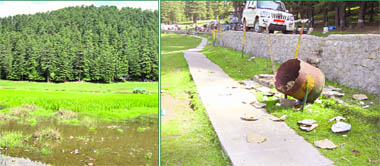 The Khajjiar lake is facing a threat from garbage and non-degradable waste material like polythene and plastic bottles. With the garbage disposal system lying defunct, heaps of trash can be seen littered all around the place

At 5, Kangra boy set to make mark in chess
Kangra, May 3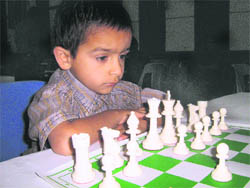 Five-year-old Suvrat Rathore, youngest chess player of the hill state, has been selected for the under-7 National Chess Championship to be held in Pune in May this year.

Suvrat Rathore during the 17th under-15 chess championship organised in Kangra. Photo by writer

State's healthcare system ailing
April 27, 2011
Illegal land deals threaten Kangra's tea gardens
April 20, 2011
Shady land deals rampant in Solan
April 13, 2011
Time for Tibetans to shift focus from faith
April 6, 2011
BRO set to open road to Rohtang Pass
March 30, 2011
Motorists encounter parking blues in Kullu
March 17, 2011
Taking of air samples eyewash: NGO
March 16, 2011
MC's 'go green' mantra to lend beauty to Shimla
March 9, 2011
Mandi residents resent hefty power bills
March 2, 2011
Urban forests back with Shimla MC
February 23, 2011
Violations galore as TCP Dept remains toothless
February 16, 2011