PUNJAB

HARYANA

JAMMU & KASHMIR

HIMACHAL

REGIONAL BRIEFS

NATION

OPINIONS

LETTERS

BUSINESS

SPORTS

WORLD


Road mishaps on the rise in state
Palampur, August 23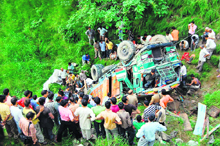 A rise in the number of road accidents in the state has once again put a question mark on the functioning of the state transport department. In the past six months, over 150 persons have lost their lives in different road mishaps, particularly in the far flung areas, with Chamba, Shimla, Kullu and Kinnaur districts recording the highest number of accidents.
Dharamsala vet helps revive extinct deer
Dharamsala, August 23
Dr RK Sharma, a veterinary doctor from Dharamsala, has helped revive an extinct variety of deer, White Arabian Oryx, in the United Arab Emirates (UAE).
At 14, her passion is to depict life on canvas
Shimla, August 23
Seeing her beautiful portraits, sketches, oils and water paintings one would never imagine that these are amazing strokes from the brushes of a 14-year-old young girl whose passion is to play with colours and depict life on canvas as close to reality as can be.
Peacocks spotted at Khokhan sanctuary after a decade
August 17, 2011
Project workers face nature's fury
August 10, 2011
State leads in spending on agriculture
July 27, 2011
Ex-CM's dream project in nightmarish state
July 20, 2011
Trekkers' paradise in neglect
July 13, 2011
Tourism needs a reality check
July 6, 2011
Tourist influx triggers traffic chaos
June 29, 2011
Mandi villages find way out of water crisis
June 22, 2011
Air pollution alarming in Baddi area
June 15, 2011
Thieves targeting temples
June 8, 2011