PUNJAB

HARYANA

JAMMU & KASHMIR

HIMACHAL

REGIONAL BRIEFS

NATION

OPINIONS

LETTERS

BUSINESS

SPORTS

WORLD


Kangra turning into concrete jungle
Palampur, September 27
Despite the fact that Kangra is among the most earthquake-prone areas of the country, haphazard and unplanned construction is going on unchecked in the district.
No lessons learnt from history
On April 4, 1905, the Kangra valley was jolted by a massive earthquake. More than 20,000 persons were killed. Nearly 1 lakh buildings were destroyed and 53,000 domestic animals perished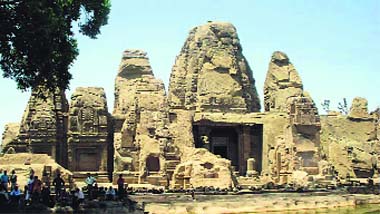 The famous Masroor Temple in Kangra which was destroyed in the 1905 earthquake.
Sanitation mess in Kangra
September 21, 2011
Medical waste poses health risk in Kangra
September 14, 2011
Neglected & forgotten
September 7, 2011
Encroachers clog state highways
August 31, 2011
Road mishaps on the rise in state
August 24, 2011
Peacocks spotted at Khokhan sanctuary after a decade
August 17, 2011
Project workers face nature's fury
August 10, 2011
State leads in spending on agriculture
July 27, 2011
Ex-CM's dream project in nightmarish state
July 20, 2011
Trekkers' paradise in neglect
July 13, 2011