Work yet to begin on Palampur projects
Palampur, December 6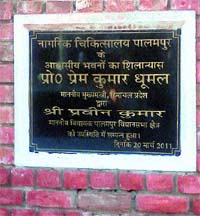 Because of lack of "administrative will" and poor governance, a number of foundation stones laid by Chief Minister Prem Kumar Dhumal, his cabinet colleagues and MLAs in the town have just turned into showpieces as construction on these projects is yet to be taken up.
A foundation stone laid by Chief Minister PK Dhumal for a project in Palampur. Photo by writer

Delay in construction of Baghchhal bridge
Farmers seek probe
Bilaspur, December 6
The Himachal State Kisan Manch, an organisation devoted for causes of farmers of the state, has demanded that the government should order a high-level enquiry into the inordinate delay in construction and completion of the state's biggest and costliest Rs 32-crore Baghchhal bridge over the Gobind Sagar, near Jagatkhana in this district
Ration card seekers left in the lurch
Kangra, December 6
BPL card holders, whose ration cards were cancelled, have not been issued any fresh APL cards. They have been starving for the past four months as without a ration card they are not entitled to get monthly ration.