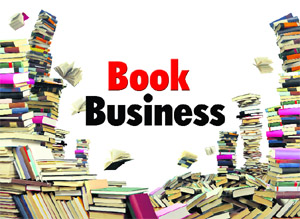 Book Business
With Jaipur literature fest hogging the news space, books, reading and publishing are in the limelight these days. The love of reading has survived the onslaught of audio-visual media and the Internet. It draws sustenance from the publishing industry which has seen a lot of ups and downs over the years.
Sunandini Banerjee checks out career opportunities in this industry
Best place to work


Google tops Fortune magazine list of best companies to work for
Internet giant Google has been named the best company to work for by Fortune magazine, taking the top slot in a list of 100 firms, with employees raving about everything from its work culture to perks like free food at well-stocked pantries.
Career Hotline
Do your homework diligently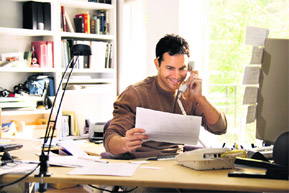 Q. After completing MCA, I'm currently working in a private company. I now want to leave my current job and am interested in home-based jobs. I have come across many companies but I'm unaware about their credibility. I have learnt that some of these companies that provide such jobs are fraudulent and cheat people by charging big amounts as registration fee etc. I am not in a position to suffer a financial loss, and so am scared of signing up. Can you tell me the names of reliable and genuine job providers who provide home-based jobs without investment (or minimum fee) in India (Punjab).
Course watch
CDAC PG diploma programmes
Admission is on for CDAC's PG Diploma in System and database administration and GIS and Remote sensing for its Noida campus. These six months (24-week) programmes are designed to enable the students to acquire industry specific IT skills and obtain better placements. Selection is through online entrance test, ensuring transparency and quality.
Career compass
Precious passion
With changing fashion and taste, men and women today, are steadily moving away from conventional styles of adornment and ornamentation and gradually adopting modern patterns better suited to their busy life styles. While not much has changed as far as the utility of gold, silver and diamonds go, the art of finding gemstones, grading and evaluating them and processing them for the end user has changed radically.
Course chat
Winning formula
With the Formula One craze vrooming into India there has been an increased interest in careers related to this exciting field. If the super fast, super sleek, super cars give you an adrenalin rush then check out this course on race car aerodynamics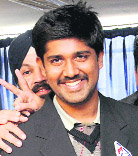 Achiever's word
100 per cent inspiration
Scoring 99.99 percentile in CAT is no mean achievement and this year's topper Pemmasani Sri Ram Prasad from IIT, Ropar, shares his success mantra with other CAT aspirants:
Strategy
CAT exam has three sections and each of these requires a different and specific plan
Pemmasani Sri Ram Prasad
CareerCature
Sandeep Joshi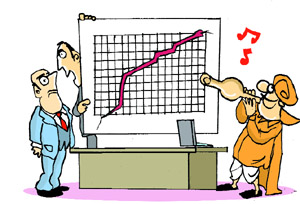 Sir, we've hired this expert to keep our graph rising.
Balance work, life
In today's corporate world most professionals spend long hours at office to cope up with an overwhelming workload. As a consequence work starts invading into their personal life, eventually creating an imbalance. No one can deny the importance of work for survival, however, other aspects of life, including family, health, relationships, hobbies etc are equally relevant. Balance is the key to lead a successful and fulfilling life, without regrets of missing out on anything. Here are a few tips to strike a healthy work life balance:
Quest for greener pastures
Young Indians prefer moving abroad for jobs
Young Indians prefer overseas employment even without a pay hike for better suited jobs, according to the latest findings of Ma Foi Randstad.
Happiness @ work
Gems of ancient wisdom
Avoid the blame game
Everyone makes mistakes, but don't blame others or juniors when you get caught. In 1932, flying during the rains was very difficult. One night, JRD Tata was forced to land at Bellary en route to Bombay while flying the Tata airmail service. He even had to sleep under the wing of the plane in that desolate place. Despite the hiccups, the airmail was always punctual.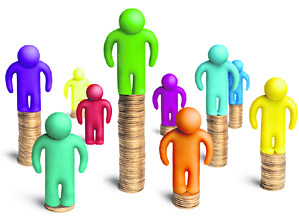 Fatter pay cheques in 2012
Employees to get 14 pc average pay hike this year
Employees can look forward to an average salary hike of 14 per cent in 2012, up from 11 per cent last year, while hiring activities would be robust in various services sectors, such as banking, experts believe. Sectors like infrastructure could see average salary hike of as high as 16 per cent, but the increments could be lower at 5 per cent in a few segments like aviation and textiles.
Management Tip
Use buddy checks
As a project leader your job is to monitor progress against the project plan. But you don't have to do this alone. Use buddy checks to verify that tasks are done properly.