Pleasant weather predicted for day of polling
Bathinda, January 28
Though the chill has apparently made a comeback in Bathinda and its adjoining areas as mercury once again dived to hover near two degree Celsius mark in the morning, the weather is likely to be pleasant on Monday when the residents will be exercising their franchise in the Assembly elections.


Kites dot skies on Basant Panchami
Bathinda, January 28
Basant Panchami was celebrated with fervour and enthusiasm today. For the youth and grown-ups, the day brought opportunity to come out of the quilts and bask in the sun, flying kites.

People had a gala time celebrating Basant Panchami as they flew kites, enjoyed a bright sun, and relished delicacies in Bathinda on Saturday. A Tribune photograph
Postal ballots yet to reach policemen
Bathinda, January 28
The policemen in the district, who are performing election duties, have not got their postal ballots yet. A resident of Model Town, Phase II, Lt Col Daya Singh (retd), has written to the chief election officer (CEO) of Punjab apprising her of the situation.


United colours of patriotism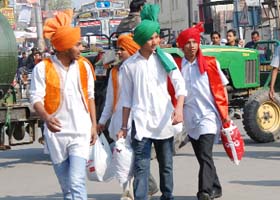 Youngsters, wearing colours of the Indian national flag, walk down a crowded market in Bathinda. Tribune photo: Pawan Sharma
Voter awareness drive organised in Janta Nagar
Bathinda, January 28
Under the voter awareness drive, several local NGOs, including Bathinda Vikas Manch, Rahat Foundation, Inner Wheel Club, Yog Sewa Samiti, Noujawan Welfare Society, Aasra Welfare Society, People for Animal Society and Ek Noor Welfare Society, organised a programme in the Janta Nagar locality here.
110 cases of liquor seized
Bathinda, January 28
One hundred and ten cases of liquor were seized from a house near the railway station at Maur today. The team of the area returning officer (RO), AETC Pawan Garg and a police party, raided the house of Sanjiv Kumar Sharma alias Bablu, who used to live on rent near the railway station, and recovered 70 cases of Punjab Made Liquor (PML), 38 cases of rum and two cases of whisky.
2 die as overloaded truck runs over tempo in Goniana
Bathinda, January 28
Two persons lost their lives after the vehicle they were travelling in was run over by an overloaded truck on the Bajakhana road in Goniana near here this afternoon. The deceased have been identified as Sukhpal Singh (40) and Gurpreet Singh of Amarpura Basti. The truck driver fled the spot after the accident took place. The truck bore the registration number of Bathinda.
Lok Adalat settles 247 cases in a day
Bathinda, January 28
Two hundred and forty seven cases were disposed of at the monthly Lok Adalat held here today. Of the 420 cases received, 247 cases were settled and compensation awarded in different cases totalling a sum of Rs 1,81,07,715.


Don't follow beaten path, choose new careers, students told
Bathinda, January 28
My Career, a group by the IIM alumni, situated at Ghorewala Chowk, organised a seminar on exciting career options available for students after passing their senior secondary examinations.

Speakers at the seminar organised by My Career in Bathinda on Thursday. A Tribune photograph
Transportation arranged for micro observers
Bathinda, January 28
Arrangements for the transportation of micro observers deputed on election duty has been made. All the returning officers (RO) will ensure that the observers reach their respective booths on time on January 30.
School celebrates Basant Panchami
Bathinda, January 28
Radcliffe School, Bathinda, celebrated Saraswati Puja with pomp and fanfare at its new school building on Badal Road, Naruana today. The chief guest on the occasion was IS Ghuman, retired assistant commissioner of police (Railways) and the principal of the school, SK Jana.