Ground Realty
Material matters
Jagvir Goyal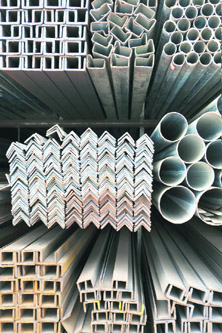 So many materials are required for the construction of a house that sometimes, sufficient time is not available to make the required survey and select the right material at the right cost. Even big projects may not be requiring as many different materials as a house requires. It is, therefore, always better to prepare a list of all the materials that will be required with the progress of construction. This list somehow keeps reminding the house owner to make the necessary exercise well in time to choose the material, its source or supplier and to assess its cost. Let us have a look at the materials required during construction of a house:
Basic materials: The basic materials required for the construction of a house are: bricks, cement, steel, coarse aggregate, fine aggregate or coarse sand, fine sand and brick bats. Binding wire can also be placed under this category as laying and binding of steel reinforcement is not possible without binding wire. One should make the necessary exercise to finalise the sources and rates of these materials as these shall be required throughout the construction of the house.
Sanitary items: Pipes are required to be erected in the walls for soil, waste water and rainwater drainage as the masonry work progresses. The sanitary items include pipes of 4 inch, 3 inch and 2 inch diameter, bends, P traps, floor traps, trap covers, collars, tees, tail pieces, solvent or rubber gaskets in case of using PVC pipes or caulking lead in case of using CI pipes. In addition, the gully traps with lids, stoneware pipes, inspection chamber covers are required.
Sanitary fittings: At a later stage, when the house is nearing completion, many types of sanitary fittings are required. These include water closets, their covers, flushing cisterns, wash basins, showers, shower cubicles, bottle traps, mixers, faucets, pillar cocks, stop cocks, taps, looking mirrors, soap dishes, towel rails, coat and hat hooks, bathroom cabinets, glass or acrylic shelves below mirrors, shower arms, diverters, cockroach traps, pull type cloth drying cords, CP wastes and plugs. As there is a huge variety of fittings available, making a final choice for each item takes a lot of time and the market survey should be done well in advance.
Water supply items: Water supply arrangement for the house requires water supply pipes which may be of GI or PVC or composite material or stainless steel. The pipes are of many diameters, main quantity belonging to ½" and 3/4" diameters. In addition, a number of fittings called 'specials' are required. These include elbows, tees, sockets, unions, reducers, reducer elbows, nipples, plugs, bushings, caps, couplings, ball valves, gate valves and reducer couplings. Each of these specials is of different diameters as per requirement. In addition, water repellant paint is used to paint GI pipes to avoid the effect of salts released by the bricks these days. Water storage tanks and non-return valves are the additional items for the rooftop. Electrical items: The electrical items include PVC heavy duty conduits of various diameters to be embedded in the walls, heavy duty small and large bends of corresponding diameters, switch boxes of various sizes, wires of various sizes such as 0.75 mm, 1.5 mm, 2.0 mm, 4 mm, 6 mm, 10 mm and 16 mm, junction boxes, steel wire, insulating tapes, ceiling roses, MCBs, ELCBs, modular switches, sockets of 5 amperes and 15 amperes, two-way sockets, TV sockets, Fan step regulators, bell switches, call bells, fans, lights, tube-lights, fan hook boxes, light boxes, sheets, exhaust fans, gate lights, lawn lights, earth fitting items, air conditioners, chandeliers, conduits for phone wires and pole switches. The quantity should be worked out carefully and negotiations with a fixed retailer should be held as heavy discounts in the range of 35 to 45% are often offered on the MRP of electrical items.
Woodwork items: Lots of woodwork is involved in the construction of a house and this is perhaps the most time consuming item. Main item for woodwork is of course, the wood which needs to be procured after careful calculation of the quantity required. In addition to the wood, plywood, particle boards, wire mesh for doors, sunmica, toughened glass, float glass, blind glass, ply board, fevicol, holdfasts, corner straps, hinges, screws, nails, putty, black paint for door frames and anti-termite treatment solution such as Biflex TC are required.
Joinery fittings: Joinery fittings include door and window handles, tower bolts of different sizes, mortise locks, sliding bolts if to be provided, door stops, gate hooks, drawer runners, magnetic catchers, drawer locks, cupboard hinges, door closers, door springs as the main items. In addition fittings for aluminum doors and sliding doors are required. There is a vast range of joinery fittings available and one has to decide their provision by keeping the cost factor in view.
Kitchen items: In addition to the sinks, hobs or burners and chimney, the kitchen requires many types of baskets, cabinets, trolleys, corner storage units, tall unit, trays, cane baskets and stands. Drip tray, a water filter, a microwave or OTG, fold-up pantry and trash masher are some other items normally provided in the kitchen.
Wall and flooring materials: The items required for final finish of lower portion of walls and the floors are marble, granite, ceramic tiles for walls, wooden flooring, if to be provided in the bedrooms, vitrified tiles, courtyard tiles or Kota stone and anti-skid tiles for bathroom floors.
Finishing materials: The finishing materials include plastic emulsion or oil-bound paints for interiors, water proof wall papers for some walls, putty for wall finishing, POP, black paint for sunken areas of toilets, exterior quality paints, stones or other finishes for external surfaces, sand papers, primer, paint, sealer and polish for woodwork, any tiles required for front elevation of the house, paint and primer for grills, main gate and any other steel work.
Miscellaneous items: The miscellaneous items include security items such as CCTV, Burglar alarm system, door phone etc; anti-termite treatment material for the foundations and floors, water proofing compounds for adding to concrete, cover blocks, water proof paint for the basement walls, terrace and plinth beams; window grills, main gates, balcony railings, staircase railings, spiral ladders, curtain rods, POP for ceilings and false ceiling materials.
It is not only interesting but useful to maintain a complete list of all the materials that you keep on buying as your house progresses. On completion, it may help you in developing a fair idea of the cost of material components along with their quantity estimates.