Renamed after politician's father, deserted park greens in months
GS Paul
Tribune News Service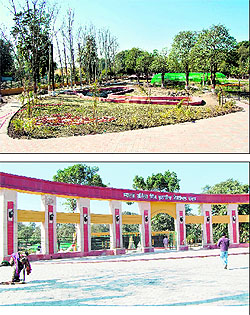 A view of ongoing work and (below) the new entrance of Raminder Singh Bolaria Memorial Park in Amritsar. Photo: Vishal Kumar

Amritsar, February 9
In contrast to several other public parks in city, the Sakkatri Bagh, now known as Raminder Singh Bolaria Memorial park, is a reason to cheer for residents and environmentalists.
Located on the outskirts of the walled city falling in Amritsar South area, the park, which wore a deserted look till a few months back, has been transformed into a state-of-the-art leisure valley.
Renaming of the historic park after the sitting SAD MLA Inderbir Bolaria's father led to a controversy, but it was courtesy the sitting MLA Inderbir Bolaria, who shared a closed proximity with the ruling ministerial circle, that the government did not hesitate to spare Rs 5 crore for a total revamp of this park.
When The Tribune team visited the park, it found that work on the installation of state-of-the-art musical fountains worth Rs 1.5 crore was under progress.
Drastic steps were also adopted to ensure that the storm water drain, which runs parallel to this park, does not affect the flora and fauna here adversely.
Temporary drains, built through this park to drain out water, were nowhere in sight. Earlier, during rains this temporary drain used to overflow resulting in a pool of filth inside the park.
It has been learnt that a special blue print was made in collaboration with a Chandigarh-based experts for the landscaping and planning of the park.
It has also been proposed to categorise the park on various themes like the different sections of flower varieties. In another proposal, a portion of the park will be developed as a picnic spot. Apart from this, special arrangements for parking and installation food joints too are in the pipeline, officials said.
They add that there will also be a separate section dedicated to children which will house swings, toy train besides waterfall.
Amritsar Municipal Corporation Commissioner Dharampal Gupta said work on the park is being done on a war footing and it will be opened for the public soon.
"Detailing is being done before finalising any proposal to be implemented in this park. Introduction of rainwater harvesting system and underground irrigation systems is also being planned here. The work here got hampered due to the poll code of conduct, yet the portion of the job which was finalised well in advance before the announcement of the polls were finished as per the schedule. Still, the work continued at a slow pace because the funds did not reach on time for want of official formalities, sources said. But now when the things have been streamlined with the announcement of fresh directions by the EC to continue with the ongoing projects, we have placed the completion of this park on our priority," he said.