Expedite flats of 20,000 slum dwellers waiting for 27 yrs, HC tells govt
New Delhi, February 16
The 27-year-long wait of slum dwellers to own a house in the Capital may soon end with the Delhi High Court asking the city government and its agencies to devise a time-bound plan to allot flats to 20,000 beneficiaries of a scheme launched way back in 1985.
Sikhs protest outside CM's house
New Delhi, February 16
Over 200 people from the Sikh community gathered outside Chief Minister Shiela Dikshit's residence this afternoon to protest the decision to commute the life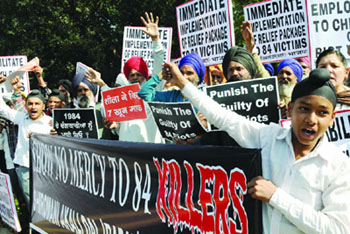 sentence of Kishori Lal - convicted for the murder of eight Sikhs during the 1984 riots, the police said.
Kishori Lal, 48, nicknamed "butcher of Trilokpuri" in east Delhi, was convicted for stabbing many people to death in the neighbourhood during the riots. Delhi L-G Tejender Khanna took the decision on Sunday to commute the life sentence of Kishori LaL reportedly on account of his "good conduct" in prison. - IANS
Activists of SAD (Badal) Delhi shouting slogans during their protest against the Congress government's leniency to a convict of the 1984 Sikh genocide outside Sheila Dikshit's residence in New Delhi on Thursday. Tribune photo: Mukesh Aggarwal

JNU Students Poll Parties'manifesto to restore its constitution
New Delhi, February 16
For a university that has been running in absence of an active students' union, Jawaharlal Nehru University (JNU) has a lot of issues that need immediate attention from the next students' union that gets elected after polling takes places on
March 1.
'Anathalaya conditions not as pitiable as reported'
New Delhi, February 16
Just after the Delhi government has taken over the administration of Arya Anathalaya in Darya Ganj following complaints of child abuse and poor maintenance, officials have become active and everything is being done properly, or so it seems.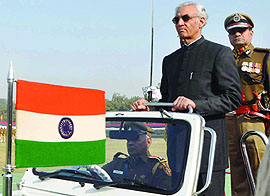 Don't trouble poor vendors, LG to police
New Delhi, February 16
"Don't trouble poor vendors" - this was the advice given by Lieutenant Governor (LG) Tejinder Khanna today to the Delhi police on the occasion of 65th Raising Day of the force.
Lt. Governor Tejendra Khanna, along with Delhi police commissioner BK Gupta, inspects the parade on the occasion of 65th Raising Day of the Delhi police at the Police Lines in New Delhi on Thursday. Tribune photo

SP has accepted defeat before polls: BJP
Noida, February 16
BJP national general secretary Ravi Shankar Prasad while addressing his first-ever press conference at Noida today, said, "The Mulayam Singh Yadav's statement of alliance with the Congress shows that the Samajwadi Party supremo has accepted the defeat before the elections."
Police lensmen do not know what to click, says court
New Delhi, February 16
Lensmen of the Delhi police crime team "do not know what to click and from which angle," a Delhi court has said, while emphasising the need for vigorous training to ensure that their "highly unprofessional work" may not lead to "serious miscarriage of justice."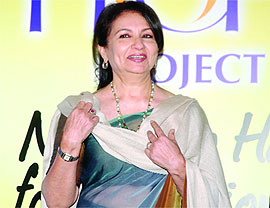 Bollywood actor Sharmila Tagore at the launch of the Samsung Hope project to spread the light of education to the underprivileged children, in New Delhi on Thursday. Tribune photo: Manas Ranjan Bhui

Insurance amount cut as woman remarries
New Delhi, February 16
The Delhi High Court has reduced the compensation awarded to a road mishap victim's family by over Rs 4lakh on the ground that the woman remarried shortly after his death, bringing down the number of his dependents and their liabilities on the insurance firm.
HC upholds BJP councillor's election
New Delhi, February 16
The Delhi High Court has upheld the election of BJP candidate Balbir Tyagi as councillor of the Vikaspuri MCD ward in 2007, setting aside the single judge's order last year to hold fresh elections in his ward.
MCD contractual teachers to get hike in salary
New Delhi, February 16
Chairman of the MCD's Education Committee, Mahinder Nagpal today announced that the civic body had increased the salaries of the teachers working on contractual basis from August 2011. At present, they get Rs 11,000 per month.
Injured Israeli woman stable
New Delhi, February 16
The wife of an Israeli diplomat who was badly injured in a terror attack here two days ago is now stable and has started talking, doctors said today. "She is stable, alert and talking but we are keeping her under constant observation," ND Khurana, medical superintendent at Primus Hospital, told IANS, referring to Tal Yehoshua Koren.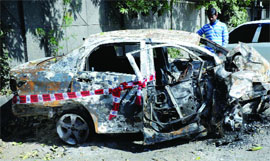 Afghan dead, 3 hurt as car rams into divider, catches fire
New Delhi, February 16
An Afghan national was today killed and three others were injured when a car in which they were travelling rammed into a divider and caught fire in south Delhi, the police said.
This Honda City car collided with a divider on the RTR flyover and caught fire in South Delhi on Thursday. Tribune photo

Delhiites experience warm day
New Delhi, February 16
After grappling with a cold morning, the Capital experienced a warm day on Thursday with the maximum temperature settling at 21.2 degree Celsius -- three notches below the average for the season.
15 Bangladeshis held for living illegally
New Delhi, February 16
Fifteen Bangladeshis residing illegally here have been arrested and handed over to the authorities concerned, the police said today.