M A I N N E W S
Fishermen's killing sparks India-Italy row
Foreign Ministry summons Italian envoy, lodges protest
Ajay Banerjee/TNS
New Delhi, February 16
The killing of two fishermen in Kerala on Wednesday threatened to trigger a diplomatic row between India and Italy today. The Ministry of External Affairs on Thursday summoned the Italian Ambassador and lodged a strong protest over the incident that occurred off the Kerala coast near Kollam.

The bodies of the two fishermen — Ajesh Binki (25) and Jalastein (45) — were brought to Kollam in Kerala last night by the Coast Guard. The victims were part of an 11-member team that set sail yesterday night. The guards on board the merchant vessel Enrica Lexie fired at them suspecting the group to be pirates.
New Delhi on Thursday ordered registration of cases against the vessel's crew. "It is a very serious and unfortunate incident," Defence Minister AK Antony said on the sidelines of a function here.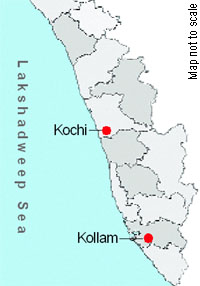 Underlining strict vigil being maintained by the authorities, Antony said, "The Kerala police and Coast Guard officers are visiting the people concerned...we want everything as per law," Antony said.
"A case will be registered against the people responsible for the firing," Home Secretary R K Singh told reporters.
The Italian merchant vessel yesterday moved away after the shooting incident. Coast Guard's CGS Sumar and CGS Lakshmi Bai along with a Dornier aircraft were sent to trace the vessel. It was asked over the radio to touch base at Kochi to face a probe.
Italian Ambassador Giacomo Sanfelice di Monteforte said: "We are working in very close cooperation with India. It is a very sad incident. I want to underline that the Italian ship moved voluntarily into the Kochi port". Asked about the firing incident, the envoy said: "The vessel (of the fishermen) did not stop when flash lights were sent."
The Indian side disputed the claim. Sources said no warning was given to Indian vessel". The Indian fishermen were unarmed and posed no threat to such a big merchant vessel, sources said. There has been no incident of piracy off India's west cost in the last eight months.
Official sources said the Kerala government as well as the Indian Coast Guard have informed the Home Ministry that the merchant vessel was in Indian territorial waters when the incident took place, and that the security guards of the vessel had no authority to carry or use fire-arms.