The beauty of the beast
The conversation at a terrace party screeches to a halt, all eyes turn to the car that hits the driveway. "And Good Heaven, he drives a sexy looking Jaguar XF," comments a pretty woman. For obvious reasons, the car and its enigmatic look becomes the topic of conversation.
Dream come true: Rohit Kapoor

Tale of three cities
Aditi Rao Hydari and Ali Zafar, the lead pair of London, Paris, New York is on a roll. Film promotions are as hectic as their 29-day-movie schedule. The duo shares their take… "The shooting was frantic but fun. To be in three happening cities around the world, what more one can ask for?" says Aditi. This Bharatnayam dancer, who made brief appearances in Delhi-6, Yeh Saali Zindagi and Rockstar and won appreciation.


No more reality shows: Pooja
Pooja Misrra grabbed attention for her weird getup and fights on the fifth season of controversial reality show Bigg Boss, but the media mileage notwithstanding, the VJ says she would not be part of any such shows in future.


Dia, Sameera cheer for Shantanu-Nikhil
Actresses Dia Mirza and Sameera Reddy designer duo Shantanu and Nikhil's muses, graced their show on the first day of the Wills Lifestyle India Fashion Week (WIFW) on Wednesday, kick-starting the five-day fashion extravangza with a touch of glamour.


L-R: Dia Mirza, Shantanu and Sameera

Knock it to know it
A young mind with an interesting entrepreneurial venture, based on a completely fresh concept, is what introduces Akash Aggarwal and Prayas Chanchawat, who have launched their complete information portal www.knocknknow.com recently in Chandigarh.

Net savvy: Akash Aggarwal, Prayas Chanchawat, Urvashi and Dhruv




Unmasking emotions
Watching Romeo and Juliet seamlessly merge together with Bulle Shah can be one worthwhile experience. The theme, which has a common stronghold in the East and the West, is love. Sukhmani Kohli from Purple Mangoes, who is collaborating and directing Ceva Repertory, puts her thoughts together on the body of work in the play.

Cast of the play Romeo, Juliet and Seven Clowns


Street flavours
Now you can savour street food from the South Asian countries in Chandigarh. Newly-opened Chi at Sector 7 Chandigarh has a lot to offer. An extensive menu picked up from Malaysia, Thailand, Japan, China and Vietnam, Chi brings the best of street food from the Orient.
TREND SETTER
Simply stylish
We now have a wide exposure to fashion and trends. The influences can come from Bollywood, Hollywood or the ramp. Young girls and boys today incorporate these influences judiciously and they become fashion icons.


green thumb
Lines of beauty
In horticulture, we appreciate the trees for foliage and floral beauty and other aspects like its shade. And those who know about the landscape planning also know where to put the plants as per their utilities. There are very few who know about the structural beauty of the plants. But then you need an eye for this. Using plants to highlight the architectural lines of the buildings is an old practice.
Talking straight...
Saif Ali Khan is willing to talk about his new film, girlfriend Kareena, and not doing romantic comedies now. He isn't willing to talk about marriage.
Why is Preity Zinta miffed?
She may be picture perfect, but she doesn't quite like her pictures being shared online. Actress Preity Zinta is miffed with fans who leaked the pictures of her on the sets of Ishkq In Paris.
Congratulations and celebrations
Karan Johar is grinning from ear to ear. Agneepath grossed Rs 120 crore in the first two weeks and Karan fulfilled his and his father's dream of making the cult film financially successful. Then, his different romantic comedy Ek Main Aur Ekk Tu has grossed almost Rs 23 crore in its first weekend.
Up close & personal
The first look of Housefull 2 was launched recently. We catch the stars doing their own thing at the launch. Take a look at the cast and crew members presenting the film. Shazahn Padamsee is super stylish and looked classy in her colour co-ordinated attire.


First look: Cast and crew of Housefull 2
Back on track
Actress Demi Moore's daughter Rumer Willis has broken her silence about her mother's breakdown. The 23-year-old was with Moore when she collapsed at her LA home last month after reportedly inhaling nitrous oxide, better known as laughing gas, reported a publication.


I am selfish: Kristen Stewart
Actress Kristen Stewart, who plays the titular character in new movie Snow White and the Huntsman, insists she is nothing like the fairytale princess. The 21-year-old insists she is too selfish unlike Snow White who is a selfless person, reported a publication.

Hooked & booked
Rapper Lil Wayne has got engaged to girl friend Dhea after he popped the question on Valentine's Day. The Lollipop hit maker, who has been dating waitress Dhea for quite a while, is also expecting his first child with her, reported a website.

Boyfriend basics
Singer Kylie Minogue, who is dating Spanish model Andreas Velencoso, values humour and creativity in her boyfriends. The 43-year-old believes looks are important in relationships but they are not enough for long-lasting love, reported a publication.
Funny bone: Kylie Minogue
Pun'jab' Sandeep Joshi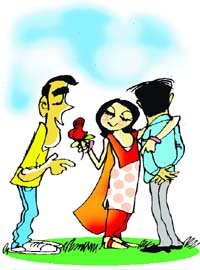 Double the fun: Thanks for accepting my proposal
Blooming love
Victoria's Secret model Miranda Kerr is enjoying her marriage to Orlando Bloom and says her husband's spiritual practice is a positive influence on her. Kerr, who married the actor in July 2010 after almost three years of dating, has 12-month-old son Flynn with Bloom, reported a publication online.