Rs 25 lakh relief sought for Dalit
Hansi DSP to probe incident
Tribune News Service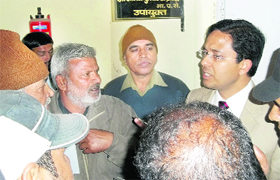 A BSP delegation presents a memorandum to Deputy Commissioner Amit Aggarwal against atrocities on Dalits in Hisar on Friday. A Tribune photograph
Hisar, February 17
Social and political organisations have condemned the incident involving serious injuries caused to a Dalit farmhand, Rajesh, by an upper caste farmer when the former tried to drink water from a pitcher placed in a field of the latter at Daulatpur village of this district.
Rajesh was on his way from Saniana village of Fatehabad district to Daulatpur in Hisar district on a tractor along with 12 others three days ago. He stopped on the way to drink water from a pitcher lying in a field.
However, Rajesh said before he could draw water a farmer, Rajinder, arrived on the scene. He enquired about his caste and then abused him. He drew a sickle from his bicycle and hit Rajesh, who received a deep cut just above the left wrist. He has been admitted to a local private nursing home here. The police yesterday arrested the accused, who has been remanded in judicial custody till March 2.
Condemning the incident, the BSP has sought Rs 25 lakh as compensation to the victim. A delegation of the party led by Balraj Satrodia, president of the Hisar district unit of the party, met Deputy Commissioner Amit Aggarwal here today and presented a memorandum, demanding that that the accused be booked for attempt to murder.
Satrodia said it was unthinkable that untouchability was still in vogue in the country. The BSP leader said the perpetrators of such crimes should be handed out the death sentence.
The Sant Shiromani Ravi Das Sabha has called on the administration to compensate the victim's family. Pointing out the victim was the sole earning member of the family, the sabha said Rajesh had a pregnant wife and a mentally unsound brother to look after.
The Janwadi Lekhak Sabha said while Dalits were becoming more and more self-respecting, the so-called upper castes were yet to give up their prejudices.
The Dr BR Ambedkar Sabha has also demanded compensation of Rs 25 lakh to the victim. The sabha demanded stern punishment for the accused .
Meanwhile, the district administration has decided to bear all expenses for the victim's treatment. The Hansi DSP has been asked to investigate the case. A team of officers visited the victim in the hospital. T. Pithen, Secretary of the Scheduled Castes Commission and two members of the commission - SL Meena and SS Kanwa also met Rajesh here and sought a first-hand account of the incident from him.
Rajesh said he wanted peace in his village and punishment for the accused. He said his community did not want to disturb communal harmony in the village.