M A I N N E W S
Diplomatic row deepens as 2 Italian mariners arrested
Fishermen's killing: Cooperate, MEA officials tell Italian delegation
Tribune News Service
Murder Charge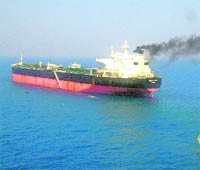 A file picture of the Italian oil tanker Enrica Lexie. — AFP
New Delhi, February 19
Despite four-day-long diplomatic parleys between India and Italy, the row over the death of two Kerala fishermen has not de-escalated. Two Italian marines, allegedly responsible for the deaths, were arrested by the Kerala Police today.
Those arrested were identified as Latore Massimiliano and Salvatore Girone. Both of them were armed guards and formed part of the six-member security detail of the Italian Navy for the oil tanker, Enrica Lexie.
Two fishermen, Ajesh Binki (25) and Jalastein (45), were killed when armed guards of the Italian oil tanker fired at their boat, suspecting it to be a pirate vessel, on February 15. Nine other fishermen on board the Indian fishing vessel were asleep when the incident took place.
The arrested duo was brought to the shore from the Italian vessel by senior police officers led by Ernakulam Range IGP K Padma Kumar and Kochi Police Commissioner MR Ajith Kumar and taken to a CISF guest house at nearby Wellignton island for interrogation. The Italian ship is moored at the Kochi port after Coast Guard ships chased it down in high seas and asked it to return to an Indian port for questioning.
The arrests came about after all interventions by Italy failed. An Italian delegation, including officials from their legal and foreign ministries, arrived here today and met Indian officials in New Delhi.
The visiting team discussed the case with senior External Affairs Ministry officials during which the Indian side asked Italians to cooperate in ensuring that law of the land could take its course. The Italian team insisted that it was a violation of the UN Conventions of sea-farers and not a criminal case to be tried under the Indian laws. They argued that the incident occurred outside Indian waters, beyond 12 nautical miles.
Over the past four days, New Delhi has stood firm that the "guilty have to be punished". Kerala Chief Ommen Chandy and Defence Minister AK Antony, who hails from Kerala, have been separately advocating this.
MEA spokesperson Syed Akbaruddin told reporters how a "fairly comprehensive" discussion took place with Italians. "We explained to them the rationale of our position and the situation as it exists," Akbaruddin said.
Earlier, SM Krishna had told Italian Foreign Minister Giulio Terzi that the captain and crew of the Italian ship would have to surrender and cooperate in the investigation of the case.