Art- in the arena
Is the 'business' of art robbing viewers and artists the time to reflect, create and interact? There are worrying signs that art and artists are getting overwhelmed by the market
Ina Puri



Ina Puri
Revisiting my earliest memories of meeting artists, I remember a time when straight after school, I used to visit Jamini Roy at his studio with my father. Having had the privilege of growing up amidst art and artists, mostly friends of the family, had meant an early exposure to arts, music, theatre and cinema. And often, over a weekend, my father would allow me to accompany him to meet a film-maker or painter as they shared a cup of tea and adda ( a place where informal discussions take place) about the state of arts in the city!
Arguments and explanations later, an amicable conclusion was arrived at and one came away reassured that one's reasoning had been right after all, be it about a finer detail in a Ray film, the latest exhibition of Ganesh Pyne or even a newly-published book of poems by Sakti Chattopadhyay.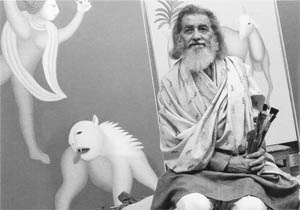 The days that were: Manjit Bawa in his studio with his creations Photograph Nemai Ghosh/ 'Faces of Indian Art'
But that winter Sunday was special. The morning sun came streaming into the studio, lighting up canvases stacked here and there — works complete and semi-finished. Jamini Roy, dressed in his simple dhoti-kurta was in an animated mood and between exchanges with my father and others, made me feel at home by offering me a cup of tea and biscuits. This immediately raised his esteem in my eyes, making me forget my diffidence and ask him a question or two about his works, which he answered, patiently, maybe even picking up a canvas to illustrate the point he was making. Though he was by now a very acclaimed painter and one who was much sought-after by collectors in India and abroad, Roy impressed me with his simplicity and the fact that he was so unaffected by his fame.
Around that time, in Calcutta and Santiniketan, I had many such opportunities to meet artists and sculptors. In retrospect, what lingers is the feeling that no matter how distinguished s/he was, they were interested in each other's work and met often to critically review and appraise one another's work.
Another occasion that comes to mind is when I had the good fortune to meet the wonderful sculptor Meera Mukherjee. There were few galleries in those days and she was exhibiting her works at a friend's bungalow in Ballygunge Circular Road; the sculptures were displayed across the green expanse of the lawns. It was difficult to remain unaffected and I recall being struck by the beauty of her works, the way she made the bronze sculpture appear radiant as if illumined with mysterious life from within. The musicians and assemblages of men and women, in clusters or in solitariness, going about their daily business of living had moved me immensely; each figure had been invested with such gravitas, such dignity.
The lost quietude
These memories came back to me when years later I was working on the book 'Faces of Indian Art' with Nemai Ghosh, the focus of the project being the photographer's perspective of an artist's workspace. Jamini Roy's portrait took me back to the time when there was time to share ideas and thoughts with like-minded friends, drink cups of tea without the interruption of mobile phones and dealers to break that interlude. Working on Meera Mukherjee's exhibition during the Art Fair (a collaborative project with Akar Prakar) I sensed the same regret, the feeling that despite the hustle bustle of sophisticated gentry, that quietude was missing, that moment you pause before a work and allow it to speak to you. It was much like T S Eliot saying "In the room people come and go/ Speaking of Michelangelo" ( The Love Song of J. Alfred Prufrock).
Cutting to the present, the sepia-tinted hours of leisure spent at studios have given way to a busy, vibrant time when it is all about the business of art and the merchandising of art. Globalisation in recent times has undoubtedly taken Indian art to unprecedented heights, ensuring the participation of India, for the first time in the Venice Biennale, in the Centre Pompidour show that also celebrated Indian art and artists, a recurrent phenomenon that we saw elsewhere too. As an Indian, it is, no doubt, a cause of great pride to see the leading practitioners of art become such a presence on the international scene and for this the galleries have a significant role to play in the way they have showcased Indian art internationally in important art fairs. Seeing Subodh Gupta's monumental installations at Art Basel or Sudarshan Shetty's works in Art Frieze, displayed in Regent's Park has been possible only because of the galleries that have supported their work.
Chittravanu Mazumdar's brilliant exhibition, Nightshade, mounted lavishly by his gallery in Dubai, has also been the result of Malini Gurjarani's single-minded determination. Today Sakshi Gallery has art spaces not just in Mumbai but in Taipei as well, that showcases Indian art regularly, initiating new collectors. Sunitha Kumar and Peter Nagy have, through imaginatively curated shows, made foreign collectors and curators familiar with the works of Bharti Kher, Subodh Gupta, Sudarshan Shetty, Ravindran Reddy, Thakral & Tagra, Jitish Kallat amongst others. Shireen Gandhy is another dynamic presence whose contribution has ensured that distinguished artists like Nilima Sheikh, Anju & Atul Dodiya, Mithu Sen (Chemould artists) have become household names world-wide . And then,there is Neha Kirpal whose ambitious initiative of the India Art Fair has brought curators/galleries/dealers the world over to our door-steps.
All that hype and hoopla
At the India Art Fair today, our art shares the same platform alongside galleries from across the world, the showcasing and curated shows and presentations, as professionally produced as the best of art shows anywhere else in the world facilitating sales, initiating dialogues between museum directors and curators…we hear of a Bangladeshi couple who have been so inspired by the Fair that they are keen to start one of their own in Dhaka next year.
So what does all of this really bode for Indian art? After all the attention and acclaim that we seem to garner internationally, there is also the case of one of the leading art spaces like Bodhi closing shop, only because its programme of art promotion over-reached itself forcing the director to withdraw, simply because it was not feasible to sustain its lavish production costs and promotions. When the going was good, Bodhi presented some of the most outstanding shows in its spaces in India, New York and Singapore, supporting exhibitions with beautiful publications till one learnt one fine day, in hushed voices, that they had wound up. Is too much hype and hoopla detrimental to the cause of art or an advantage?
There was a time when Manjit Bawa did not sell a single work for years; so dire was his financial situation that he had to undertake house painting assignments to survive. M F Husain began his illustrious career painting billboards to make a living, painting under streetlights when he had a minute to himself at the end of a day. Looking back on the stories of hardship many a distinguished painter had to face in order to survive, to paint, would it be wrong to conclude that it is a better option to have a gallery support the artist rather than the artist trying to do it all by himself?
Romantically, it is one thing to imagine an artist living the life of a bohemian, creating art works for himself…practically, however, it makes sense that there is a person, recognising his/her artistic merit and supporting him/her with exhibitions or publications that would reach their work to viewers/patrons worldwide.
And the spectrum
In my own instance, I showed Manjit Bawa in Santiniketan in 1998, to a niche viewership of Kala Bhavan students and artists based there. We did not even contemplate sales and were therefore overwhelmed by the numbers that thronged to the show over the three days we were there. Personally, it was one of the best exhibitions I had ever curated of Manjit's, but in later years, we had to exhibit in more commercially viable metropolitan venues, because Manjit had responsibilities he couldn't ignore. The other end of the spectrum then was our Bose Pacia Show in New York (Circa 2000) that sold out and had some record numbers of visitors in attendance. I was, incidentally, part of both the shows and in retrospect feel both were significant in their own ways.
In Kolkata, very recently, I was invited to release the Art of Bengal book at a luxurious five star hotel and while I felt it was appropriate to launch a book so magnificently produced and priced, I couldn't help thinking back to the time I had mounted an equally grand exhibition at Kolkata's Academy of Fine Arts. A part of me recognises the crucial role business houses as patrons must play to sustain art but another part cries out to revisit a studio and spend a quiet hour just looking at works, just having a conversation…not discussing prices, not planning schedules.
(The writer is a well known curator, columnist and documentarian, who has authored several books, including the biographies of Manjit Bawa and Pt Shiv Kumar Sharma.)