| | | |
| --- | --- | --- |
| | OPED — CULTURE | |
The evil protagonist
The changing socio-political reality of India was best chronicled by the villain of Hindi cinema, who documented the history of corrupt modern India in different shades
Vivek Agnihotri

The great Amrish Puri had a way with words, making even the most pedestrian- comic- book- movie dialogue sound like Shakespeare. More than a cheap threat, the much celebrated line " Mogambo khush hua" sums up Mogambo's belief in the 'bad's superiority over 'good'. When Mogambo is on screen, everyone else is extinct.
Such is the power of villain. Could anyone be more in love with the sound of his own voice? The right lines uttered by him can mean the difference between an average film and a great film. Remember, "kitne aadmi the?" the most popular dialogue of Hindi cinema was not uttered by a hero!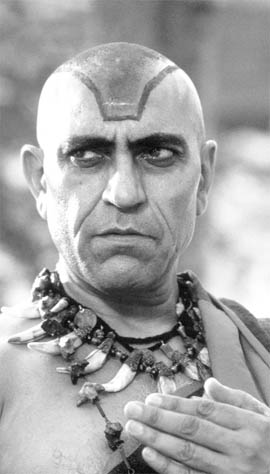 The daddy of all baddies- Amrish Puri
"Bula tere bhagwan ko– dekhta hoon kaun ata hai?"
This all-powerful man seldom believes in God. If he does, its like an obligation. Be it Anna of Parinda or AmrishPuri in Nageena, or Shakaal. The villain is supreme. His terror is omnipresent. And everyone is his victim. That's when one of the victims rises and challenges him. We call him the 'Hero.' And the story begins.
A hero becomes a hero only when he demolishes every bit of the villain's terror. Ebert's famous law of film states that "…a film is not about what it is about. It is about how it is about". And it's the villain who dictates the 'how' part of a film, it is him who sets the rules of the game. The first lesson I learnt in script writing was to make your villain as big, as strong and as mean as you can imagine. For, only the largeness of the villain will determine the heroism of the hero. If Ram had fought and defeated someone who looked like one of us then Ram wouldn't have been such a hero. He had to defeat a villain with 10 heads.
The fulcrum of any good story is its villain. There have been research and studies on the heroes (from villager Dilip Kumar to angry young man Amitabh Bachchan to the lover boy of 2000 SRK) and how he has changed with changing socio-political realities of the society. On the surface, this argument is right. But if you truly want to understand the socio-economic and political evolution of a society, you must analyse the villain of our films.



The wicked chronology
Villain of the 40s - Zamindaar, the landlord, whose haveli was the centre of crime. He, with the connivance of the Munshi grabbed poor man's land, gold and violated his woman's izzat.
Villain of the 50s – Zamindar moved to the cities, got license, paid bribes, this newly emerging capitalist did not like the middle class idealism and stood against socialism.
Villain of the 60s - He was the hoarder, black marketer, rich capitalist, enemy of all social values.
Villain of the 70s - With rapid urbanisation and growing disparity, the smuggler came and raised a gang to grow in stature and power.
Villain of the 80s - The nexus between politician, criminal and the government machinery. To counter this multi- armed villain, the concept of 'personal justice' was introduced.
Do beegha zameen
In the early 40's and almost until the time we got independence, the villain used to be the landlord. Zameendaar or Jaagirdaar. Most of the country lived in villages. The village was his universe. The landlord, therefore, was the most powerful person who could dictate his personal laws. He was the one who would pick up a young virgin girl and rape her. The system and law wasn't sensitive to women and due to social prestige and honour, no woman would approach the police or courts. He would charge tax (lagaan) as per his whims and fancies. Every young boy detested him for exploiting his father, uncles and brothers, for eyeing or molesting or raping his sister, mother or neighbour's daughter. This young boy grew up with angst. And it was this angst that made this villain larger than life.
He was filled with joy when a farmer put his pagdi, the symbolic izzat at his feet. He could get away with murder because he was the owner of the land. And that's the only commodity that God doesn't make any more. He owned God's most in-demand and rare creation. He was God. Then he also owned almost all the gold of these farmers in mortgage.
If you understand this man you will know why we Indians have such fascination for land and gold. In no other country people invest such huge savings in land and gold as we do. We are willing to stop eating fruits, buying new clothes and even look for a cheaper doctor in order to save for that 'do beegha zameen'. This real life villain impacted Indian psyche the most.
The factory owner
Then India got independence. Two things happened simultaneously. A free India needed manufacturing more than farming. The same zameendar now moved to cities. He owned factories and mills. On the other hand Nehru brought in a socialist vision. The intermediate beneficiaries were these new factory owners who became hand in glove with corrupt officers and manoeuvered tenders in their favour. The foundations of unprecedented corruption, that we see today, were laid in this school of economics. While the majority of new, free India was struggling to survive the aftermath of partition, rest were now trying to become self-reliant by going for higher education and starting new businesses. The only hurdle to his growth was the middle class, idealistic and socialist youth who was seeking social justice. In movies of 50's, no wonder, we saw this unique capitalist who was hated by the entire middle class and was perceived as hindrance to Indian socialist goals.
The black marketer
In the 60's impetus was given to urbanisation, we also saw a large scale migration from villages to cities. As a result, the demand for essential consumer goods increased manifold whereas supplies were scarce, more so due to government's quota and rationing. Tired with struggle for social justice the bigger problems were unemployment, hoarding, black market and corruption. So a typical young man found himself in a situation where his honest father is dying and he has no money for surgery and he finds that the chemist wants to sell him drugs at a premium. This gave birth to a new breed of villain. He was the hoarder, the black marketer.
Indian middle class in the late 60's and early 70's was producing intellectuals, artists, actors, writers, reformers, leaders and journalists. Middle class in the 70's was the builder and torchbearer of the Indian society. In 70's the poor had no say, will or existence. The rich were seen as exploiters and corrupt. Middle class meant values, culture, art and above all honesty. The rich were ' bhrasht', the villains of the 60's and early 70's.
Then came the smuggler
In the middle of 70's emergency was declared. This was the time when new phenomenon took place. The big-city-crime-lord gradually moved on to become a smuggler, gangster and mafia leader. These were symptoms of disparity and rapid urbanisation. He had such strong political clout that even ministers and police commissioners were scared of him. Second, children born in a free India became adults. With their own set of ambitions and rebellions. It was license-raj. This new generation aspired to be rich. And his direct competition was with the gangster, the gangster who illegally annexed properties, collected haftas and would kill for a price. He was in every city, through his network. This was also the period when we saw lots of 'bade baap ke bete', which is why this hero had to face not one but two villains, the gangster and the gangster's son.
While this crime-lord was ruling cities his counterpart lived in villages and was called daaku – the dacoit. Indian Robinhood. He became a system by himself. Gabbar Singh wasn't just a work of fiction. He was real. When two thugs pinned him down, millions cheered with joy. The all powerful zamindar, the Thakur of the 40s didn't even have hands, which were taken away by this daaku Gabbar. This metaphor wasn't just a coincidence. Soon, this daaku would reform as a politician of the 80s.
The badass street fighter
In 80's a very unique thing happened. Prime Minister, Rajiv Gandhi, made a public announcement that only 10% of the government funding reached the poor. Rest was siphoned off by the nexus of government officers and politicians, this became the new villain.
We saw advent of a new middle class that had learnt that honesty wouldn't bear fruits. Bofors and numerous other scams and law's inability to deal with them gave phenomenal rise to corruption. Talent and merit had no value. It was a period of liberalisation. Money started speaking. People started travelling. Hundreds of channels started beaming. There was exposure. 'Ghayal' and 'Tezaab' are the best examples of how the deserving youth had to fight the corrupt for justice. It was meritocracy versus mediocrity.
Judicial processes were in shambles. It gave birth to a new villain, who was a gang lord, kidnapper, and he wasn't the prototype villain. No white shoes, no furs and no underground camps for him. He was downright street stuff with local goons and badass street fights. And law couldn't touch him. He was your Lotiya Pathan, Kancha Cheena, Bakhtawar and others. This gave birth to an unparalleled formula in the history of cinema – of personal justice. Mr. Bachchan told me once that the reason he connected with the audience in that period was because almost everyone wanted to kill politician-police combine and he, as the hero, did exactly that. That's exactly what Sunny Deol did later.
Early 90's witnessed advent of regional and caste/ religion based politics. Babri Masjid and Bombay bomb blasts happened. The villain for some short period was the instigator of communal riots.
Death of a villain
But he didn't last long. The beneficiaries of an IT revolution began emerging everywhere. These were the young whose parents had ensured that their children, if nothing, at least became computer literate. Y2K changed the fortunes of Indians, and killed the typical villain of the Indian society.
The new emerging villain of the late 90's and early 2000 wasn't someone from outside. He was either the hero himself or the girl's father or the old Indian values. He was the psychopath of Baazigar or a stalker of Darr.
Then, in an era represented by SRK, Yash Raj and redefined by Karan Johar and FarhanAkhtar, the hero of this era roamed freely without any social responsibilities. He wasn't a common man born in Indian reality. He was an NRI, who had a macroscopic idea about India. Cut off from real India, he could fly anywhere to sing a song without the opposition of a villain. There was no Mogambo, Gabbar, Dang, Rai Bahadur or Anna, to stop him. They were dead. Because the new 'Shining India' aspiring to be the next superpower, flooded with consumer comforts didn't want any villain. We became global. If you are a global citizen you can't have local villains.
The only villain India could spot on the globe was Pakistan. Few films tried to develop Pakistan as the villain of the late 90's and 2000 but Pakistan, as a villain, couldn't survive for more than a dozen films. Society accepted the corrupt and corruption. Money and success became supreme.
We remained superficial, on the circumference. Hence, there was no conflict. Without conflict there aren't any villains. And, there aren't any heroes!
The writer has directed 'Chocolate', 'Goal', and the forthcoming film 'Buddha in a Traffic Jam.